Brazil presidential candidates seek to soften images ahead of run-off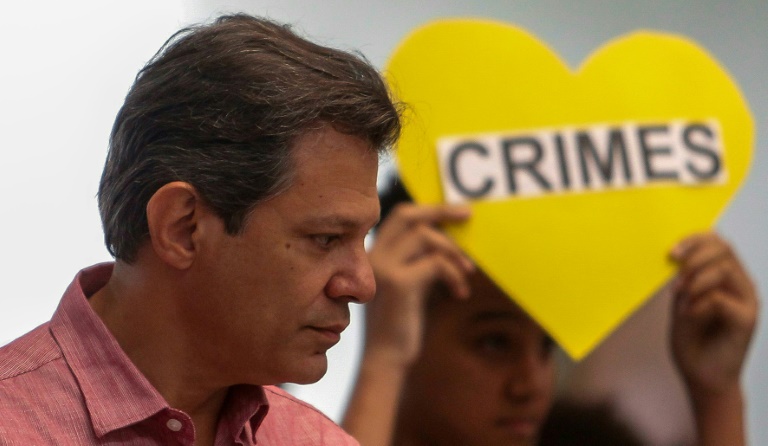 Brazil's presidential candidate for the Workers' Party (PT), Fernando Haddad attends a mass at Our Lady of Aparecida Basilica during a campaign rally in Sao Paulo, Brazil, on October 12, 2018 (Photo: AFP).
Two weeks before a run-off to decide Brazil's presidency, the dueling far-right and leftist candidates are trying to soften their images to appeal to polarized voters.
Rejigged campaigns were launched on Friday with new TV ads from the two -- Jair Bolsonaro, 63, and Fernando Haddad, 55 -- attacking the other and each claiming they stood for all Brazilians.
Frontrunner Bolsonaro, a populist former paratrooper vowing a robust law-and-order regime, eased gun laws and tougher immigration restrictions if he wins, rejected the extreme-right label in a media conference Thursday.
"I'm not far-right," he insisted. "Point out to me an act of mine that is far-right."
He declared himself an "admirer" of US President Donald Trump and said: "He wants a great United States -- I want a great Brazil."
In his ads, he put emphasis on his family, and hinted at his anti-crime stance as being "firm."
Haddad for his part distanced himself from former president Luiz Inacio Lula da Silva, whom he replaced last month as the Workers Party candidate. His ads portrayed him as defending democracy and social inclusion.
He has removed pictures of Lula from his campaign flyers, and dropped the party's signature red color for Brazil's green-and-gold motif.
Lula, though still broadly popular among the poor, is seen by better-off Bolsonaro voters as emblematic of a graft-ridden Workers Party that ruled between 2003 and 2016, the tail end of which saw Brazil's worst recession on record.
The October 28 run-off is Bolsonaro's to lose, polls suggest.
In the first round of the elections, held last Sunday, Bolsonaro easily trounced a dozen rivals, grabbing 46 percent of the vote. Haddad came second with 29 percent.
According to a Datafolha voter survey, Bolsonaro has 58 percent support going into the run-off, against 42 percent for Haddad.
The rivals have separately called for calm after a series of violent incidents linked to the febrile atmosphere around the elections.
In one instance a man was killed in a bar after reportedly voicing support for the Workers Party. In another, a transgender woman said she was beaten by street vendors calling for a Bolsonaro victory.
One of Haddad's campaign ads highlighted the reported case of a 19-year-old women who claimed pro-Bolsonaro supporters had carved a swastika onto her stomach.
- 'Peace and love' -
The right-wing candidate, a deputy in Brazil's congress since 1991 who recently joined the ultraconservative Social Liberal Party, has made deft use of social media to woo voters.
Part of that was the result of him convalescing for weeks after being stabbed by a lone assailant on the campaign trail last month. But he said Thursday there was a "strategic" choice to minimize sharing the stage with Haddad in televised debates.
Six debates were scheduled to take place before the run-off, but half of them were canceled after Bolsonaro's doctors said he still wasn't sufficiently recovered, and only the last two, set for October 21 and 26, were seen as possibly taking place.
Haddad, keen to close the polling gap, criticized Bolsonaro's absence.
"My adversary has spent 28 years in the Chamber of Deputies exuding hate the whole time, against the (poorer) northeast, against women, against the Workers Party. He is a man unsuited to democratic debate," he said.
On Friday he took part in a mass in the biggest city of Sao Paulo as part of his efforts to rally Catholics to his campaign to counter an evangelical surge behind Bolsonaro. "We are going to welcome people with a message of peace and love," he told journalists afterward.
Bolsonaro dismissed Haddad as Lula's "puppet" and said he felt "ashamed" to hear his rival speak of families and God.
A political commentator on Brazil's premier TV network Globo, Otavio Guedes, slammed the fact that campaigning up to now had focused more on personal attacks than on the candidates' platforms
The new television campaigns being rolled out would be more important than in the first round, he said, "because they will finally let them talk about their programs."