Venezuela wants peace with US, talks with opposition: FM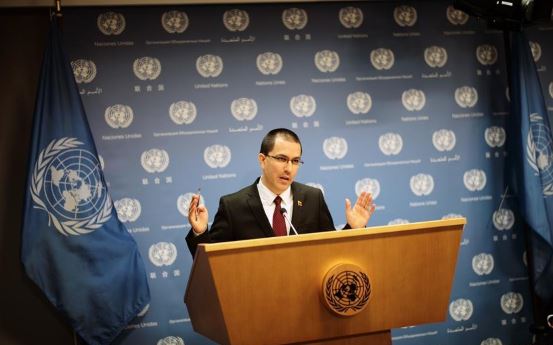 Venezuelan Foreign Minister Jorge Arreaza attends a press conference at the United Nations headquarters in New York, Feb. 22, 2019. (Photo: Xinhua)
UNITED NATIONS, Feb. 22 (Xinhua) -- Venezuelan Foreign Minister Jorge Arreaza said Friday that his government wants to have peace with the United States and hopes to sit down at the table with the opposition.
"We want peace with the United States ... we want mutual respect between both of us," Arreaza said at a press conference at the UN headquarters.
The foreign minister said that he would be very pleased to meet with US Secretary of State Mike Pompeo in Washington, or perhaps in New York.
"We are here to open channels of dialogue," he noted.
Talking about the opposition at home, Arreaza said that "we are hoping that the opposition will sit down at the table with us."
"We are all Venezuelans. We are all brothers and sisters," he added.
"Let's sit down and talk and find a peaceful solution to whatever occurs in Venezuela in the 21st century," he stressed.
Noting that there is not only an economic and political war, but also "a media war," Arreaza asked the media people to be "smart and astute and delve into the information to find the truth."
Arreaza also told reporters that Venezuela and the United States are still in discussion about the status of US diplomats in Caracas ahead of next week's deadline imposed by President Nicolas Maduro for them to leave.
He said Venezuelan officials would meet with the US special envoy for Venezuela, Elliott Abrams, to discuss the issue.
Before meeting with reporters, Arreaza held a closed-door meeting with some 60 UN delegations from five continents, which Arreaza said are a coalition of members of the United Nations for peace, for sovereignty, and respect for self-determination of peoples.