Working from home likely to stay, survey reveals
chinadaily.com.cn
1601993935000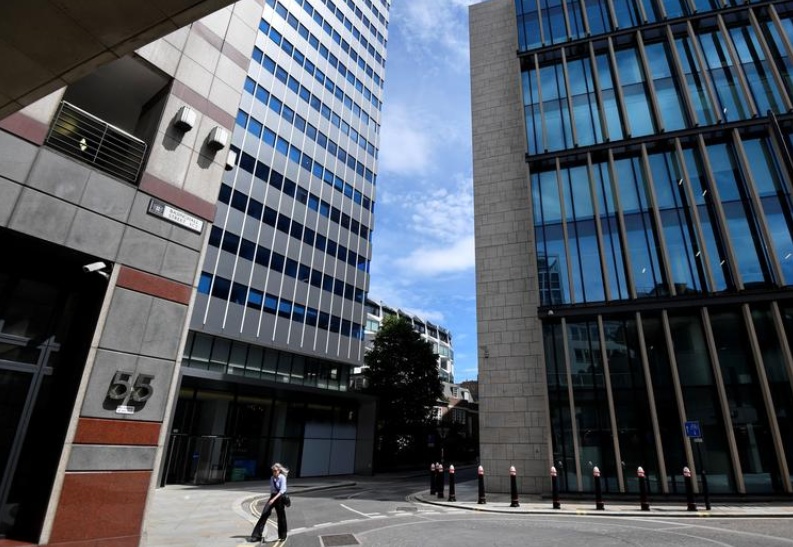 A woman walks through the financial district in the City of London, following the outbreak of the coronavirus disease (COVID-19), in London, Britain July 13, 2020. (Photo: Agencies)
Bosses and workers keen to continue remote work
The COVID-19 pandemic could leave a lasting mark on the British workplace after a survey conducted by business group the Institute of Directors, or IOD, showed that nearly three-quarters of respondents intended to continue with increased amounts of home working once it has ended.
More than 40 percent of the 950 company chiefs questioned in the poll also said that home working was proving to be more effective than office-based employment, and many said that they would retain adjustments they had made to work practices.
"Remote working has been one of the most tangible impacts of coronavirus on the economy," said the group's director of policy, Roger Barker. "For many, it could be here to stay."
He did acknowledge that the isolation and virtual nature of remote working lacked the key ingredient of face-to-face human interaction but said he thought it likely that the work of the future would be balance of the two.
"For many companies, bringing teams together in person proves more productive and enjoyable. Shared workspace often provides employees the opportunity for informal development and networking that is so crucial, particularly early on in a career," he said. "Looking ahead, it seems more and more companies will take a blended approach to where they work."
This research backs up the views of the British Council of Offices, or BCO, which has many of the country's biggest property companies among its members.
"We are never going to go back how things were before," said BCO chief executive, Richard Kauntze. "The idea that people will return to the five-day week in the office has gone, and I think a much more blended approach is likely, two or three days in the office and two-three at home or wherever is going to be a much more typical pattern. Most people will value being able to work on that basis."
In August, the government encouraged employees to return to their desks, only to stage a u-turn over the policy as novel coronavirus infection levels began to increase again.
Speaking in Parliament following the announcement of that and other tightened measures, Prime Minister Boris Johnson said "unless we palpably make progress, we should assume that the restrictions I have announced will remain in place for perhaps six months," meaning home working is likely to remain a reality for many people until well into the new year.
Research carried out by Cardiff University has shown that in addition to employers valuing it, many workers prefer working from home. Out of more than 6,000 people questioned, almost half wanted to work from home all the time, and nine out of ten wanted it to be a part of their future work life.
"Many of those who have worked at home during lockdown would like to continue to work in this way, even when social distancing rules do not require them to," said Alan Felstead from Cardiff's School of Social Science.
"These people are among the most productive, so preventing them from choosing how they work in the future does not make economic sense. Giving employees flexibility on where they work could be extremely beneficial for companies as they attempt to recover from the impact of COVID-19."