Solidarity around UN table best for all
China Daily Global
1602212683000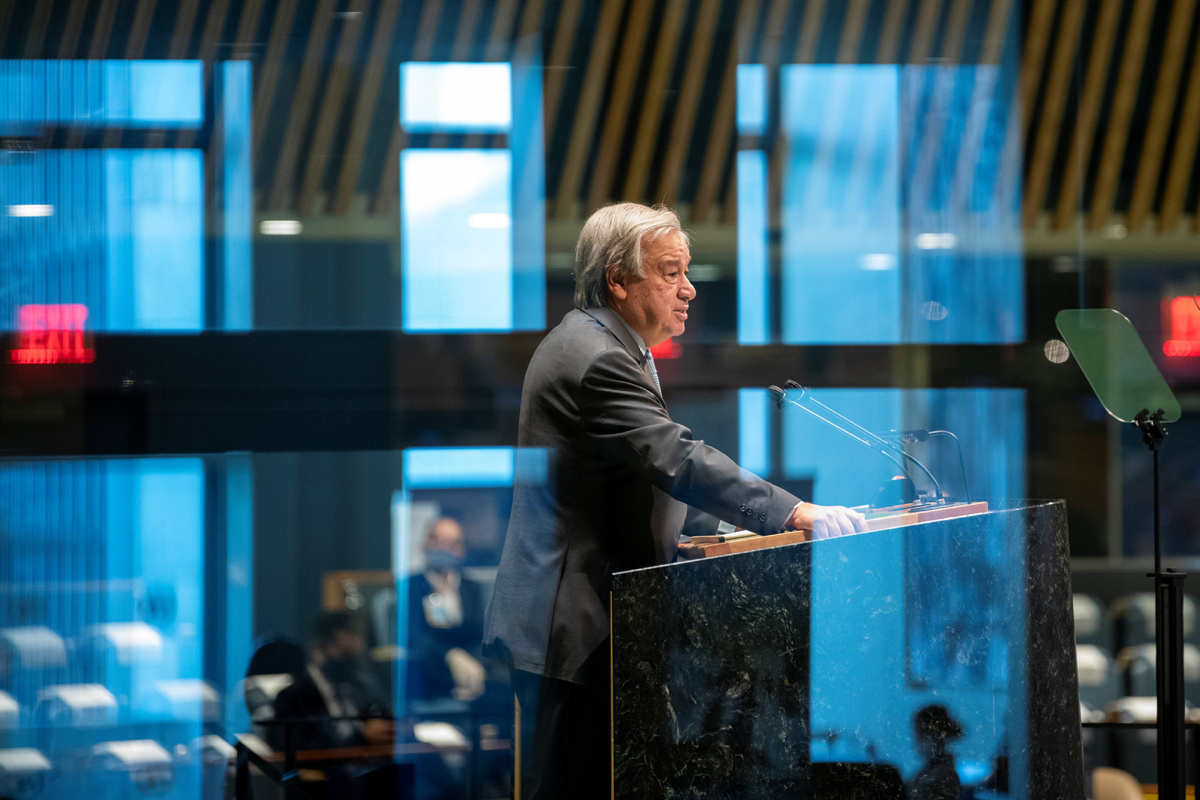 United Nations Secretary General Antonio Guterres speaks during the 75th annual UN General Assembly, which is being held mostly virtually due to the coronavirus disease (COVID-19) pandemic in the Manhattan borough of New York City, New York, US, Sept 22, 2020. (Photo: Agencies)
The sparsely populated chamber of the United Nations General Assembly in New York could serve as a metaphor for the world body as it marked its 75th anniversary this month.
In the physical absence of leaders from its 193 member territories, kept away by the continuing COVID-19 pandemic, UN-watchers had to make do with pre-recorded speeches broadcast to an almost empty hall.
For once, New Yorkers had no cause to grumble about an annual event that normally brings the streets of east Manhattan to a standstill, as cavalcades of presidents and prime ministers criss-cross each other on the way to the UN's riverside headquarters.
Inside, there was none of the drama of the landmark years in which charismatic leaders such as Palestine's Yasser Arafat and Cuba's Fidel Castro used the podium briefly to dominate the world stage, or when Soviet leader Nikita Khrushchev theatrically brandished his shoe in protest at a rival speaker.
It is disconcerting to recall that it is only 12 months since 16-year-old climate activist Greta Thunberg grabbed international headlines when she berated world leaders at the General Assembly for betraying the world's young.
Without the political theater, this year's subdued event has given added weight to the perennial question of whether the General Assembly-or the wider UN-continues to be relevant.
Even Secretary-General Antonio Guterres began his opening speech by acknowledging: "In a world turned upside down, this General Assembly Hall is among the strangest sights of all."
He told the media that the personal contact that was important for diplomacy to be effective would be absent this year.
Unsurprisingly, Guterres argued that the UN was more relevant than ever but acknowledged that it needed to upgrade its response to modern challenges in order to remain so.
"It is now time to mobilize your resources, strengthen your efforts, and show unprecedented political will and leadership, to ensure the future we want, and the United Nations we need," he told members.
Three-quarters of a century after its foundation in the immediate aftermath of World War II, the UN continues to be dominated by the wartime allied powers that were there at its inception and who continue to hold veto power within the 15-member Security Council.
Guterres said the UN had fulfilled the purpose of avoiding the feared World War III.
"Yet there is still so much to be done," he said in a statement. "Climate calamity looms, biodiversity is collapsing, poverty is again rising, hatred is spreading, geopolitical tensions are escalating, nuclear weapons remain on hair-trigger alert."
And that is all in addition to the challenge of COVID-19, which Guterres has described as "our own 1945 moment".
Initially, at least, the crisis prompted some governments to pursue policies based on national, rather than global interest.
Both tendencies-inward and outward-looking-were on display at this month's virtual assembly. President Xi Jinping used the occasion to promote free trade and multilateralism, and to stress Beijing's commitment to work as a builder of global peace, a contributor to global development, and a defender of international order.
The US TV network CNN was among those that reflected that this message was in stark contrast to that of President Donald Trump who, it said, spent much of his own speech attacking China for allegedly having "unleashed this plague onto the world".
During Trump's presidency, the US has reduced its support for UN agencies and withdrawn from international accords.
Although the network was critical of aspects of Chinese policy, it said Xi displayed statesmanship in contrast to the isolationist Trump.
The General Assembly, as a body, reinforced the multilateralist message in a declaration adopted to mark the anniversary, noting that the need for countries to come together had rarely been greater in the 75 years since its foundation.
On the immediate challenge of COVID-19, it said that only by working together could states end the pandemic and effectively tackle its consequences.
"Multilateralism is not an option but a necessity as we build back better for a more equal, more resilient, and more sustainable world," the declaration read.
What the General Assembly session underlined, if not for the first time, was that the institution is only as strong as its members. If UN reform is overdue, then an international consensus must be achieved.
As Guterres pithily put it: "In an interconnected world, it is high time to recognize a simple truth: solidarity is self-interest. If we fail to grasp that fact, everyone loses."
Harvey Morris is a senior media consultant for China Daily UK.