US House Speaker Pelosi announces 7 impeachment managers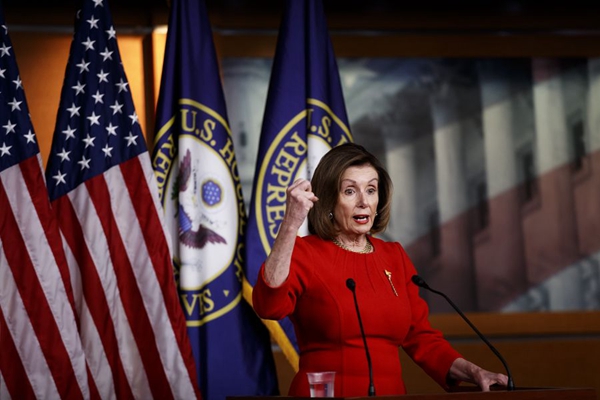 US House Speaker Nancy Pelosi addresses a press conference on the Capitol Hill in Washington D.C. Dec. 19, 2019. (Photo: Xinhua)
US House Speaker Nancy Pelosi on Wednesday announced seven impeachment managers who will present case against President Donald Trump at the upcoming Senate trial.
The managers are Adam Schiff of California, Jerry Nadler of New York, Hakeem Jeffries of New York, Jason Crow of Colorado, Zoe Lofgren of California, Val Demings of Florida, and Sylvia Garcia of Texas. All are Democratic lawmakers.
Schiff, who chairs the House Intelligence Committee, will be named the lead manager for the trial, Pelosi said.
Schiff was a federal prosecutor, Demings was a police chief, several were litigators in private practice, and Lofgren was a staffer on the House Judiciary Committee during the Nixon impeachment and a House member during the Clinton impeachment, according to a NBC News report.
House Democrats plan to vote on sending the articles of impeachment from the House to the Republican-led Senate later on Wednesday.
Senate Majority Leader Mitch McConnell said Tuesday the Senate trial on Trump impeachment is likely to get underway on Jan. 21. It remains unclear if any witnesses will be called.