North Korean cosmetics firm gains attention from Kim's factory visit
Global Times
1530580499000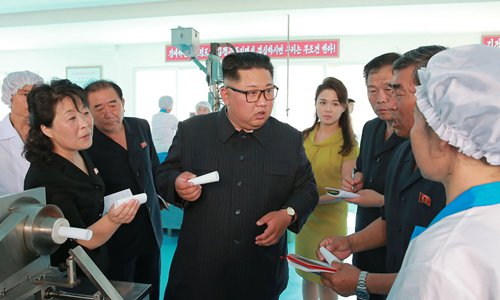 A Korean cosmetics brand came under the spotlight after North Korean leader Kim Jong-un's visit to the Sinuiju Cosmetics Factory near the China-North Korea border, and experts said that the North Korea's cosmetics industry may gain a lot from China once the country opens up.
A search of the words "Spring Fragrance" on Little Red Book, a popular mobile platform where registered merchants and buyers advertise or recommend their favored products, finds the brand is frequently mentioned by visitors returning from North Korea.
Spring Fragrance, a North Korean cosmetics brand, is manufactured by a company called Pomhyanggi, one of Sinuiju Cosmetics' product lines. It is known as late North Korean leader Kim Jong-il's gift to female soldiers or artists when visiting military units or cultural performances, 38north.com reported in 2015.
Its ingredient, Kaesong Koryo Insam (ginseng), a specialty of Korea, helps "retain the human body's harmonious metabolic balance," the Korean Friendship Association said on its website.
"The brand is a top cosmetics product in North Korea. I did not bring too much cash. Otherwise, I would have bought a dozen boxes. The tour guide said the product does not contain a corrosion remover, and the ginseng in the toner could help prevent aging," one user said on Little Red Book.
In his visit to the cosmetics factory, Kim instructed officials to build a trendy shop for Pomhyanggi cosmetics in Pyongyang, the official Korean Central News Agency reported on Sunday.
Chinese clientele
Long before news of Kim's visit to the cosmetics factory, some Chinese customers had heard of and used the products.
On China's largest e-commerce platform Taobao, a dozen stores were selling Spring Fragrance, and the store owners claimed to have come from cities bordering North Korea, like Dandong in Liaoning Province and Yanbian in Jilin Province.
The product is relatively inexpensive, with three 115-milliliter bottles being sold for 130 yuan ($15). Its higher-tier line is sold for 500 yuan, the Global Times found.
"Very few stores sell North Korean cosmetics as it is very difficult to get the products into China. My products were transport through trains connecting China and North Korea. I need to pay people who help transported the products 300 yuan for a 6-set box," a store owner said.
"I make around 2,000 yuan selling 10,000 yuan's worth of the product a month," the owner said, adding that it is difficult to get the cosmetics without the help of North Koreans, and many Dandong residents also bought the products from her store.
Zhang Yuan, a Beijing resident, bought a set of Spring Fragrance cosmetics for 100 yuan when she visited North Korea in 2016.
"I bought it out of curiosity. But I did not use it frequently because the country is so mysterious and I do not know how the product is produced," Zhang said.
North Korea's beautiful women is also another factor which motivates Chinese consumers to buy the cosmetics, Zheng Jiyong, director of the Shanghai-based Fudan University's Center for Korean Studies, told the Global Times.
North Korea's leading girl band, Moranbong Band, which reportedly resembles the style of 1990s British chart-busting pop group Spice Girls, has been popular in Chinese cyberspace.
"If North Korea opens its doors, the country's cosmetics industry will gain a lot from China. Meanwhile, the industry could also serve as a channel for the country to attract more investors from China," Zheng said.
Top: An undated picture released by Korean Central News Agency (KCNA) via KNS shows North Korean leader Kim Jong-un and his wife Ri Sol-ju visiting a cosmetics factory in Sinuiju. (Photo: AFP)