Biden, Trump duel in last weeks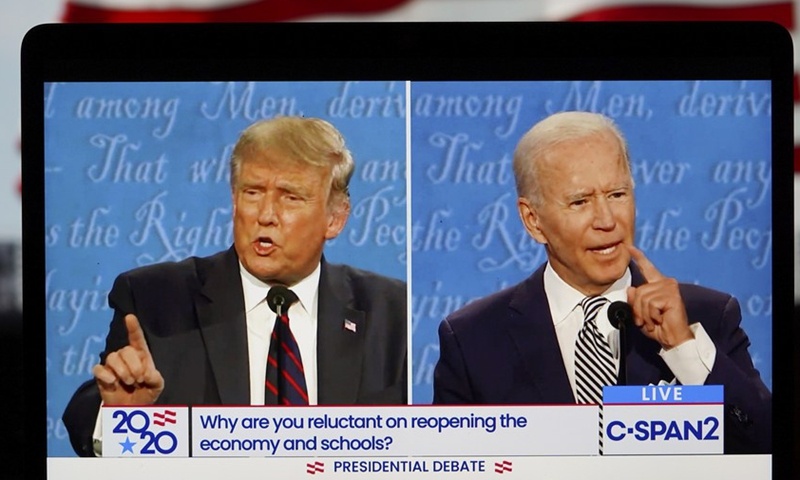 US President Donald Trump told a Pennsylvania crowd Tuesday that he's fighting "Marxists" and "lunatics" while his Democratic challenger Joe Biden accused him in Florida, another key electoral state, of having treated Americans as "expendable" during the COVID-19 pandemic.

With only 21 days until the November 3 election and badly down in the polls, Trump fired every lurid exaggeration about the Democrats and insult about Biden's mental state that he has in his arsenal.
He said Biden was "choking like a dog" during their televised debate, called him mentally "shot."
"He is handing control to the socialists and Marxists and left-wing extremists," Trump told the large, raucous crowd in Johnstown. "He can't stand up to the lunatics running his party."
Going even further on his long-running narrative that 77-year-old Biden is too frail for the presidency, Trump, 74, tweeted a crudely faked picture purporting to show Biden in a wheelchair, surrounded by elderly wheelchair-bound people in a room.
"Biden for president," the caption said, with "p" struck out to change the word to "resident."
The mocking presentation of the infirm elderly was somewhat surprising given the president's apparently growing problems in retaining the loyalty of seniors, an important electoral force.
In Johnstown, Trump reprised the outsider image that he developed for his surprise 2016 victory, telling the crowd that he was combating a "selfish and corrupt political class" back in Washington.
But even as he delighted the crowd with his greatest rhetorical hits, Trump once more showed that despite his poor poll showing he has no intention of trying to reach across to Democrats in a deeply divided nation.
"This will end up being a large-scale version of Venezuela if they get in," he said, painting a nightmarish anti-immigrant vision of a country where Democrats give free hospital care to "illegal aliens" while "decimating Medicare and destroying your Social Security."
The coronavirus, which has claimed more than 215,000 lives in America, was largely an afterthought.
"We're going to crush the virus very quickly. It's happening already," Trump said, despite a swath of the US now reporting large increases in infections.