COVID-19 cases in Asia-Pacific region continue to rise as India reports biggest daily jump of 7,466 new cases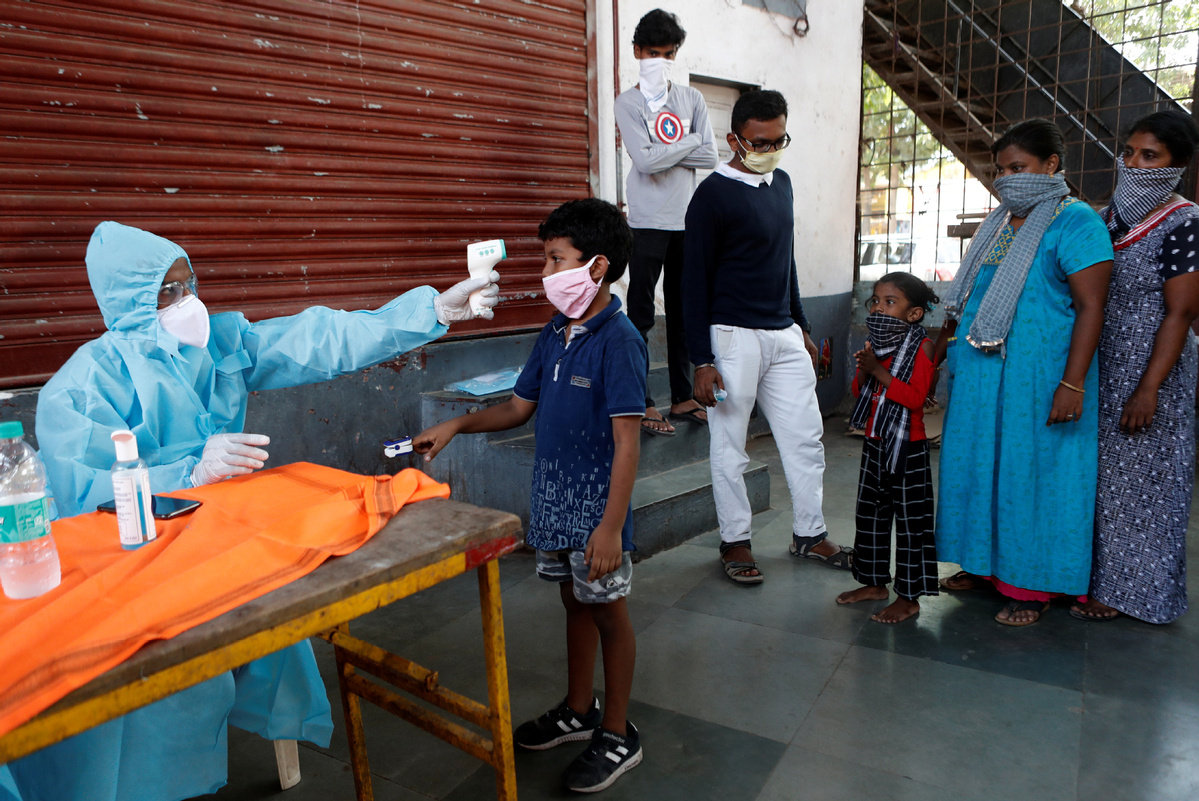 A healthcare worker checks a boy's temperature with an infrared thermometer at a camp in Dharavi, one of Asia's largest slums, during an extended lockdown to slow the spread of the coronavirus disease (COVID-19), India, May 29, 2020. (Photo: Agencies)
HONG KONG - The number of COVID-19 infections in the Asia-Pacific region continues to rise on Friday as India reported the biggest daily jump of 7,466 new cases.
India's federal health ministry on Friday morning reported 175 more deaths and 7,466 new positive cases due to the COVID-19 pandemic, taking the number of deaths to 4,706 and total cases to 165,799.
This is the biggest spike in the number of COVID-19 cases in the country so far.
Bangladesh confirmed 2,523 new cases of COVID-19 on Friday, the highest daily rise since the start of the pandemic in the country on March 8, bringing the total to 42,844.
Professor Nasima Sultana, a senior health ministry official, told an online media briefing in Dhaka that "the total number of positive cases is now 42,844 and the death toll stands currently at 582."
South Korea reported 58 more cases of the COVID-19 compared to 24 hours ago as of 0:00 a.m. Friday local time, raising the total number of infections to 11,402.
The daily caseload rose sharply for the past three days, recording 79 on Thursday and 40 on Wednesday each.
The number of confirmed COVID-19 cases in Pakistan has risen to 64,028 with 1,317 deaths, according to the data updated by the country's health ministry Friday morning.
A total of 2,636 new cases and 57 deaths were reported in the last 24 hours, the statistics revealed.
The COVID-19 cases in Indonesia rose by 678 within one day to 25,216, with the death toll adding by 24 to 1,520, Achmad Yurianto, a Health Ministry official, said at a press conference on Friday.
According to him, 252 more people had been discharged from hospitals, as the total number of recovered patients stood at 6,492.
Afghanistan's Public Health Ministry has registered 623 new positive cases of COVID-19 over the past 24 hours, totaling the number of patients infected with the virus to 13,659 in the country, a spokesman for the ministry Tawhid Shakohmand said Friday.
Malaysia reported 103 new COVID-19 cases on Friday, a significant rebound from 10 cases a day earlier, pushing the national total to 7,732, the Health Ministry said.
Health Ministry Director-General Noor Hisham Abdullah said at a press briefing that of the new reported cases, 96 were local transmissions and seven were imported cases. Among the local cases, 84 were foreign nationals, with 53 and 24 foreign workers from two clusters.
The number of cases on board the live animal export ship, Al Kuwait, which is docked in the Australian state of Western Australia (WA), jumped to 20 on Friday, with eight new positive tests.
WA Health Minister Roger Cook revealed that all 48 crew have been tested and the 10 who remained on the ship all returned negative results.