Spanish PM Sanchez warns of "very tough" winter ahead
MADRID, Oct. 23 (Xinhua) --- Spanish Prime Minister Pedro Sanchez asked his compatriots to curb their social behavior as he warned of the severity of the second wave of the coronavirus in his country in a televised address on Friday.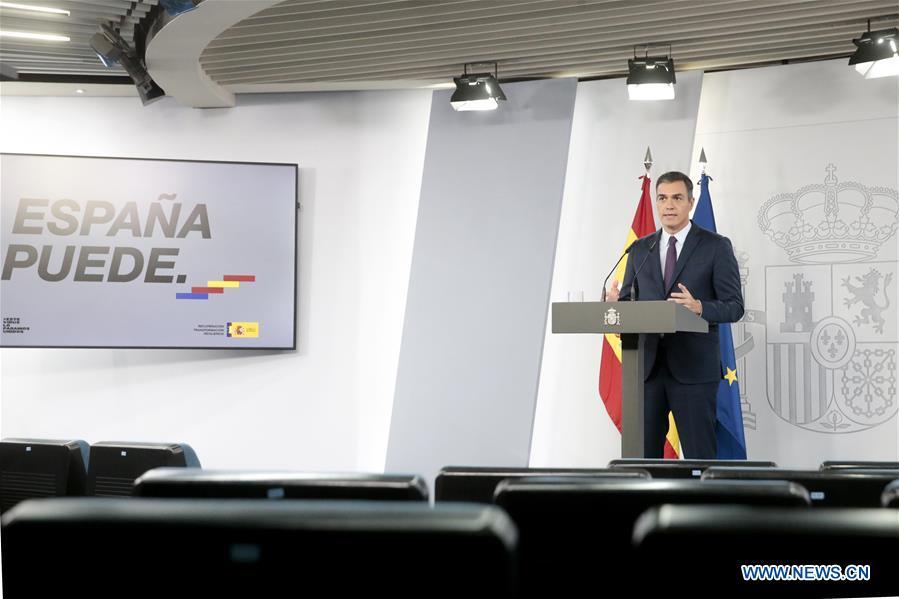 Sanchez spoke to the nation two days after Spain became the first European Union (EU) country to confirm over a million cases of COVID-19 since the start of the pandemic, with 1,026,281 infections reported on Thursday by the Ministry of Health.
"The situation is serious, and we must all act with determination," said Sanchez, stressing that Spain was "now getting twice the number of daily cases that we had on the worst day of the first wave" of the pandemic. However, he also said that 70 percent of the cases were now being detected as opposed to just 10 percent in the spring.
The fact that a lot of cases went undetected led Sanchez to say that Spain could have suffered three times more infections than what the official figures show.
"The seroprevalence (antibody) studies carried out by public institutions led by scientific experts indicate that the real number of people who have been infected in our country now exceeds three million," he said.
The prime minister had words of support for Spain's 17 autonomous communities and their efforts to contain the coronavirus, but he warned that a difficult autumn and winter lay ahead.
"The coming weeks and months of winter will be very tough," he commented, stressing the need for action. "I want to be very clear about this: we want, and need, to avoid another lockdown like the one we had in spring at all costs."
In order to do that, Sanchez insisted that his compatriots had to change their social behavior.
"Spain has a quality which, in times of pandemic, can become an Achilles' heel: we like our social life, the closeness of family and we have a passion for human contact. But now is the time to establish distances -- we need a pause to save lives and to protect everyone's health. Families can also infect each other, as can friends," said Sanchez.
Friday saw the regions of Andalusia, Valencia and Castilla-Leon announce curfews (from 12 midnight to 6 a.m. in Valencia and from either 9 p.m. or 10 p.m. in Castilla-Leon).
The Madrid region also announced new measures to curb the spread of the virus, with people barred from mixing with members of other households between 12 midnight and 6 a.m. Enditem