Pantheon burial honours French rights icon Simone Veil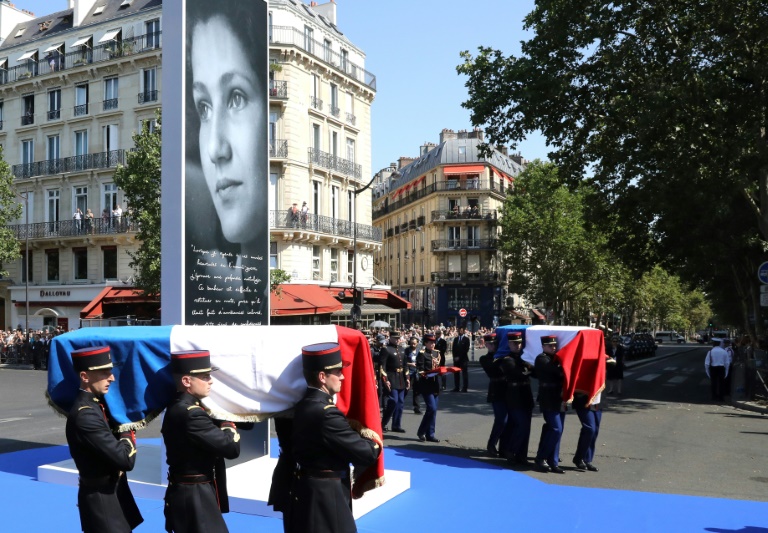 French Republican Guards carry the coffins of Holocaust survivor Simone Veil and her husband Antoine along a blue carpet leading to the Pantheon in Paris, their final resting place.(Photo: AFP)
Thousands of people gathered in Paris on Sunday to pay their final respects to Holocaust survivor and women's rights icon Simone Veil as she was given the rare honour of burial at the Pantheon a year and a day after she died.
Veil's death at the age of 89 prompted an outpouring of emotion as she had long been considered one of France's most popular and trusted public figures.
The Pantheon in the heart of Paris houses the remains of many great French figures, including Voltaire, Victor Hugo and Emile Zola.
But she is only the fifth woman to be buried there, being laid to rest alongside her husband Antoine, a high-ranking civil servant who died in 2013.
Their two coffins were escorted by Republican Guards through Paris from the Holocaust Memorial where they had stood for 48 hours to allow the public to pay their last respects.
They were then carried by pall-bearers on a blue carpet leading to the Pantheon.
'Thank you Simone'
President Emmanuel Macron said the decision to bury her there was a decision taken by the entire nation.
"It is... what all French people wanted," he said at the ceremony.
"With Simone Veil, all the women that have made France are here."
"We owe it to Simone Veil not to let the doubts and crises which are hitting Europe mitigate the dazzling victory that, for 70 years, we have won over the rifts and mistakes of past centuries," he said.
Among the crowds were many women wearing T-shirts with the slogan: "Thank you Simone."
Beatrice, 43, paid tribute to "the way she worked for women's freedom, so that they can choose their career, choose whether to have children or not".
Bernard Greensfeld, who was outside the Holocaust memorial, said Veil "broke every glass ceiling, in terms of women in society, but also that of (France's role in) the extermination of the Jews: it was taboo".
"She's not going into the Pantheon as a Holocaust victim but as someone who overcame this horror and that's why she's in people's hearts," he told AFP.
The fifth woman
Simone Veil was 16 when she was deported along with family members in 1944 to Auschwitz. Her mother, father and brother were killed in the Holocaust.
After her return she became a resolute advocate of women's rights as well as European reconciliation, securing her biggest political victory in 1974 by convincing the French parliament to legalise abortion despite fierce opposition.
She also became the first elected president of the European Parliament in 1979, a post she held for three years.
The move to have Veil's remains transferred to the Pantheon began immediately after her death on June 30, 2017, with two petitions quickly gaining hundreds of thousands of signatures.
Until now, only four women have been interred there: scientist Marie Curie, Sophie Berthelot, who was buried alongside her chemist husband Marcellin Berthelot and resistance fighters Genevieve de Gaulle-Anthonioz and Germaine Tillion.
As the sun beat down, a large crowd gathered for the ceremony which was attended by members of her family and a host of politicians and dignitaries, among them former presidents Francois Hollande and Nicolas Sarkozy as well as Macron.
Beethoven's Ode to Joy, which has become the European Union anthem, rang out during the ceremony.
The transfer of Veil's remains began on Friday, when the couple's coffins were exhumed from the Montparnasse cemetery and brought to the crypt of the French Holocaust Memorial, which she helped found.
After Macron's address, the two coffins were transferred into the Pantheon where the coffins will lie in state until Monday, with admission free until July 8.