US-Turkey rapprochement still on hold after pastor released: experts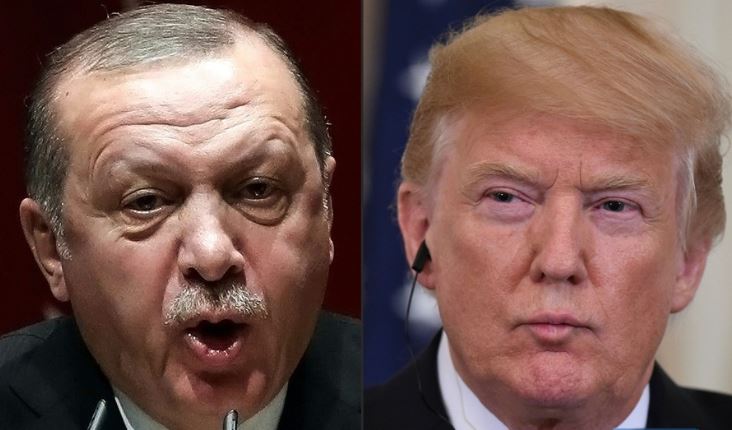 This combination of file pictures created on August 11, 2018 shows (L)President of Turkey and Leader of the Justice and Development Party (AKP), Recep Tayyip Erdogan deliverling a speech during an AK party's group meeting at the AK Party's headquarters in Ankara, on January 26, 2018. (Photo: Xinhua)
WASHINGTON, Oct. 12 (Xinhua) -- Turkey on Friday freed the long detained US pastor Andrew Brunson, a gesture of compromise but not enough to defrost the bilateral ties that had been overshadowed by a group of divergences, US experts said Friday.
RESPONSE TO RELEASE
A Turkish court decided earlier Friday to release the 50-year-old pastor, who was detained about two years ago over espionage charges and links to a network led by the outlawed Kurdistan Workers' Party (PKK) and the US-based Turkish cleric Fethullah Gulen who Ankara blames for the July 2016 coup bid.
The detention caused one of the worst diplomatic rows between the two NATO allies, as the Trump administration imposed a slew of financial sanctions on Turkey to press for Brunson's release. In return, Ankara increased tariffs on imported American cars, alcohol and tobacco.
Washington welcomes the pastor's release, adding that "we remain deeply concerned about the continued detention of other United States citizens in Turkey and around the world, and urge the resolution of all these cases in a transparent and fair manner."
Before Brunson's release, US broadcaster NBC reported that Ankara and Washington had reached "a secret deal" for Brunson to be released on Friday and some charges against him were dropped, in exchange for the United States easing "economic pressure" that included blows to the Turkish currency in summer.
US President Donald Trump denied the report, saying there is no deal at all.
RAPPROCHEMENT ON HOLD
Turkish officials implied that Trump wants Brunson's release to please evangelical voters, a critical constituency for him and the Republican Party in November's midterm elections.
"This is big news domestically because of the administration's stance on religious freedom," said Ford O'Connell, political analyst and Republican strategist.
For Turkey, it would also like some relief from steel tariffs, Darrell West, senior fellow at the Washington-based Brookings Institution, told Xinhua.
"The two countries likely will talk about ways to work together on trade issues and reach some accommodation that is helpful to both sides," West said.
For Wayne White, former deputy director of the State Department's Middle East Intelligence Office, the release might allow a new warming in the overall US -Turkish ties.
However, Trump's personal attitude toward Turkish President Recep Tayyip Erdogan is not clear yet, White said, adding that "the personal dimension between Trump and Erdogan will likely continue to be a sizeable -- perhaps dominant -- factor in where US -Turkish relations go from here."
"There are still broader concerns about the strength of the relationship given the approach taken by Erdogan regarding the consolidation of his powers and Turkey's posture in the region," Dan Mahaffee, senior vice president at the Washington-based Center for the Study of the Presidency and Congress, told Xinhua.
Stephen J. Flanagan, senior political scientist at the California-based RAND Corporation, also warned that although the release will warm up the Trump-Erdogan relationship, "significant policy differences remain on stabilization of Syria and the Turkish request to extradite Fethullah Gulen."
KHASHOGGI CASE HELPS
Brunson's release will strengthen Turkey's hand to move the United States into its corner ahead of a possible crisis with Saudi Arabia, Washington's close ally, regarding the mysterious disappearance of Saudi journalist Jamal Khashoggi in Istanbul after he entered the Saudi consulate there, said experts.
Khashoggi, a critic of the Saudi leadership, was killed, according to unconfirmed reports. While Ankara and Riyadh agreed to form a joint investigation team, the Khashoggi case also drew Washington's close attention.
Turkish officials have been very helpful on the Khashoggi case by providing "the most important information pointing to Saudi involvement," said West. "Turkish information has garnered considerable good will within the United States on this high-profile case."
Ankara has a strained relationship with Riyadh due to several issues, most importantly the Saudi efforts to isolate Qatar, an important Turkish ally, and Turkey's support to the Muslim Brotherhood, according to Flanagan.
Ankara has incentives to expose Riyadh's apparent misdeeds, which were probably a violation of Turkish sovereignty, said Flanagan, adding that Ankara probably thinks its cooperation with Washington in the Khashoggi case will help improve bilateral relations on economy.
Trump wants to get to the bottom of Khashoggi's death, said O'Connell. "Trump's in a situation where ... he's going to need more than the Saudis to know exactly what happened."