Wild winter weather claims 160 lives in Afghanistan, Pakistan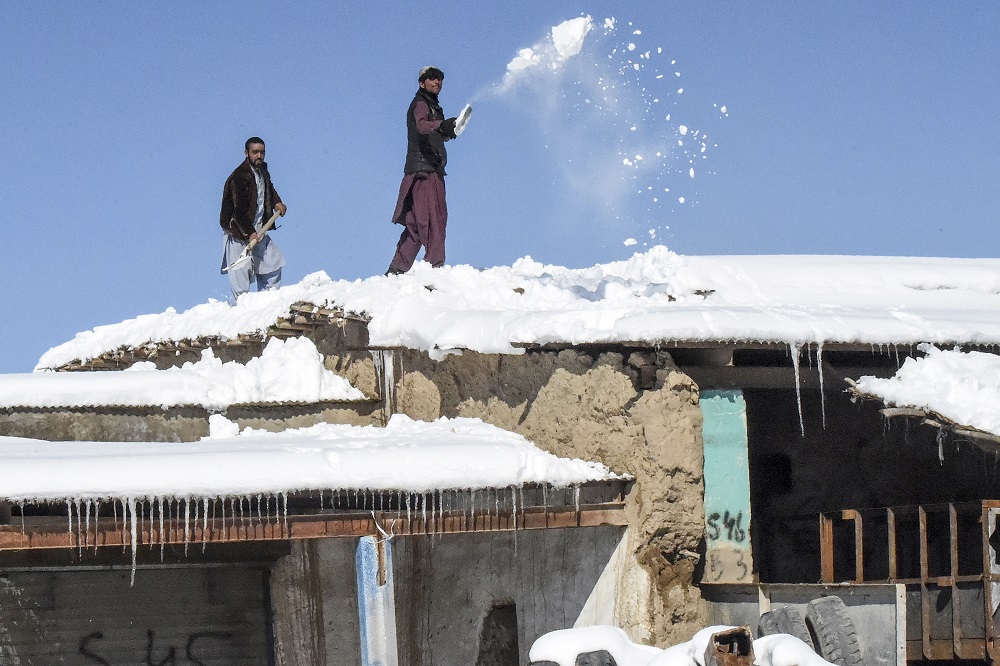 Workers remove snow from a hotel roof after heavy snowfall in the Khanozai area of Baluchistan Province, Pakistan on Tuesday. (Photo: AFP)
ISLAMABAD-Search teams helped by Pakistani troops pulled out 21 more bodies from homes destroyed by this week's avalanches in Pakistan-controlled Kashmir, raising the overall death toll due to severe winter weather to 160 for Pakistan and Afghanistan, officials said on Wednesday.
Since Sunday, 76 people have been killed in Pakistan-controlled part of Kashmir in weather-related incidents and 45 people killed in Pakistan's southwestern Baluchistan and eastern Punjab provinces. Another 39 people were killed in Afghanistan.
The worst affected area was Neelum Valley in Pakistan-controlled Kashmir, where the 21 bodies were retrieved, said Ahmad Raza Qadri, the minister for disaster management authority in Pakistan-controlled Kashmir.
Rescue operations continued in the area on Wednesday. They slowed down with nightfall, increasing the difficulties for the rescue teams, he said.
Qadri said heavy rains and snow had been pounding the Neelum Valley for the past few days, causing blockages on main roads that hampered the rescue efforts.
He said that Rescue 1122, a state-owned rescue agency, the Pakistani military and non-governmental organizations carried out the rescue and relief operations during the day.
"The meteorological office told us about the situation in advance, and we also issued an advisory for the people, but avalanches are something which cannot be prevented, though villagers might have taken some measures," he said.
Pakistani Prime Minister Imran Khan said the severe snowfall and landslides had caused misery and deaths, and he asked the military, the disaster management authority and all federal ministries to "immediately provide all humanitarian assistance on an emergency footing to the affected people".
Saeed ur Rehman Qureshi, another disaster management official, blamed climate change as the major contributor to the unusual weather pattern in the area. "The effect of climate change is so rapid in the area that unexpected weather patterns including torrential rains, cloudbursts, heavy snowfall and avalanches triggered by them are being witnessed in the region," the official said.
Across the border in Afghanistan, more than 300 houses were either destroyed or partially damaged throughout the country, said Ahmad Tamim Azimi, a spokesman for the Natural Disaster Management Authority.
"A cold snap, heavy snowfall and rains that started two weeks ago have caused damage," he said.
Most of the deaths came after roofs collapsed under the thick snow, he said.
In Herat, seven people-all members of the same family and including children-died when the roof of their home caved in, Azimi said.
Harsh winters often take a heavy toll in mountainous Afghanistan, and the country remains poor despite billions of dollars in aid from the international community.