Rwandans speak highly of Chinese president's state visit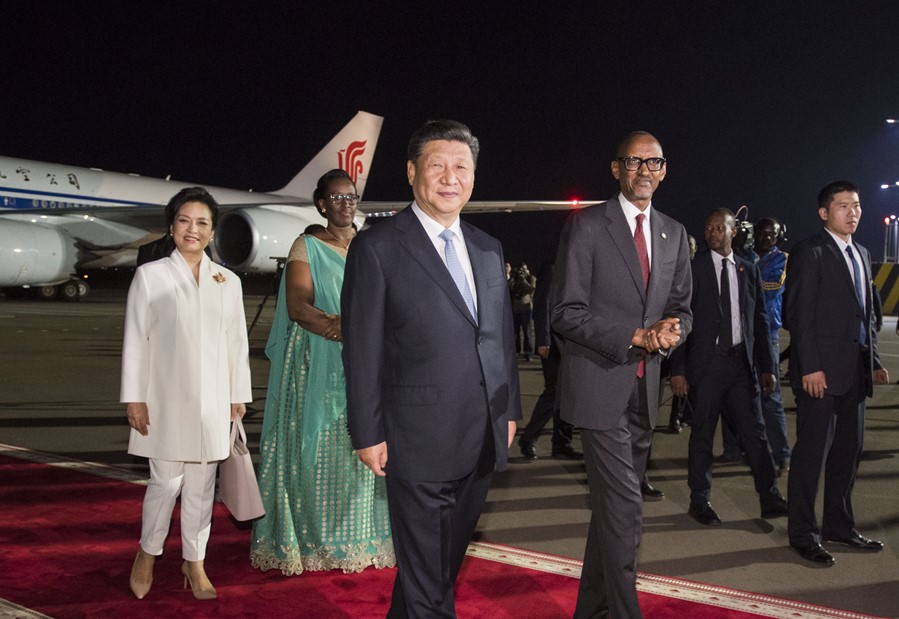 Chinese President Xi Jinping arrives in Kigali for state visit to Rwanda (Photo: Xinhua)
KIGALI, July 24 (Xinhua) -- Rwandans from all walks of life spoke highly of Chinese President Xi Jinping's state visit to the African country.
Rwanda and China enjoy a good relationship which has been strengthened, said Olivier Nduhungirehe, Rwandan minister of state for foreign affairs, cooperation and East African Community.
Rwanda and China have important cooperation in infrastructure, mining, tourism and investment, and have the potential to expand ties especially in roads and mining, the minister said.
This is a monumental visit with multiple benefits to Rwanda and Africa, said Herman Musahara, professor at School of Economics, University of Rwanda.
Xi's visit marks the highest level of bilateral cooperation, said Musahara.
China, a major global economy, offers good lessons for other economies, particularly like Rwanda, a country planning a leap from poverty to prosperity, he said.
He also said the visit is important to Africa, as Rwandan President Paul Kagame is now the chair of the African Union and is leading important reforms of the organization, adding that China is an important partner of Africa with its new agenda.
The visit of a Chinese president to Africa, particularly to Rwanda, speaks volumes, said Anastase Shyaka, CEO of the Rwanda Governance Board.
Xi's visit to Rwanda follows Kagame's China trip in March last year, showcasing that the Rwanda-China relations are entering a new phase of cooperation both in scope and quality, he added.
The Chinese president's visit to Rwanda is historic since it is the first time that a Chinese head of state has visited the country, said Nobert Haguma, secretary of Rwanda-China Alumni Organization, a non-governmental organization founded by former Rwandan graduates from China.
Many Chinese investors have invested in Rwanda, which is a good sign for Rwanda's economy, said Haguma. "This historic visit will further deepen the existing cordial relationship between Rwanda and China," he added.
"Xi's visit to Rwanda is a milestone in deepening Rwanda-China bilateral relations," said Edissa Butera, a student at the University of Rwanda. "As Rwandans, we are honored to receive the Chinese president in our country."