US troops limited to batons on Mexico border
US troops stationed on the border with Mexico ahead of the expected arrival of a Central American migrant caravans can intervene to quell violence but will be armed only with batons, Defense Minister Jim Mattis said on Wednesday.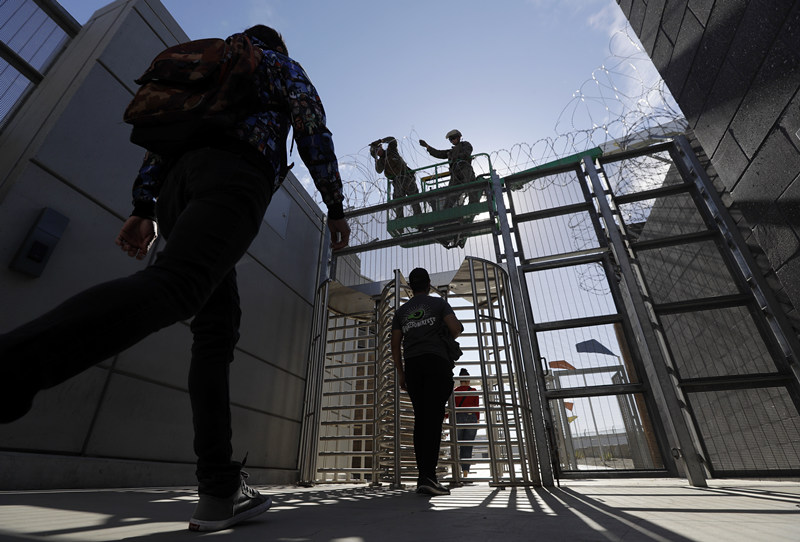 Marines install concertina wire, above, as pedestrians leave the United States for Mexico at the San Ysidro port of entry Friday, Nov. 16, 2018, in San Diego. (Photo: AP)
The White House has given almost 5,800 troops posted along the frontier guidance that they can come to the aid of any Customs and Border Protection agents who come under attack, Mattis told reporters.
But even if migrants try to force their way through border posts, they will likely be met by military police with shields and batons, with "no armed element going in," he added.
In all, some 8,000 migrants are currently crossing Mexico in several caravans, according to the Mexican interior ministry.
They are mostly fleeing poverty and unrest in Central America's "Northern Triangle" -- El Salvador, Guatemala and Honduras, where brutal gang violence has fueled some of the highest murder rates in the world.
President Donald Trump ordered troops to the border in a move critics decried as a costly political stunt to galvanize supporters ahead of hard-fought midterm elections earlier this month.
Trump declared the exodus a "national emergency" and an "invasion" -- suggesting US troops could shoot migrants if they threw stones at the US border -- but he has since been less vocal on the issue.
The US military is not allowed in almost any case to get involved in domestic law enforcement and the border mission has put the supposedly non-political military in an uncomfortable spotlight.
Mattis said he had taken no decision on the duration of the deployment, initially expected until December 15, because that would depend on HOW the mission developed, he said.
The estimated cost is currently $72 million but "I am confident that number will go up," the Pentagon chief said.