'Defective' security eyed in chopper jailbreak in France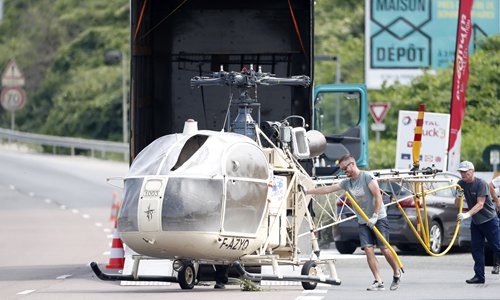 Investigators push an Alouette II helicopter allegedly abandoned by French prisoner Redoine Faid and his suspected accomplices, after his escape from a prison of Reau, north of Paris on Sunday. (Photo: IC)
The French government pointed to possible security failings on Monday after a notorious gangster used a helicopter to stage his second brazen jailbreak of a crime career inspired by films such as
Scarface
.
The latest escape of Redoine Faid, who was serving a 25-year sentence for an armed robbery in which a policewoman was killed, has left French authorities red-faced.
Faid was sprung from a prison in Paris by two accomplices who used smoke bombs and angle grinders to break into the jail and whisk the fugitive to a waiting helicopter.
Justice Minister Nicole Belloubet told Europe 1 radio that she had sent a team of inspectors to the jail "to see whether the security measures were defective so that we can rectify them."
She suggested that leaving Faid in the same prison for "a few months" had been a mistake.
"We must be careful not to leave the same people in the same places for too long, when we're dealing with this type of individual," she said.
"The rotation probably needs to be more frequent," she said.
Faid's accomplices hijacked a helicopter from a flight school on Sunday morning and forced the terrified instructor to take them to the prison, where the aircraft hovered above the yard.
Two black-clad men armed with assault rifles then set off smoke bombs before using power tools to break into the prison's visiting room, where Faid was talking to his brother.
The wardens, who were unarmed, fled and raised the alarm. But within 10 minutes Faid had made his escape. The helicopter was later found in a northeastern suburb of Paris about 60 kilometers from the prison.
The pilot, who had been beaten, was found in a state of shock.
The men then continued their getaway by car, changing vehicles along the way. The first car was found torched in a shopping mall carpark.
Belloubet said Sunday the gang probably used drones to stake out the prison.
The breakout comes five years after Faid blasted his way out of a prison in northern France using dynamite.