Death tolls from natural disasters rise to 18 in Vietnam
HANOI - Natural disasters, mainly downpours and floods, have left 18 people dead and 14 others missing in central and central highlands Vietnam over the past few days, the country's Central Steering Committee for Natural Disaster Prevention and Control said Monday.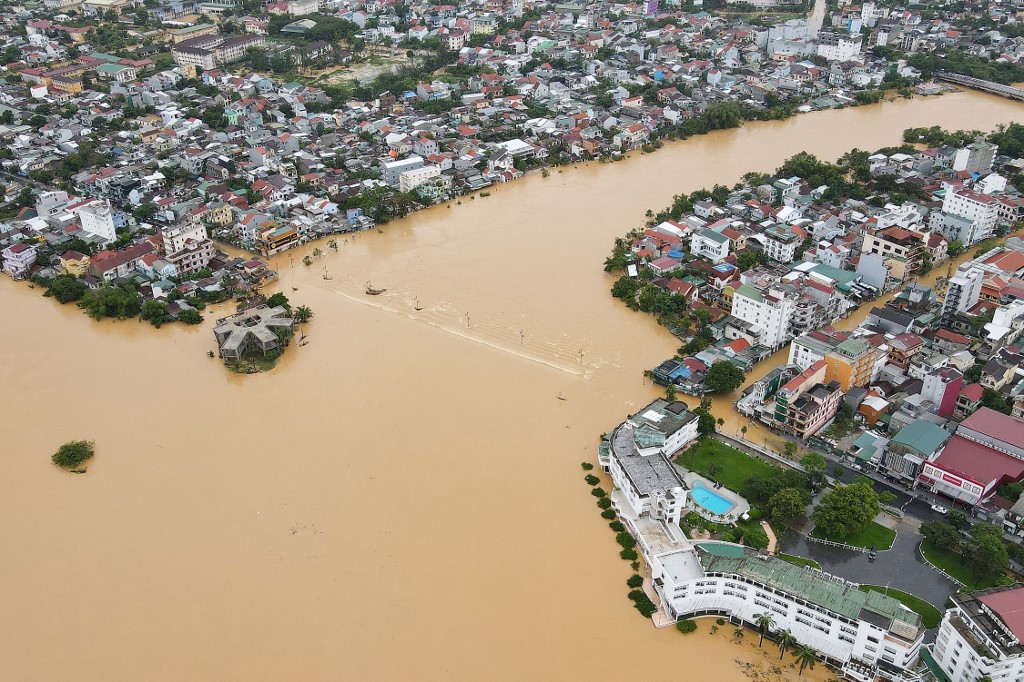 An aerial picture shows Hue city, submerged in floodwaters caused by heavy downpours, in central Vietnam on October 12, 2020. (Photo: AFP)

The casualties were recorded in localities including Thua Thien Hue, Quang Nam, Quang Binh, Quang Tri and Quang Ngai, according to the committee's latest report.
Among the 18 dead, 15 were swept away by floods, the committee said, noting that 10 others were also left missing for the same cause.
As of Sunday night, nearly 15,400 households with over 45,800 people had been evacuated. More than 109,000 houses were inundated, with 382 either collapsed or damaged, according to the report.
Meanwhile, 584 hectares of rice and roughly 3,900 hectares of crops were submerged, said the committee, adding that nearly 150,800 cattle and poultries were killed or swept away due to the disasters.
Over the past week, downpours were witnessed in Vietnam's central and central highlands localities, with the accumulative rainfall surpassing 1,500 mm in some areas.
From Jan. 1 to Sept. 22 this year, natural disasters have left 93 people dead or missing and 272 injured in Vietnam, according to the committee.
The disasters, mainly whirlwinds, floods, landslides and downpours, also caused economic losses of about 5 trillion Vietnamese dong (217.4 million U.S. dollars) during the period, said the committee.