Concerns aired over vaccine against virus before election
China Daily Global
1599184348000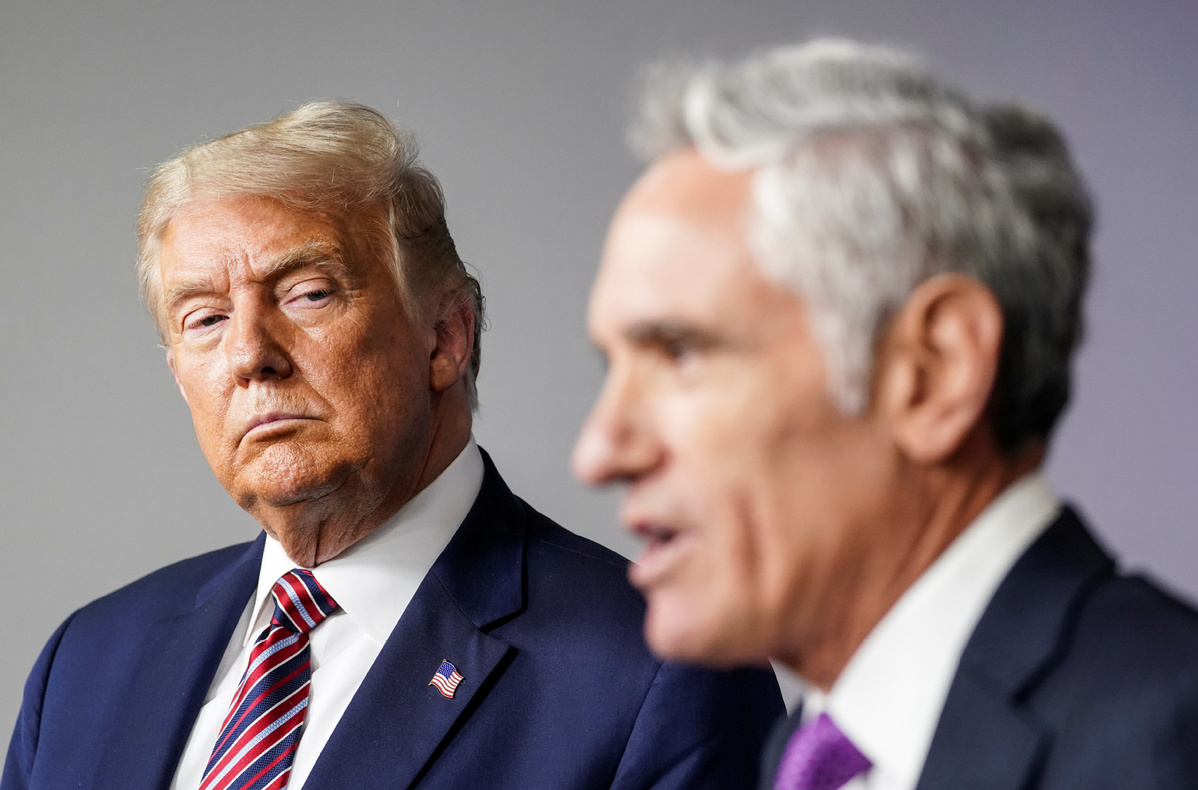 US President Donald Trump listens as Dr Scott Atlas, the newest member of the administration's coronavirus task force, speaks during a briefing on the coronavirus disease (COVID-19) pandemic response at the White House in Washington, US, Aug 12, 2020. [Photo/Agencies]
White House draws flak for moving away from widespread testing, tracing
The White House has come in for criticism for not having a coherent strategy to fight the novel coronavirus and putting political considerations into its response to the pandemic.
Six months ago, the White House claimed that "anyone who wants a test can get a test". Now it is moving away from widespread testing and tracing of the novel coronavirus to focusing on the elderly and students going back to school. The step, as top White House officials put it, will ensure that tests reach the people who need them most.
"There's a big effort being made to ramp up our protection of the elderly because the point of all these things is to save lives, not to document asymptomatic people who are low risk," Scott Atlas, White House medical adviser, said on Monday. "That's not the point of public policy."
Some administration health officials have defended the testing strategy shift as a precursor to the next phase in test development, with tens of millions of rapid coronavirus tests expected to hit the market in the coming months.
The United States has purchased 150 million $5, 15-minute antigen tests from Abbott Laboratories. The US administration wants the tests to be used in schools and assisted living facilities, rather than making them available for the general public, according to news website Politico.
"We're focusing on nursing homes, elderly and minorities because they are the most likely to be hospitalized and die," Brett Giroir, assistant secretary of health, who oversees coronavirus testing efforts, told reporters on Tuesday. "If you focus on everything, you're focusing on nothing."
The Associated Press reported that the federal government has told states to prepare for a coronavirus vaccine to be ready for distribution by Nov 1.
The timeline raised concern among public health experts about an "October surprise"-a vaccine approval driven by political considerations ahead of a presidential election, rather than science, the AP said.
The White House has also been blasted for the widespread confusion it has created in recent days.
Guidelines changed
On Aug 24, the US Centers for Disease Control and Prevention quietly changed guidelines on its website to say that people without symptoms did not necessarily need to be tested, even if they had been in contact with someone who had COVID-19.
The CDC was met with a degree of pushback, with several states, such as California and Nevada, saying they would not follow the guidelines.
"Even though we have spent more than half a year battling a virus whose insidious hallmark is its ability to spread through those with no symptoms, the country has not yet articulated a coherent strategy to test these silent carriers," online media outlet ProPublica said.
Without consistent asymptomatic testing guidelines, strategies are being used with varying standards, testing methods and levels of access.
Calling the new guidelines "vexing and hard to interpret," Jeff Duchin, health officer for public health for Seattle& King County, said in a statement that "testing asymptomatic close contacts of COVID-19 cases is important to identify cases and interrupt transmission".
White House officials have renewed calls for reopening schools and downplayed the threat for the young and middle-aged, effectively urging a majority of Americans to learn to live with the ever-present risk of infection.
The Washington Post reported that Scott Atlas is spearheading a herd immunity approach, which involves lifting restrictions on social and business interactions to spread the virus through most of the population, protecting the vulnerable while the healthy build up resistance to the disease.
Atlas has denied he is pushing the herd immunity strategy but rejected widespread testing.
Leana Wen, an emergency physician, told CNN on Monday that about 2 million Americans could die in the effort to achieve herd immunity to the coronavirus.
Maria Van Kerkhove, the World Health Organization's technical lead for coronavirus response, said during a recent media briefing in Geneva that "herd immunity" is typically discussed in the context of vaccinations-not as a response to a pandemic.
An Axios/Ipsos Poll conducted from Aug 28 to Monday showed that most Americans think the federal government is making the coronavirus pandemic worse.
Searing indictment
"This is a pretty searing indictment of the federal response-not only that it has not helped, but that it's part of the problem," Axios said.
When the Axios-Ipsos Coronavirus Index launched in late March, more than half of Americans said they trusted the federal government to look after their best interests. Last week, the figure dropped to 32 percent.
Despite the lack of faith in the federal government, most Americans are optimistic that this will all be in better shape relatively soon, according to news website Axios.
Fifty-seven percent said they were somewhat or very hopeful that the US will get the pandemic under control within the next six months, while 43 percent were not too hopeful or not hopeful at all.
Public health officials say the White House's recent testing strategy is simply the latest example of the administration allowing politics to drive its pandemic response, according to Politico.
"I think there's a goal, and the goal is reelection," Mark Rosenberg, a former longtime senior CDC official, was quoted by Politico as saying.