Rebels in 4 Syrian towns accept surrendering to Syrian army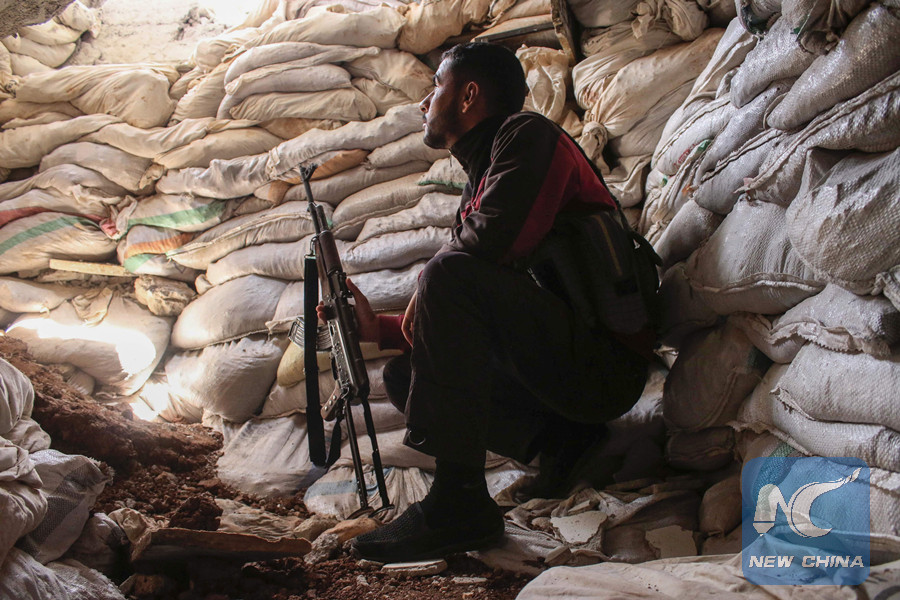 A Syrian rebel fighter sits holding a Kalashnikov assault rifle in a fortified area near the frontlines at a rebel-held area in the southern Syrian city of Daraa on June 2, 2018. (AFP photo)

Rebels in four towns in the southern province of Daraa accepted to hand over their weapons and embark on a reconciliation process with the Syrian government forces, which have been on a wide-scale offensive in that area near the Jordanian border, according to the state news agency SANA.
The towns that will witness the surrender of the rebels to the army are Taibeh, Saida, Um al-Mayathin, and Nasib, where a border crossing with Jordan is located and named after the town.
This achievement comes as a result what the government refers to as reconciliation efforts, which goes in tandem with the military action against the rebels in the countryside of Daraa.
Meanwhile, the state TV aired a short video, showing people chanting for the Syrian army in the town of Ibta in the northern countryside of Daraa.
The military option and the reconciliation attempts in Daraa aim to have the province empty of rebels, particularly as the army secured the entire capital Damascus and its countryside recently.
Daraa is important as it's only 100 km south of Damascus and has border points with neighboring Jordan.
Calling it the battle of the south, the Syrian army is fighting the rebels in the countryside of Daraa, Sweida and the Quneitra province near the Israeli-occupied Golan Heights.
Daraa also has a symbolic significance as it was the birthplace of the Syrian war that erupted in 2011 and securing it will be a big victory for the Syrian army both symbolically and militarily as the rebels have used the Jordanian border to bring in arms and fighters throughout the Syrian war.
Ahead of the commencement of the military offensive in Daraa, the Russians, the Syrian government's main international allies, attempted to establish reconciliation with the rebels in the southern region amid talks and coordination with Israel and the US.
However, the offensive started with the army bringing in reinforcements as the talks haven't been fruitful. The Syrian government accused Israel of thwarting talks for settling the situation in southern Syria and also accused the al-Qaida-linked Nusra Front of preventing other rebel groups from accepting to reconcile with the government.
The government has repeatedly accused Israel of supporting the ultra-radical rebels in southern Syria and also charged that Jordan was aiding the rebels.
But it seems that the military action in Daraa has pushed the rebels to be more practical in dealing with the situation and start to surrender to the army.
On Wednesday, state media outlets said 1,000 people in Daraa countryside surrendered to the army, including rebel fighters and draft dodgers.
If the rebels fully surrendered in Nasib, the government could have access for the first time on the border crossing with Jordan after losing access to it for years.