Syrian abuses slow return of refugees: Lebanon Minister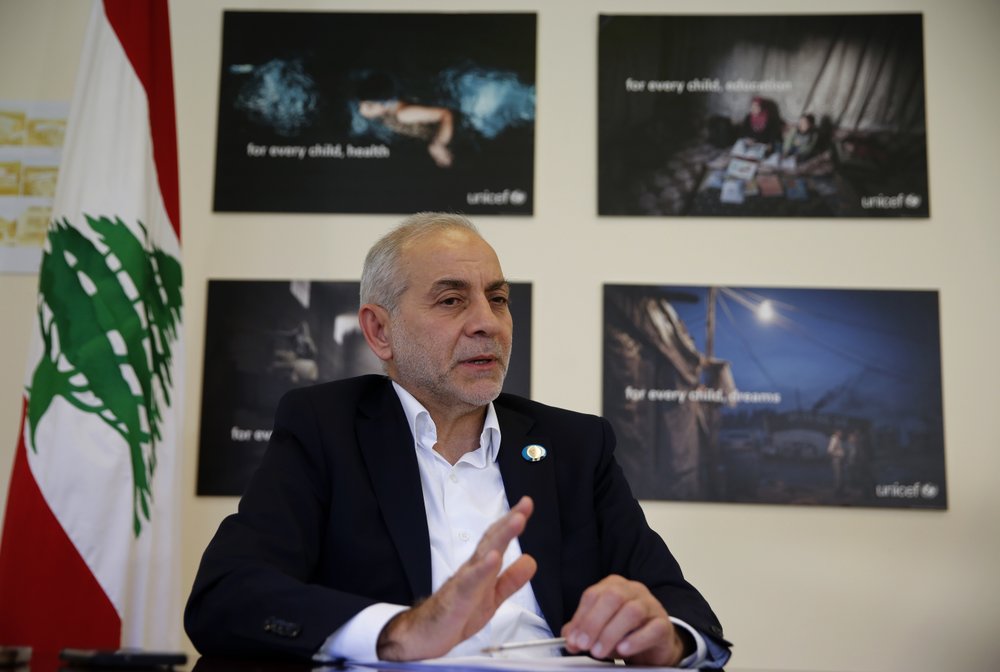 Lebanese Minister of State for Refugee Affairs, Mouin Merhebi, speaks during an interview with the Associated Press, at his office, in Beirut, Lebanon, Tuesday, Nov. 27, 2018. Merhbi says about 12,000 Syrian refugees have returned home since June, some of them have been killed, detained or forced to join the military slowing down the return of Syrians residing in Lebanon. (Photo: AP)
Some refugees who have gone back to Syria from Lebanon have been killed, detained or forced to join the military, abuses that deter others from returning, a Lebanese Cabinet minister said Tuesday.

Minister of State for Refugees Affairs Mouin Merhebi told The Associated Press that 20 refugees have been killed since refugee started returning from Lebanon in June. His claims have been contested by groups that closely monitor the Syria conflict and by Lebanese officials close to the Syrian government.
Merhebi said that so far about 12,000 Syrian refugees have returned home from Lebanon since June. His numbers are much lower than those released by Lebanon's General Security Directorate, which says more than 87,000 have returned.
Merhebi, who is a harsh critic of the Syrian government and its Lebanese ally Hezbollah, said some of those who have been registered as returnees go back and forth between the two neighboring countries.
Either way, it's a small fraction of the hundreds of thousands who fled to Lebanon to escape the civil war, which began in 2011.
Syria's seven-year conflict has displaced nearly half the country's population, with an estimated 6 million internally displaced and 5.6 million fleeing to neighboring countries and Europe, and registering with the United Nations Refugee Agency.
"What we are sure about is nearly 20 (got killed) and there are three cases that I personally documented and I spoke with their relatives and received their photos," Merhebi said, before flipping through his smartphone showing photos of three young men who he said were killed in their village near the Lebanon border after crossing into Syria. He said his information about Syrians getting killed back home came from relatives residing in Lebanon. He did not offer any concrete evidence beyond that.
"Such acts discourage Syrian refugees from returning home," Merhebi said.
The Britain-based Syrian Observatory for Human Rights, which supports the Syrian opposition, said it had no reports that any repatriated refugees were killed. But its director, Rami Abdurrahman, said 700 have been detained since June. Of those, 370 remain in custody.
Merhebi said that at the height of the war the number of registered Syrian refugees in Lebanon reached 1.2 million, or about a quarter of Lebanon's population. He said the number now is about 940,000, after some returned to Syria or were resettled in other countries.
The Russian military says nearly 270,000 Syrian refugees have returned home in recent months.
Russia and the Syrian government have been encouraging refugees to repatriate, arguing that the violence has subsided. Russia launched military operations to help Syrian President Bashar Assad's forces in 2015, changing the tide of the war in his favor.
Western governments say it's too early to encourage return. Rights groups and the UN fear refugees would face persecution returning to government-controlled areas in the absence of a comprehensive political agreement.
Merhebi blasted the Shiite Hezbollah, which joined with government forces in 2013, accusing them of preventing mostly Sunni residents from returning to their homes in villages and towns near the Lebanon border. He accused the group of trying to bring about demographic change in the region, which runs alongside mostly-Shiite areas on the Lebanese side of the border.
"Hezbollah contributed to the destruction of Syrian cities and towns and killed and displaced Syrians," he said. "The moment Syrian refugees hear that Hezbollah is registering names they get terrified... This is having negative effects."
Hezbollah has rejected Merhebi's findings, and says it encourages Syrian refugees to return from Lebanon.