French government offers olive branch in pensions dispute
China Daily Global
1578916550000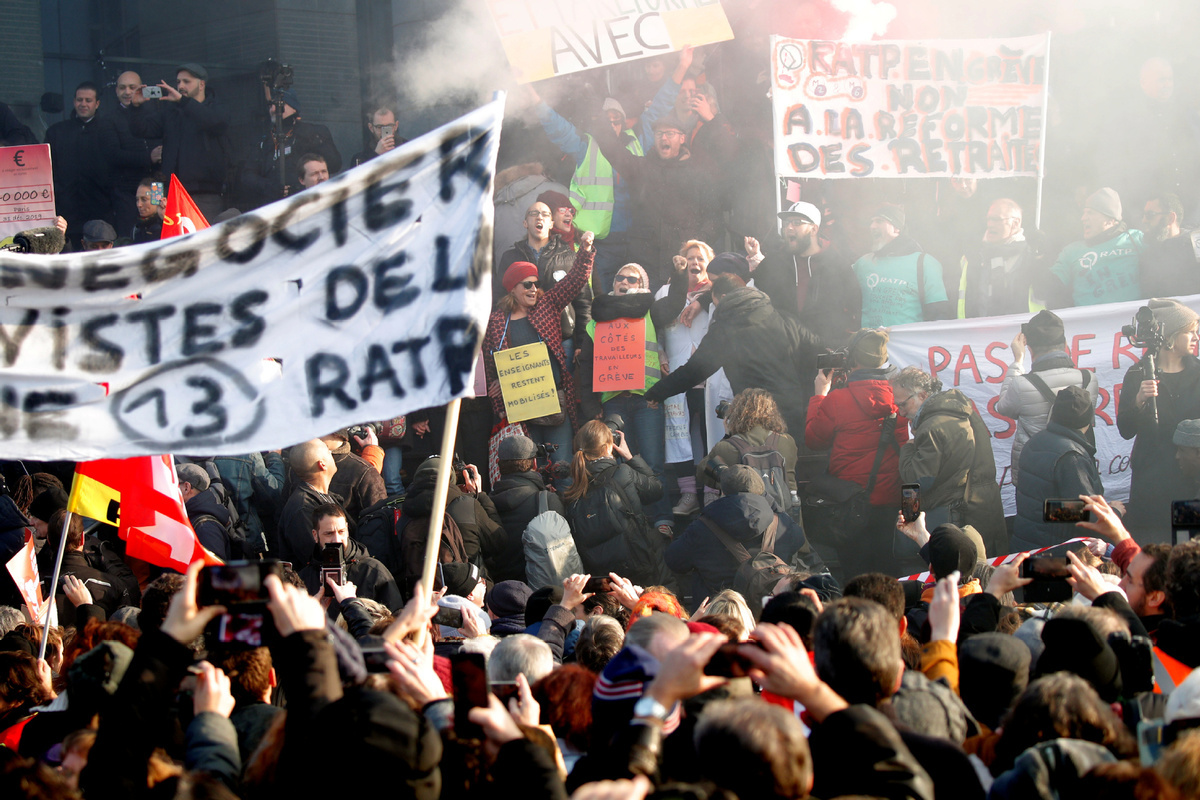 Members of the Paris Opera's orchestra, workers of the Paris transport network (RATP) French SNCF railway workers and teachers demonstrate at the city's Place de la Bastille square to protest the government's proposed pension reform in Paris, France, December 31, 2019. (Photo: Agencies)
The French government has offered a concession in its long-running dispute with the country's unions over pension reform, a political disagreement that has seen France plagued by six weeks of major transport strikes.
It had hoped to streamline the country's pensions system, which involves 42 different schemes, into one more transparent points-based set-up, but this would have involved raising the retirement age from 62 to 64, a suggestion that upset many workers, particularly those in the transport sector, which has some of the best terms available. As a consequence, there has been heavy disruption to public transport since early December.
The reform proposal is due to be presented to the Cabinet by Jan 24 and should be available for debate in the National Assembly by Feb 17. Now Prime Minister Edouard Philippe says he is willing to withdraw the age clause, which would have come in from 2027, if some sort of agreement can be reached by the time the bill has its second reading in Parliament.
"To demonstrate my confidence in the social partners ... I am willing to withdraw from the bill the short-term measure I had proposed," he wrote.
The suggestion has received a mixed welcome. Moderate trade union the Democratic Confederation of Labor, known as the CFDT, said it demonstrated "the government's willingness to compromise".
CFDT General Secretary Laurent Berger tweeted that it was a "victory" for the union. "We obtained the withdrawal of the pivotal age, a victory for the CFDT!," he wrote. "We will now continue our action for a fairer and more united retirement system."
But other trade organizations including the General Confederation of Labor, or CGT, remain opposed. It called the concession a "smokescreen" and said it was "more determined than ever" to resist the changes.
When Philippe announced the planned overhaul at the start of December, he said it should not be "a battle", adding that "the ambition of a universal scheme is an ambition for social justice, there is no hidden agenda … we want to protect the purchasing power of workers and the pensioners of today and tomorrow.
"We are proposing a new pact between generations," he continued, saying "we want a system that is the same for all French without exceptions". Women would be the big winners of the reform, he said, as the current system ties pensions to career earnings, which often works against women.
President Emmanuel Macron has given his backing to the proposed reforms, saying that for the pension system to continue to function properly with an aging population, and to avoid having to cut benefits, "either one has to contribute more, or one has to agree to work a little longer". But much of the country's labor force remains unconvinced.