Chinese, French FMs hold phone talks over G20 summit, climate change
MADRID, Nov. 27 (Xinhua) -- Chinese State Councilor and Foreign Minister Wang Yi discussed the upcoming Group of 20 (G20) summit and climate change with French Foreign Minister Jean-Yves Le Drian by phone on Tuesday.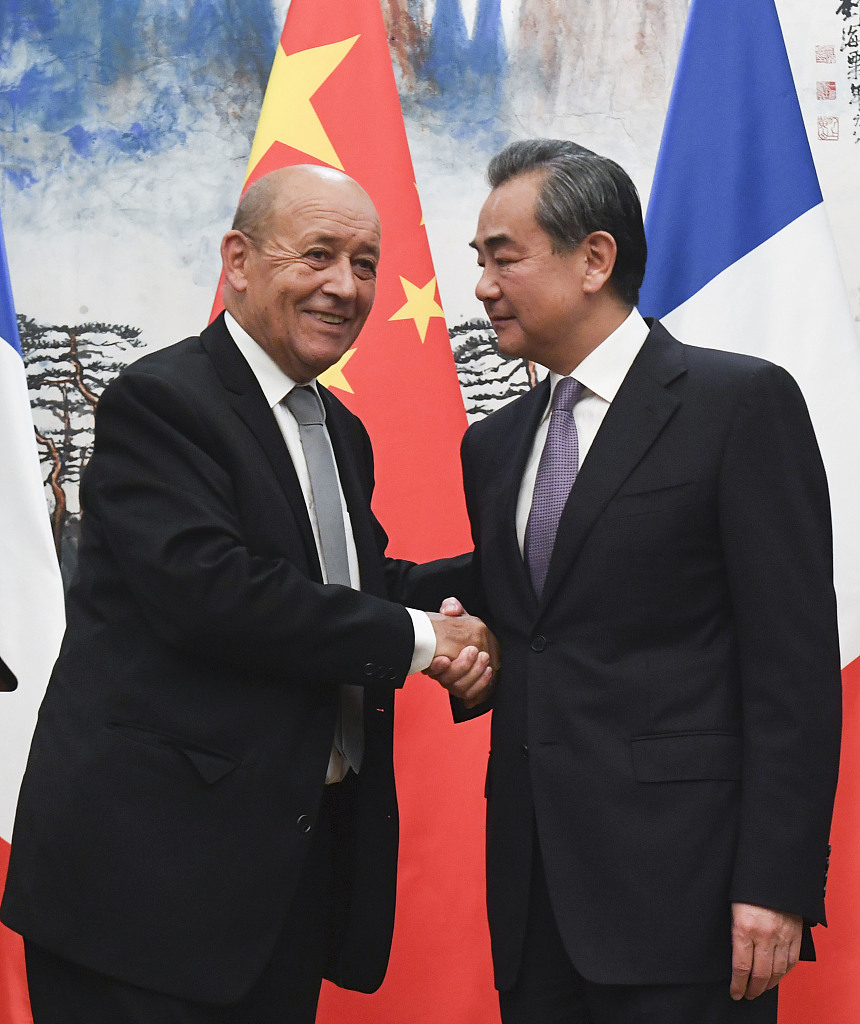 Chinese Foreign Minister Wang Yi (R) and his French counterpart Jean-Yves Le Drian shake hands following a joint press conference in Beijing on Sept. 13, 2018. (Photos: VCG)
Wang said that Xi will meet with French President Emmanuel Macron on the sidelines of the G20 Buenos Aires summit, which will be of great significance to advancing China-France relations for the next stage.
"China is willing to strengthen strategic coordination with the French side to help ensure that the G20 summit can produce positive outcomes," Wang said.
For his part, Le Drian said that Macron is looking forward to meeting with Xi in Buenos Aires.
As tackling climate change is one of the important topics for this year's G20 summit, the two sides should make joint efforts to push the G20 members to speak with one voice in this regard at the summit and inject fresh impetus into securing the success of the 24th Conference of the Parties (COP24) to the United Nations Framework Convention on Climate Change (UNFCCC), which is scheduled to be held in Poland in December, Le Drian said.
Wang stressed that it is quite necessary for China and France, as comprehensive strategic partners, to strengthen strategic communication on major international issues, including the agenda of the G20 summit.
Noting that climate change is a common challenge facing the international community and bears on the future of human development, Wang said that China appreciates the positive role France has played in tackling climate change and stands ready to work with the French side to send out positive signals during the G20 summit and jointly push for the success of the COP24 to the UNFCCC.
Cover image: Chinese Foreign Minister Wang Yi (R) and his French counterpart Jean-Yves Le Drian hold a joint press conference after talks in Beijing on Sept. 13, 2018.