Italy's new gov't to start out with political stability, major challenges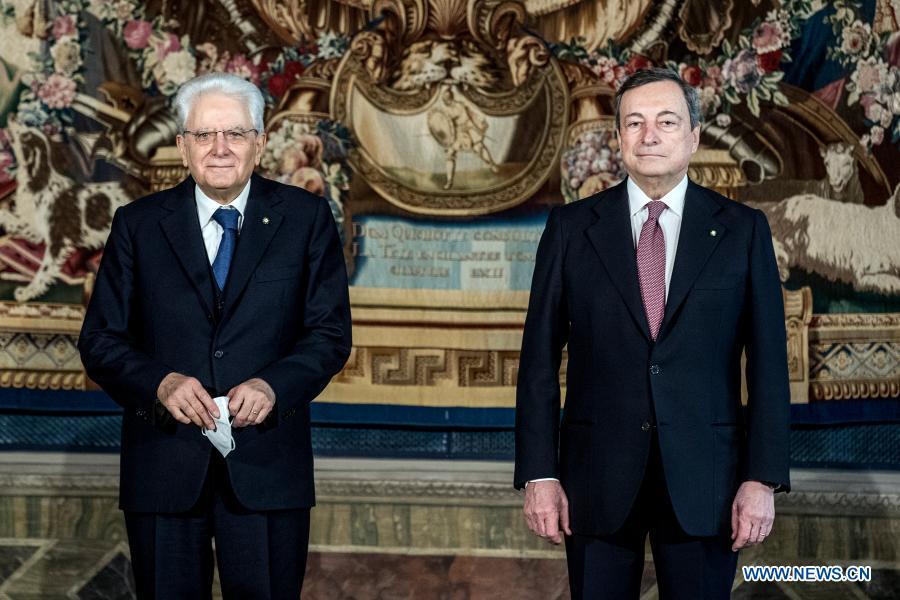 Italy's new prime minister will start out addressing the same big challenges that crippled the previous government: a strategy for the coronavirus pandemic and how to effectively spend more than 200 billion euros ($244 billion) in European Union coronavirus recovery fund, analysts have said.

Mario Draghi, the 73-year-old former European Central Bank (ECB) governor who came out of retirement to take charge of a wide-ranging coalition government, was sworn in as prime minister Saturday.
Draghi takes over from Giuseppe Conte, a law professor who was first thrust onto the national stage in 2018 when he became prime minister supported by an uneasy coalition made up of long-time political rivals.
Analysts said that Draghi will at least benefit from political stability Conte did not have: the coalition supporting his "unity government" includes representatives of all but one of the country's major political parties. But that does not mean Draghi will have an easy job as prime minister.
"Until now, Draghi is best known for rescuing the euro currency in 2012," Gian Franco Gallo, a political affairs analyst with ABS Securities, told Xinhua, referring to his moves at the ECB to bring down borrowing rates and bolster the European financial system. "The challenge he faces now might be even larger."
The pandemic has hit Italy particularly hard. The country was the first western nation with a major coronavirus outbreak, and as of Sunday, the Ministry of Health has reported more than 2.7 million infections with over 93,000 lives lost. Both numbers are among the highest in the world for a single nation.
Though infection and mortality rates have improved since their peaks in late November, the situation has been complicated in recent weeks by slowdowns in the country's vaccination rollout.
"The new prime minister is going to have to find a way to accelerate the vaccinations and to augment other protections against the pandemic," Marcello Messori, a professor of international economics at Rome's LUISS University, said in an interview. "Italy has an aging population that is more vulnerable to the virus, and showing progress in this area is essential to improving the economic and social cohesion of the country."
Messori said developing an effective plan for spending the resources from the EU's recovery fund is the other primary concern. Repeated clashes over the government's priorities in this area was a factor in the collapse of the coalition backing Conte. Italy is required to present its spending strategy to the European Commission by the end of April.
"The plan should focus on reforms to modernize cities and to encourage innovation," Messori said. "It is important that these funds are spent quickly and effectively."
According to Flavio Chiapponi, a professor of political communications at the University of Pavia, Draghi has an advantage over recent Italian governments that goes beyond the wide support among political parties -- Draghi is a widely respected and independent figure who comes from outside the world of Italian politics.
"Other recent leaders either came from the political system, which means a large part of the population was already suspicious of them, or they came from outside the political system but they were relatively unknown," Chiapponi told Xinhua. "The respect Draghi commands should give him a basis for addressing the country's problems. But it won't make solving them any easier."