Macron's China policy faces new tasks amid Russia-Ukraine conflict
Global Times
1651068409000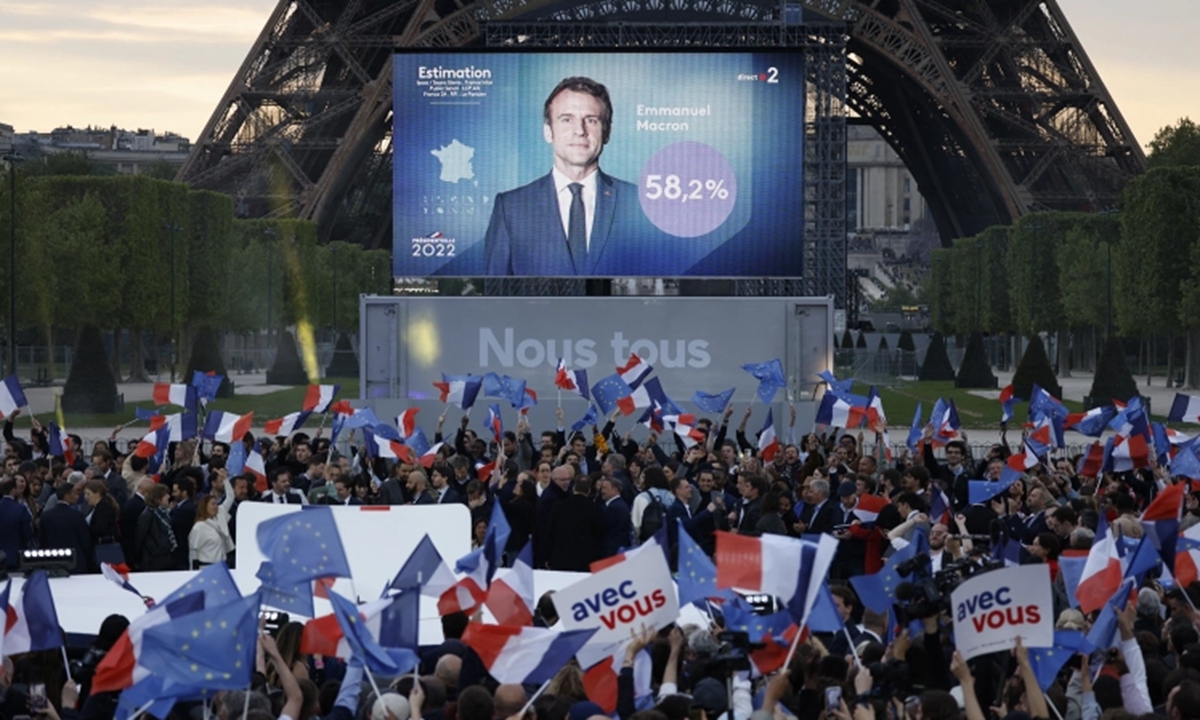 The French election is over. Macron was re-elected and Marine Le Pen lost. This is a relief for Washington. The US fear was that Europe would be split in its policy toward Russia because of the rise to power of a far-right president with pro-Russian leanings.

US media even said that Russian President Vladimir Putin lost his best chance to gain a major geopolitical partner in the West because of Le Pen's loss in the French presidential election runoff on Sunday. Some Central and Eastern European countries that support a tough counter-attack against Russia share the same fear.
Western public opinion has long viewed Le Pen as an anti-globalization icon, often displaying strong anti-globalization sentiments in her speeches and seeming to follow Trump's lead and emphasize "France first."
In France, however, this anti-globalization and anti-immigration right-leaning stance is gaining more and more support.
Macron received 58.54 percent of the valid votes in the second round of voting, while Le Pen received 41.46 percent. In the 2002 French election, Jacques Chirac, who was running for re-election against Marine Le Pen's father Jean-Marie Le Pen, received 82.2 percent of the vote, while in 2017, Macron and Le Pen received 66 percent and 34 percent of the vote, respectively.
Macron's election preserves France's policy of continuing to promote integration, but due to the aforementioned change in public opinion, France's foreign policy will see adjustments.
In the process of European integration that began in the 1950s, France was the initiator and moreover the promoter, but it placed more emphasis on the strategy of building an independent and autonomous union.
This does not mean that France holds values different from those of other European countries; it is precisely because of its greater emphasis on European values that it formed the core of integration together with Germany, its rival back then. The eastward expansion of the EU further strengthens the common values that are the basis of the union. So the EU is not only an economic union but also a political one.
Of course, the real test for Macron remains the economy. Macron's re-election was made possible by the improvement of the French economy. According to data released by the Bank of France last December, the French economy grew more than expected in 2021, up 6.7 percent, the highest in more than 50 years. However, the challenges ahead are still very serious, including his promised pension reform, as well as how to deal with the impact of the Russian gas and oil supply cuts to EU countries.
Bloomberg's analysis suggests that if Macron wins, he will become the first French incumbent to win re-election since Jacques Chirac 20 years ago. With German Chancellor Olaf Scholz and Italian Prime Minister Mario Draghi in office, EU's three largest economies will be run by closer advocates of EU integration who are eager to boost the economic power of the bloc.
So, will French policy toward China become more pragmatic and flexible because of the need for economic development? The answer should not ignore EU's foreign policy in the context of the Russia-Ukraine war.
Instead of weakening, the Russia-Ukraine war has deepened the unity between Old Europe and New Europe as Russia has re-emerged as their common enemy - a destroyer of the new European order that the EU has tried to build for generations.
The war has reinforced EU's sense of itself as an ideological union, and its policy toward China is bound to be affected by this, as France will have to pay more attention to a coherent EU foreign policy, as well as to China's relations with Russia, if it is to continue to play an important role in integration.
Another issue that needs to be taken into account is that the war between Russia and Ukraine has tightened the relationship between the US and the EU, and the US and other EU powers will strengthen their coordination on China policy. Central and Eastern European countries in the EU, which are closer to the US, will also be able to strengthen their influence on EU's China policy.