Ankara may give up S-400 deal under U.S. pressure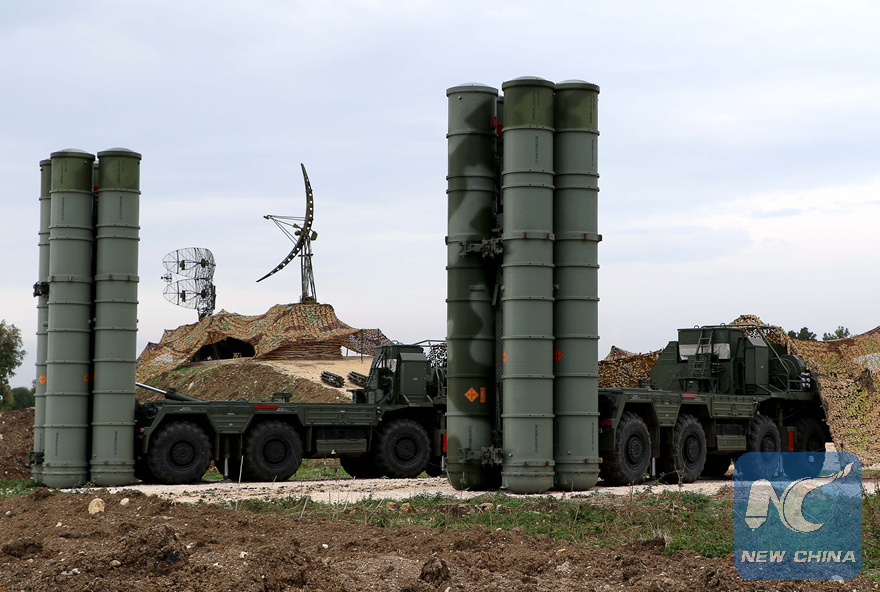 An S-400 missile system pictured in a Russian base in Syria's northwestern province of Latakia on Dec. 16, 2015. Photo: Xinhua/AFP
Turkey's bid to buy Russian S-400 air defense system risks falling through under increasing U.S. and NATO pressure, analysts told Xinhua.
Ankara may back out by citing Russian unwillingness to transfer the technology as a pretext, said Hasan Koni, a professor of public international law at Istanbul Kultur University.
"TURKEY COULD GIVE UP"
NATO and the United States had expressed concern about Turkey's choice of Russian missiles, and the latest warning from a top NATO officer was stronger.
Turkey would have to face some consequences should it go ahead with the S-400 deal, Gen. Petr Pavel, chairman of NATO's Military Committee, reportedly told a group of journalists last week.
The purchase of the Russian system would not only block Ankara from being part of an integrated air defense system with its NATO allies, but also result in some other restrictions, the general said.
Given Turkey's currently highly strained ties with the U.S., Koni does not expect Ankara to step back within a short time, saying it could take one or two years for the country to abandon the bid eventually.
If Ankara were to go back on the deal right away, it would leave the impression of a defeat at home, negatively affecting the ruling party's image.
In 2015, Turkey backed away under U.S. and NATO pressure from a deal with a Chinese firm on the supply of a long-range air defense system similar to S-400.
"The chances today are even less than 10 percent for Turkey to buy this system," said Haldun Solmazturk, a retired general with the Turkish military.
Maintaining that it was not much probable for Turkey to buy the missiles right from the beginning, he sees Ankara's move as a step taken, without consulting experts, to mend ties with Russia damaged after a Turkish jet shot down a Russian bomber along the Syrian border in November 2015.
Following around a year of talks, Turkish President Recep Tayyip Erdogan revealed in September that Turkey had signed a deal to buy the S-400 system. He underlined Ankara's determination to press ahead with the deal by saying that an advance payment had been made.
"Depending on how Turkey's ties with the U.S. will progress, Ankara could give up buying the S-400," said Celalettin Yavuz, a security policy analyst from Istanbul Ayvansaray University.
The U.S. is preparing to impose sanctions on several dozens of Russian companies to avenge alleged Russian meddling in last year's U.S. presidential election, including state-run Almaz-Antey and Rosoboronexport, the producer of the S-400 system and its exporter.
Those who engage in a "significant transaction" with the companies in question unveiled by the U.S. State Department last Friday will be facing U.S. sanctions.
"The sanctions on Russian companies may negatively affect Turkey's final decision regarding the S-400," Koni said.
A head-on confrontation with the U.S. could also take its toll on the Turkish economy, which is already showing signs of stress.
The Turkish economy is adversely affected whenever a crisis breaks out between Washington and Ankara, noted Yavuz, a former captain in the Turkish Navy.
Turkey is already angry at the U.S. for arresting two of its citizens on charges of violating UN sanctions against Iran and money laundering.
One is Reza Zarrab, a Turkish citizen of Iranian origin who once faced charges of bribing some cabinet ministers in Turkey several years ago. The other is Hakan Atilla, a deputy general manager of Turkey's state-owned Halkbank.
The U.S. court also issued an arrest warrant for Zafer Caglayan, a former Turkish minister of economy.
Washington is sending a message that those who cooperate with the Russian companies blacklisted will face sanctions, Beyazit Karatas, deputy chairman of Turkey's Patriotic Party, was quoted as saying on Tuesday.
Karatas, a former general in the Turkish military, argued that Ankara and Moscow could simply disregard the U.S. threat.
PENDING ISSUES
Despite Erdogan's remarks, there seems to be pending issues to be addressed for the deal with Russia to be finalized. For instance, Russia's apparent unwillingness to share the S-400 system's sophisticated technology with Turkey is a roadblock.
Ankara appears to be ready to buy the first batch of the S-400 missiles off-the-shelf, but demand transfer of technology and joint production in the medium term.
"We have agreed in principle (with Russia) on joint production in the medium and longer term. If the Russians would not accept that, we would make a deal with another country," Turkish Foreign Minister Mevlut Cavuoglu said in early October.
"Russia would not agree to transfer technology to Turkey in NATO," said Koni.
U.S.-Turkey ties have been strained further to a new low lately after both suspended non-immigrant visa applications for each other's citizens last month.
Many tend to think that General Pavel's remarks were representing the attitude of the United States. For Yavuz, the U.S. Defense Department was threatening Turkey through the NATO general.
The U.S. and NATO had earlier warned that the Russian missiles could not be integrated into the NATO's air defense system, a condition that Ankara accepted.
Unlike previous warnings, however, Pavel said this time that even without being integrated into the NATO system, the mere presence of S-400 would "create challenges for allied assets" on the same territory.
Pavel did not clarify what "allied assets" he was indicating. But his remarks, some press reports said, suggested that he was referring to the new-generation stealth F-35 fighter jets which Turkey has committed to buy as well.
Both Koni and Yavuz think that the U.S. may block the delivery of the newly developed F-35 jets to Turkey if the S-400 deal is finalized.
Back in 1994, Washington delayed the delivery of three frigates to Ankara due to tension in ties, noted Yavuz.
Unlike the two analysts, Solmazturk does not expect the U.S. to block F-35 delivery, but believes Pavel's warning indicates that Turkey would face some restrictions on integration with the NATO's air defense system.
Turkey may be denied some software in F-35 jets, added Solmazturk, who chairs the Incek debates at the Ankara-based 21st Century Turkey Institute.
Turkey is one of the partner countries in the production of F-35 jets and expects to get the first batch of two jets in 2019. Ankara is planning to buy a total of 100 F-35 jets.
Noticeably, the U.S. Congress' perception of Turkey has become rather negative mainly due to its alleged growing slide toward authoritarianism.
In early September, before Erdogan spoke of the S-400 deal with Russia, the Committee on Foreign Relations of the U.S. Senate discussed whether Washington should stop exports of sophisticated weaponry to Turkey if the deal is settled.
Turkish Prime Minister Binali Yildirim will be visiting the U.S. next week, with the S-400 issue expected to be on the agenda.
Koni feels that if the conflict in Syria is settled without further increasing tension between Ankara and Washington, then Turkey would not lean more toward Russia to the detriment of the U.S. and NATO.
Washington's continued arming of Syrian Kurdish fighters, regarded by Ankara as terrorists, has been a major irritant in bilateral ties.