Namibian informal traders maximise on full reopening of economy to revive business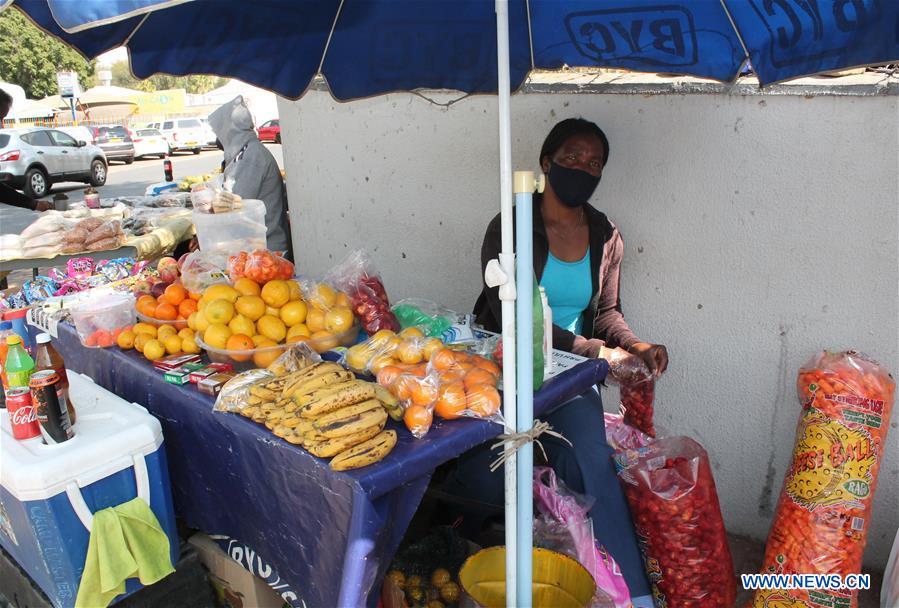 A vendor wearing a face mask sells fruits in Windhoek, Namibia, Oct. 22, 2020. (Photo: Xinhua)
WINDHOEK, Oct. 23 (Xinhua) -- At a hand-made stall along the main junction at Havana informal settlement on the outskirts of Namibian capital Windhoek, Else Shivute negotiated with a client over price of fruits and vegetables.

"I intentionally did not allocate a fixed price to make room for negotiation. The aim is to get the best deal to help me recover major losses endured over the last six months," Shivute said on Thursday.
Since the outbreak of COVID-19, the Namibian government imposed restrictions since March this year in various stages meant to curb the spread of COVID-19 under the state of emergency, which lapsed in September this year.
"That was a reprieve for business, and we endured major losses. We are now hoping for better as the country opens up fully," she said.
Namibian President Hage Geingob lifted the state of emergency in September, and further relaxed measures and COVID-19 regulations on Oct. 21 amid a decline of new cases. New measures include allowing public transport operators to carry passengers to full capacity as well as increased attendance of public gatherings to 200 people.
Shivute is among many traders maximising the full reopening of the country's economy to rejuvenate their enterprises.
Upon hearing the news, taxi businesses are also hoping to recover with relaxed restrictions on public transport.
Dave David, a taxi driver, based in Windhoek, said that he has been finding it challenging to earn a substantial income over the last seven months.
"During lockdown and other restrictions due to COVID-19, we were only allowed to carry a few passengers. My income reduced to a mere 100 to 400 Namibian dollars(6.2 to 24.7 U.S. dollars), which was a major loss. I am happy that restrictions have been lifted. We are ready to work to revive our industry," he said.
Postrick Mushendami, deputy director for research at the Bank of Namibia, said that the transport sector was one of the sectors drastically affected.
Silas Tobias is a mobile trader of recharge vouchers and other products. According to Tobias, he can now move from one area to another and have people support him.
"I can also sell beyond certain hours unlike before when government imposed a curfew. Likewise where there are gatherings by many people business tend to thrive," Tobias said.
Meanwhile, for bar owner Silas Shilongo, the full reopening of the economy meant three things for him.
"Firstly, the sale of alcohol was prohibited. Secondly, there was a curfew and trading hours, and thirdly government halted onsite consumption, from which we derived most income. So one can imagine how we feel. I can finally trade. The time is now to revive our businesses," Shilongo added.
Mally Likukela, an economist at Twilight Capital, said that the measures that were put in place to curb the spread of COVID-19 such as the closing of the businesses, borders and restricted movement drove most businesses and sectors to a slump.
In the interim, Likukela said that the country's economy is projected to rebound at positive growth of 2.1 percent in 2021.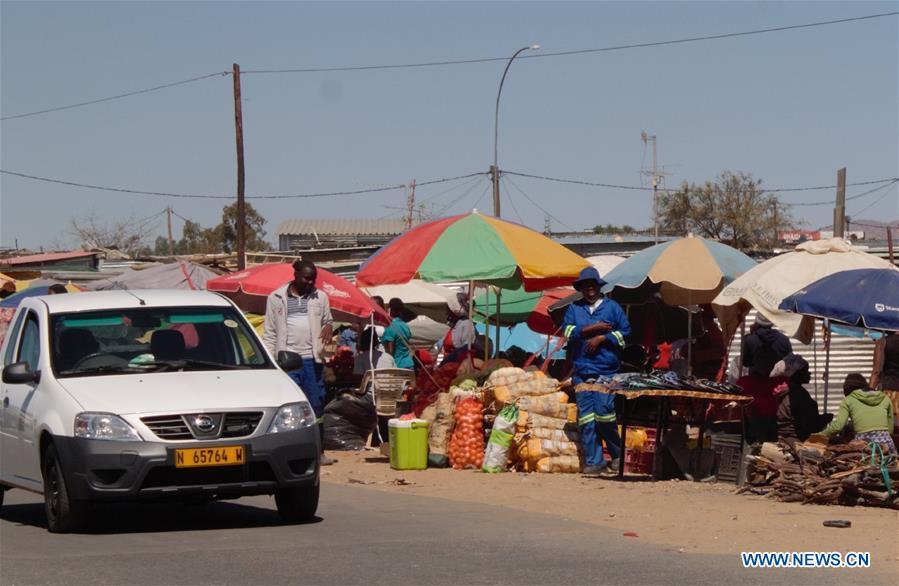 Vendors sell products by a street in Windhoek, Namibia, Oct. 22, 2020.