UK govt: School return 'critical to recovery'
China Daily Global
1593738824000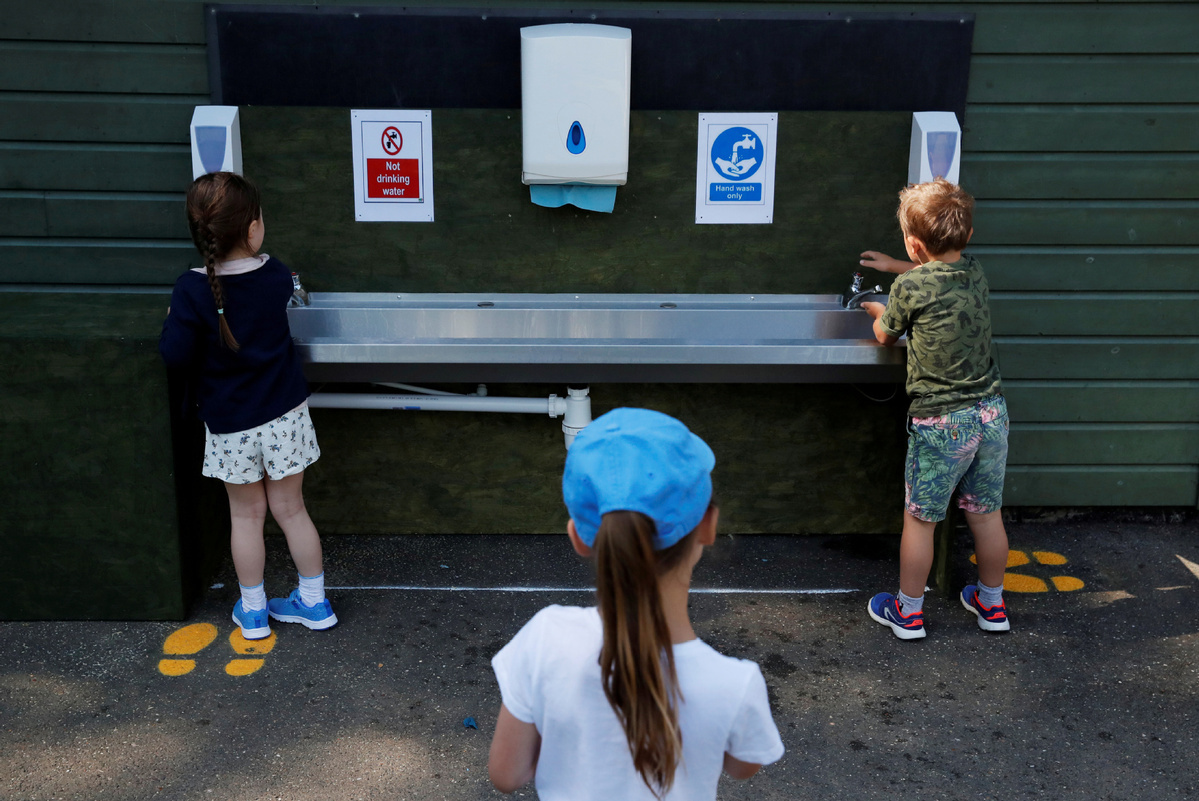 Children are seen washing their hands at Heath Mount School as some schools reopen, following the outbreak of the coronavirus disease (COVID-19), Watton-at-Stone, Britain, June 2, 2020. (Photo: Agencies)
School pupils in England will be grouped into "bubbles" when the new academic year starts in September, with mass activities such as assemblies discouraged under new regulations announced by Education Secretary Gavin Williamson on Thursday.
He revealed the plan to Parliament and then expanded on it in the first Downing Street media conference called since daily briefings on the novel coronavirus outbreak were abandoned.
Schools were shut down in March. Currently around 1.6 million of the country's 9 million school-age children are back in the classroom, but the government says a proper return in September is "critical to our national recovery" and attendance will be compulsory.
Social distancing will not be applied in schools, and masks will not be worn, but instead so-called bubbles, based on avoiding contact between individual classes or year groups, will be deployed. This will mean separate start and finish times, and also different times for lunch and playtime.
Pupils will be discouraged from using public transport, which could bring many other challenges. Mobile testing units will be sent to schools which have an outbreak, and schools will have testing kits to give parents if required, but if there are two confirmed cases in 14 days, potentially the whole school could be shut down.
"I want to reassure parents and families that we are doing everything we can to make sure schools, nurseries, colleges and other providers are as safe as possible for children and staff, and will continue to work closely with the country's best scientific and medical experts to ensure that is the case," said Williamson.
Geoff Barton, the general secretary of the Association of School and College Leaders, told the Guardian newspaper that the practicalities of keeping groups apart would be "mind-boggling."
"It will be immediately apparent to anyone reading this guidance that it is enormously challenging to implement," he said. "The logistics of keeping apart many different 'bubbles' of children in a full school, including whole-year groups comprising hundreds of pupils, is mind-boggling."
Meanwhile, before the much-anticipated next stage of easing lockdown in England takes place this weekend, the number of COVID-19 cases has risen in 36 local authorities across England.
Easing measures have already had to be delayed in the East Midlands city of Leicester, but now other spikes in infection rate are being reported all across England.
The areas with the largest increases are Knowsley and Bolton, both in the North West of the country, and the London borough of Hammersmith and Fulham. In Knowsley, close to the city of Liverpool, the rate of infection rose from 6 people out of every 100,000 to 20.
The arts sector in Britain continues to feel the effects of the pandemic, with the Nuffield Theatre in Southampton announcing its closure after 60 years. Other theaters in Plymouth, Manchester and Norwich have already announced mass redundancies as anger grows over a perceived lack of government support for the culture sector.
In Scotland, First Minister Nicola Sturgeon says face coverings will be compulsory in shops from July 9 as the country continues its progress out of lockdown, and the 2-meter social distancing rule could also be eased.
Although the 2-meter rule has already been changed in England to 1 meter plus, the initial advice was kept in Scotland while scientific studies were carried out.
Sturgeon said that "as the distance between people decreases, the risk of transmitting the virus increases", and that overall, the "general advice will remain unchanged" but because of the economic impact of applying that across all situations, a 1-meter rule would be applied to "specific sectors" where other safety measures could be also be deployed.
The 2-meter rule is also to be scrapped for children under the age of 12 when mixing with other households.
As from next week, dozens of countries look set to be exempt from the United Kingdom's travel quarantine measures as the government's initial mass restrictions are largely repealed.