Libyan navy says 63 missing in new Mediterranean shipwreck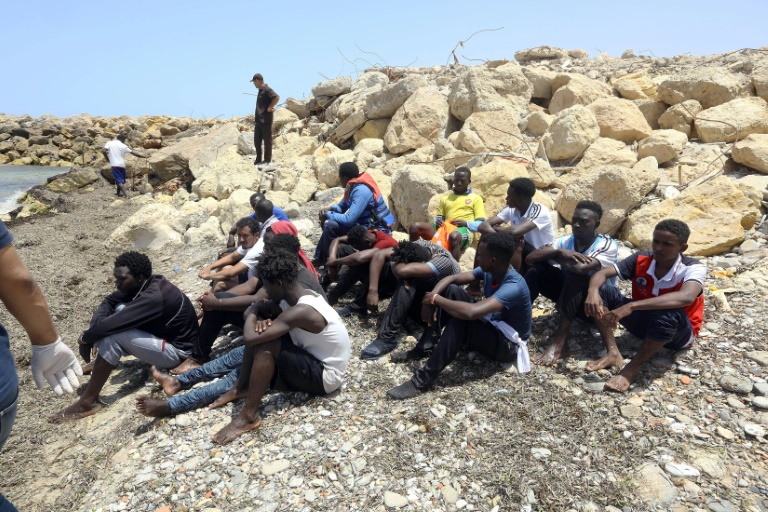 Observers say there has been an 'alarming' increase in the number of deaths off the Libyan coast as migrants rush to beat expected crackdowns in Europe. (Photo: AFP)
A new shipwreck off the Libyan coast has left 63 people missing in the latest disaster to hit migrants seeking to cross the Mediterranean.
The group are feared drowned after the inflatable boat they were on sank, a spokesman for Libya's navy General Ayoub Kacem told AFP, citing eyewitness accounts from survivors.
Kacem said that 41 people wearing life jackets were rescued.
"The coast guards did not find bodies in the area," he said.
According to survivors, there were 104 people on board the vessel, which sank off Garaboulli, east of Tripoli.
In the last few months, this area has become the main point of departure for inflatable boats overloaded with migrants seeking to make the perilous crossing of the Mediterranean to Italy.
In addition to the 41 people rescued, a Libyan coastguard boat returned to Tripoli Monday with another 235 migrants, including 54 infants and 29 women, rescued in two other operations in the same area.
The boat's return to shore was delayed 24 hours due to a breakdown, Kacem said.
- 'Desperation'-
Including the latest shipwreck, some 170 migrants have gone missing in the Mediterranean between Friday and Sunday.
On Friday, three babies died off the coast of Libya while 100 people remained missing in another Mediterranean shipwreck.
Just 16 were rescued, all young men, while the missing included two babies and three children under the age of 12.
More than 1,000 people have died in the Mediterranean so far this year, according to International Organization for Migration figures.
"There is an alarming increase in deaths at sea off Libya Coast," said IOM Libya Chief of Mission Othman Belbeisi.
"Smugglers are exploiting the desperation of migrants to leave before there are further crackdowns on Mediterranean crossings by Europe," he said in a statement.
Last week, Kacem warned of an increase in departures ahead of a feared closure of European borders, after Rome closed Italian ports to NGO rescue ships.
More than 1,000 migrants have been rescued or intercepted by Libyan coastguards since Friday.
Once they are back on dry land, the migrants are transferred by Libyan authorities to detention centers.
IOM's director general, William Lacy Swing, said he was travelling to Tripoli this week to "see firsthand the conditions of migrants who have been rescued as well as those returned to shore by the Libya Coast Guard."
"IOM is determined to ensure that the human rights of all migrants are respected as together we all make efforts to stop the people smuggling trade, which is so exploitative of migrants," he said in a statement.
- Libya situation -
Libya is a key transit point for thousands of African migrants trying to reach European shores.
When Moamer Kadhafi ran Libya, before he was overthrown and killed in 2011, thousands of migrants would cross Libya's long southern border in a bid to make it to the coast and cross the Mediterranean to Europe.
The situation has deteriorated since Kadhafi's fall, with traffickers exploiting the chaos that engulfed the country and tens of thousands of migrants seeking to make the crossing to Italy, which is 300 kilometers from the Libyan coast.
Hundreds of migrants die every year on the journey.
On Friday, after weeks of high tensions over the issue, the European Union's 28 members hammered out a hard-fought deal to tackle migration and avert a crisis that has threatened the very fabric of the bloc.
At a summit in Brussels, leaders agreed to consider setting up "disembarkation platforms" outside the EU, most likely in North Africa, in a bid to discourage migrants and refugees boarding EU-bound smuggler boats.
But analysts warn that the accord is more of a face-saving move for leaders on the front line of the migration crisis, but details are unclear and the resource needed to really tackle the issue appear lacking.