Security Council condemns killing of UN peacekeepers, national soldiers in DRC
The UN Security Council on Thursday condemned the killing of at least 20 soldiers during operations against insurgents in the east of the Democratic Republic of the Congo (DRC).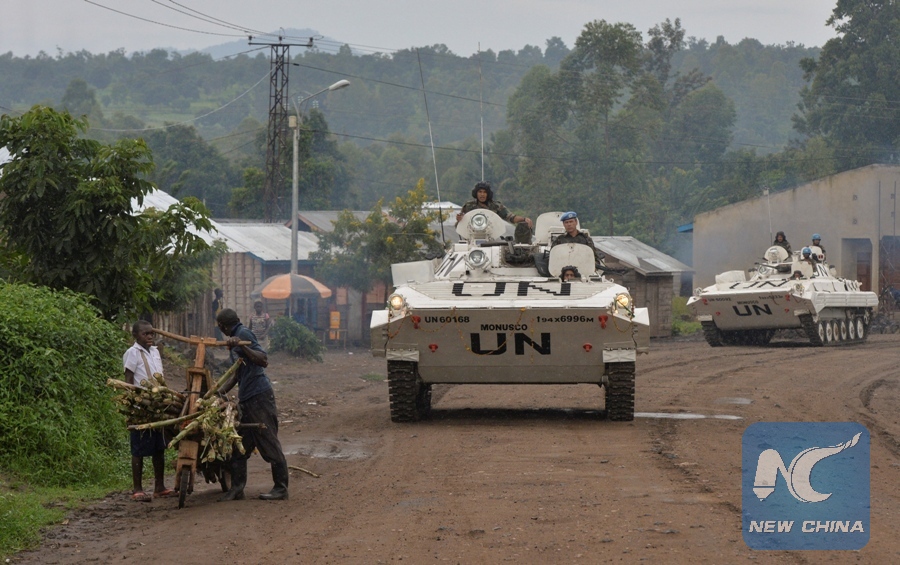 Congolese men push their makeshift bicycle past peacekeepers from India serving, in the United Nations Organization Stabilization Mission in the Democratic Republic of the Congo, as they ride on patrol in the town of Kiwanja, Oct. 19, 2018. (Photo: Xinhua)
In a press statement, the council members expressed condolences to the families of the killed, including seven Malawian and one Tanzanian UN peacekeepers and at least 12 DRC soldiers, and wished a speedy recovery to the injured.
The soldiers were killed Wednesday during joint operations of the UN peacekeeping mission known as MONUSCO and the Armed Forces of the DRC against the Allied Democratic Forces (ADF), a rebel group in DRC and Uganda, in Beni territory of North Kivu.
The council members conveyed their support to the Malawian and Tanzanian contingents, "which continue to operate in an exceptionally difficult environment to protect local populations against the attacks of the ADF and other armed groups."
The members underlined deliberate attacks targeting peacekeepers may constitute war crimes under international law, and called on the DRC authorities to swiftly investigate this attack and bring the perpetrators to justice.
The east of the DRC has been plagued by insurgency for over 20 years. The past year has seen a surge in violence around North Kivu.