US sailor from coronavirus-hit aircraft carrier dies after contracting virus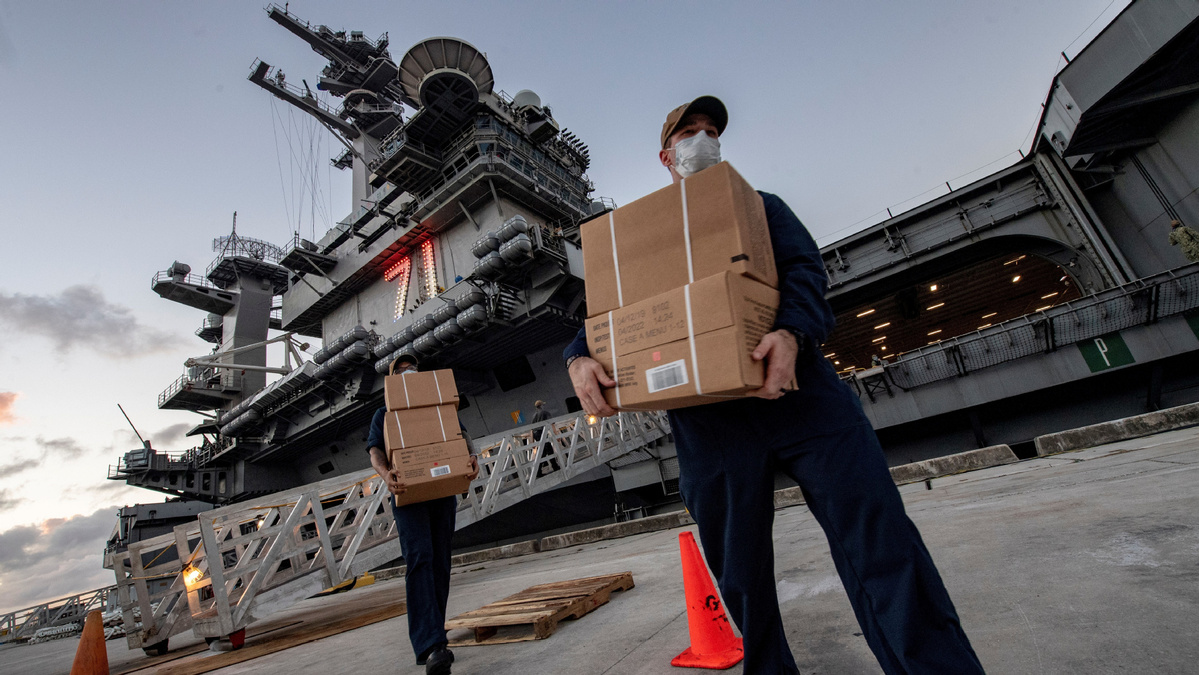 US Navy sailors assigned to the aircraft carrier Theodore Roosevelt move meals, ready to eat (MREs) for sailors who have tested negative for coronavirus disease (COVID-19) and are asymptomatic while quarantined at local hotels in an effort to implement social distancing at Naval Base Guam April 7, 2020. (Photo: VCG)
WASHINGTON - A US Navy sailor died on Monday after contracting the coronavirus aboard the US aircraft carrier Theodore Roosevelt, whose captain was fired after warning his crew would die unnecessarily unless strong action was taken.
The sailor, the first active-duty US servicemember to die from coronavirus complications, was admitted to intensive care on April 9 after being found unresponsive in his quarters. The sailor had tested positive exactly two weeks ago on March 30, the Navy said.
"I am keenly aware of the dedication and commitment of our Sailors and Marines in service to our Nation – in war, peace, and this unfamiliar time of COVID-19," acting Navy Secretary James McPherson said in a statement, adding that he would support their efforts and safety.
So far, about 12% of the Theodore Roosevelt's crew of 4,800 have tested positive for COVID-19, the respiratory disease caused by the coronavirus - in one of the most visible demonstrations of how the pandemic is affecting the US military.
A US official, speaking on condition of anonymity, said four additional sailors from the nuclear-powered carrier had been taken to the hospital to be monitored and were in stable condition.
The official said that of the 585 personnel on the carrier who had been tested, 428 were asymptomatic while the remainder had shown symptoms.