One year on, Florida school shooting remains sore spot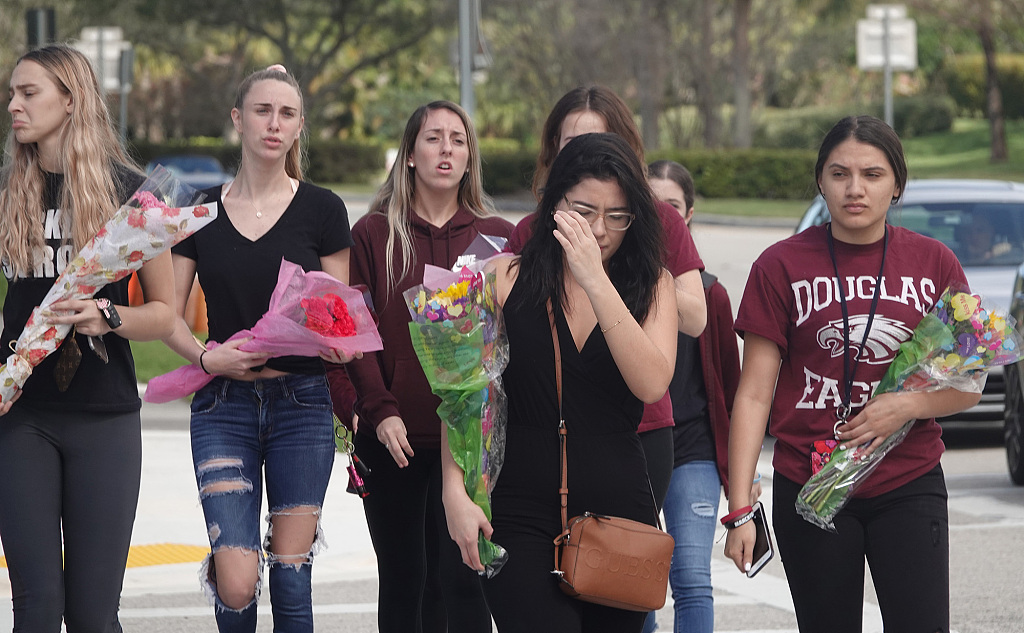 A group of mourners arrive with flowers at the memorial garden outside Marjory Stoneman Douglas High School in Parkland, Fla. on Wednesday, February 14, 2019, on the anniversary of the shooting at the school. (Photo: VCG)
WASHINGTON, Feb. 14 (Xinhua) -- Tens of thousands of students and teachers stood in silent tribute on Thursday at more than 1,000 schools across the US southeastern state Florida, remembering the 17 lives lost in one of the worst school shooting in the country a year ago.
The moment of silence was held at 10:17 a.m. though the shooting in Parkland, the US state of Florida, actually began around 2:20 p.m. on Feb. 14, 2018. The time 10:17 was selected to denote the 17 slain including 14 children, said local media reports.
"We don't need (the anniversary) to remind us what happened. We live with it every day," said businessman Andrew Pollack, whose 18-year-old daughter Meadow died in the attack.
The tragedy shocked the country and inflamed the national debate and demonstrations over gun violence.
However, one year on, there is hardly any big changes having emerged addressing the gun violence in the country. According to data from a New York Times report issued Thursday, nearly 1,200 more children have lost their lives since the Parkland shooting.
Following the shooting, Florida raised the age to buy a rifle from 18 to 21 and passed a so-called red-flag law allowing judges to take away the weapons from those who are considered a danger to themselves or others.
Several states have followed suit but a number of other states moved to expand gun rights including making it easier to carry weapons in public or strengthening legal protections for people who claim they shot someone in self-defense, said the report.
Even the urgency for new gun restrictions has declined one year on, though roughly half the country is concerned a mass shooting could happen at a school in their community, according to a new NPR/PBS NewsHour/Marist poll released Thursday.
In the immediate aftermath of the Parkland shooting, 71 percent of Americans said laws covering the sale of firearms should be stricter. Now, it's 51 percent, the poll found.
"Not surprisingly, the results show that the outcry against gun violence has lessened from what it was immediately following the shooting at Parkland," said Lee Miringoff, director of the Marist College Institute for Public Opinion.
"The poll also showed continuous big partisan, racial and age divides over gun control. Republicans are less likely than Democrats to support gun restrictions; nonwhites are more likely to want gun restrictions to be an immediate priority for Congress; and two-thirds of people aged 18 to 29 would rather control gun violence than protect gun rights.
"It's a permanent sore spot," said Fort Lauderdale High School junior Jake Lynch who joined the moment of silence on Thursday. "It reminds me of where I want the world to be. ... From suffering, better things come out."