Summit opens new chapter in China's relations with Central Asia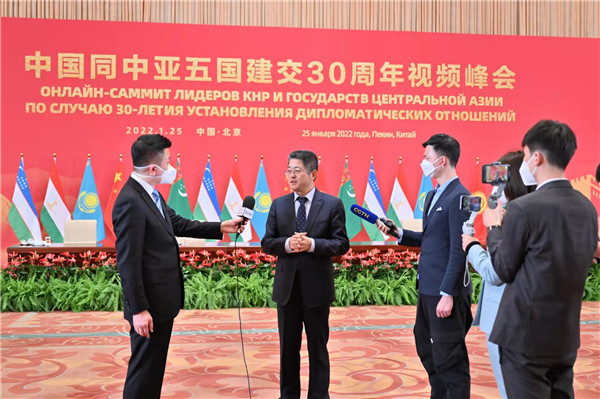 The virtual summit commemorating the 30th anniversary of the establishment of diplomatic relations between China and the five Central Asian countries has opened a new chapter in their relations and defined the targets and direction for their future cooperation, said a senior Chinese diplomat on Tuesday.
Speaking at a news briefing, Vice-Foreign Minister Le Yucheng said the summit is a landmark event as the first major multilateral diplomatic activity hosted by China this year, as well as the first group meeting by heads of state from China and Central Asian countries in three decades.
Le said the summit's most important outcome is the joint announcement of building a community with a shared future for China and the five Central Asian countries, embarking on a new era for their relations.
With regard to the 30th anniversary, Le said the heads of state from the six countries reached important consensus on several issues after reviewing the past, summarizing good experiences and looking forward to the future during the summit.
He said the joint statement released after the summit defined the general direction of, and injected new energy into, the development of relations between China and Central Asian countries.
Firm support
Le also said the countries reiterated their firm support for each other on issues concerning independence, sovereignty and territorial integrity.
They also agreed that such support is a core principle of their relations and will help guarantee the six countries' common strategic interests, security and sustainable development.
Over the past three decades, China and Central Asian countries have achieved a series of historic, landmark and groundbreaking outcomes in their cooperation.
The Central Asian region is China's first neighboring cluster of strategic partners, and China and Central Asian countries are at the forefront of building a community with a shared future for mankind.
Le noted that during the summit, leaders from the five Central Asian countries spoke highly of the development achievements that China has made and praised China's contribution to regional and global peace and development.
The leaders also said they firmly adhere to the one-China principle and support the series of major cooperation initiatives that China has proposed in recent years.
mojingxi@chinadaily.com.cn