Jordan records highest daily spike with 634 new COVID-19 infections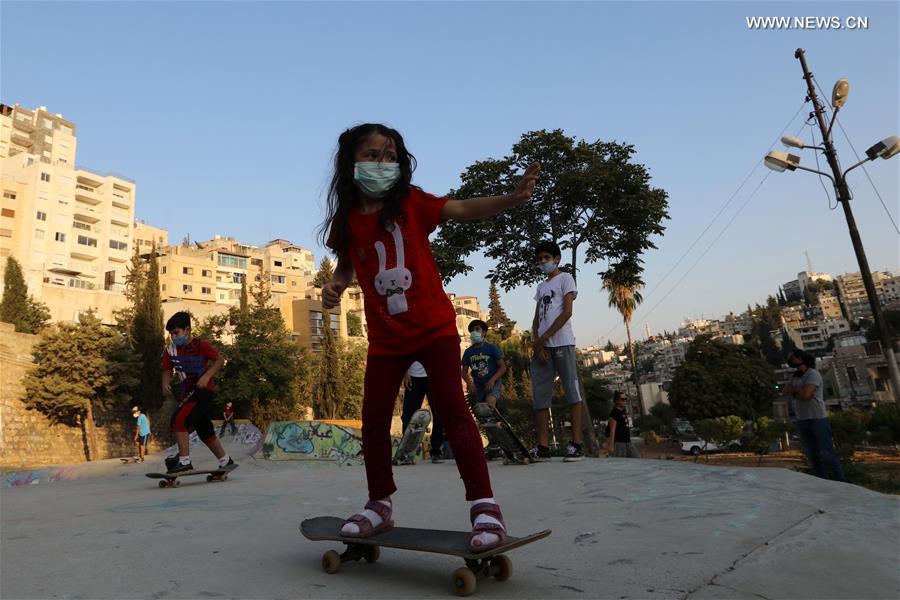 Children wearing face masks roller skate in Amman, Jordan, on Sept. 22, 2020. Jordan on Tuesday reported 634 new COVID-19 cases, the highest daily spike in the country so far, raising the tally of confirmed cases to 5,679. (Photo by Mohammad Abu Ghosh/Xinhua)
AMMAN, Sept. 22 (Xinhua) -- Jordan on Tuesday reported 634 new COVID-19 cases, the highest daily spike in the country so far, raising the tally of confirmed cases to 5,679.
The new cases included 627 local infections, including 273 in the capital Amman, 120 in Balqa, 92 in Zarqa, 52 in Maan, 31 in Irbid, 29 in Karak, 17 in Madaba, six in Mafraq, five in Jerash, one each in Ajloun and Tafilah, Health Minister Saad Jaber said in a statement.
The death toll from the infectious disease in Jordan stands at 33, Jaber said.
Nathir Obeidat, spokesperson of the national committee to combat COVID-19, urged citizens to play an important role in maintaining public health, while calling on monitoring institutions to ensure the public obeys the safety measures.
China has supported Jordan in its fight against the COVID-19 that started in March. On May 31, China donated a batch of medical supplies to Jordan to help combat the coronavirus.