US agricultural sector seeks to expand trade with Cuba despite setback in ties
US Congress representatives and businessmen linked with the agricultural sector on Thursday confirmed their interest in expanding trade ties with Cuba, despite the setback in relations sparked by the current conservative administration.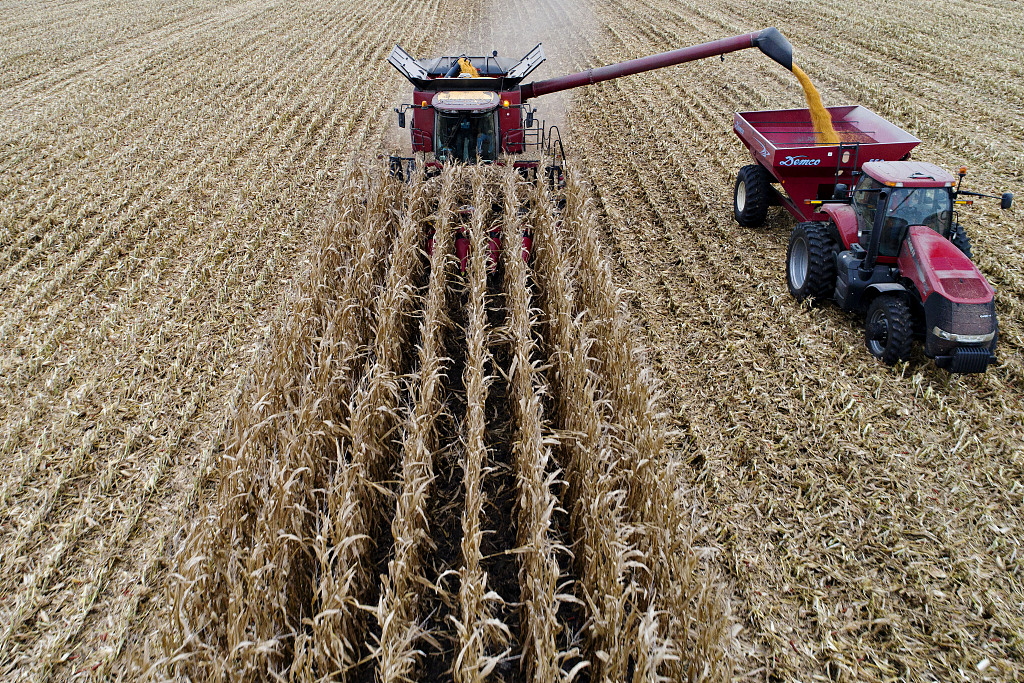 Corn is harvested in Illinois, US, on Oct. 2, 2018. (Photo: VCG)
The US Agricultural Coalition for Cuba, which seeks increased trade and the lifting of the trade embargo, is sponsoring the event aimed at bringing the US agribusiness community closer to its Cuban counterpart.
"We want to open up the Cuban market, increase sales of rice and other products. It's the natural destination for our crops," added Crawford.
This week's midterm elections in the United States tipped the congressional balance of power in favor of the Democrats, which could mark a shift in policy towards the Caribbean nation.
Crawford has already introduced legislation to grant Cuba access to credit to buy US products, and to promote US businesses in the island.
US farmers and agribusinesses have sold food worth around 5.7 billion US dollars to the island since 2000 when an amendment to the trade embargo allowed agricultural sales.
However, in the last few years, transactions have substantially decreased because cash-in-advance payment rules limited those sales.
US trade with Cuba totaled 711 million dollars in 2008. That figure shrank to 186 million dollars in 2015. It rose again after former President Barack Obama restored diplomatic ties, climbing to 291 million dollars in 2017, according to the US Department of Agriculture.
"There have been huge efforts by a bipartisan group of senators and representatives, (and) over 60 associations, businesses and local government officials in 17 states to normalize ties in the sector," Crawford added.
Paul Johnson, co-chair of the US Agricultural Coalition for Cuba, said the conference will allow both sides to fully assess business opportunities and exchanges, taking into consideration the restrictions imposed by the Washington-led embargo.
"There is still a lot of potential in our relations and there are huge changes happening in Cuba, including market-oriented reforms towards greater trade with the world. Being so close we have to be part of it," he said. Jose Miguel Rodriguez, Cuba's deputy minister of agriculture, said the US trade embargo and related sanctions continue to be the main obstacle to normalizing relations and developing ties.
"As we are currently updating our economic model, the agricultural sector plays an important role in the nation's development. We wish to expand our trade ties with the US agribusiness community and increase food sales," he said.
Cuba imports about 80 percent of its food needs at a cost of more than 2 billion dollars a year, a figure local authorities say could be reduced if given access to the US market.
During a recent trip to the United States to participate in the UN General Assembly, Cuban President Miguel Diaz-Canel met with members of the coalition to expand business opportunities and trade for both sides.