Trump speaks with Mexican president-elect over phone on ties amid escalation of divergences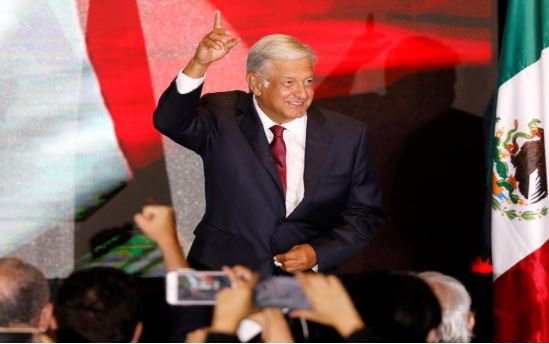 (File photo)
US President Donald Trump said Monday that he had spoken with Mexican President-elect Andres Manuel Lopez Obrador over phone to discuss bilateral ties.
The call came as bilateral relations have been troubled by escalating divergences over immigration and trade.
Trump said at the Oval Office before meeting with Dutch Prime Minister Mark Rutte in the afternoon that his conversation with Lopez Obrador was about 30 minutes and touched on such issues as border security, trade, and the North American Free Trade Agreement (NAFTA).
"We talked about a separate deal, just Mexico and the United States," he said. "I think the relationship will be a very good one. We'll see what happens."
Hailing Lopez Obrador's electoral victory, Trump said, "I think he's going to try and help us with the border."
"We have unbelievably bad border laws, immigration laws. The weakest in the world. Laughed at by everybody in the world. And Mexico has very strong immigration laws, so they can help us until we straighten out our immigration laws, which have been bad for many, many years -- decades. And we're going to have them taken care of," he said.
Later, White House spokesperson Sarah Sanders said the discussions between the two leaders are "positive and constructive."
"They talked pretty extensively about trade and the willingness for both parties to come together to make a deal," she said.
Lopez Obrador, a former Mexico City mayor and a leftist candidate, won on Sunday the Mexican presidential election.
In an interview with Mexican TV network Televisa on Monday, Lopez Obrador said that he would seek ties of mutual respect with the United States once in office.
Lopez Obrador also said he was in favor of working toward a renewed NAFTA.
The Trump administration, since taking office last year, has blamed Mexico for allowing illegal immigrants into the United States. The U.S. proposal of building a border wall paid by Mexico, along with the escalating bilateral trade confrontation, has strained bilateral ties.
The United States started imposing tariffs of 25 percent on steel imports and 10 percent on aluminium from the European Union, Canada and Mexico on June 1.
Mexico, together with other countries and regional blocs, has announced retaliatory measures against US steel and aluminum tariffs, as such move is likely to violate the rules of the World Trade Organization (WTO).