US key swing state Florida to recount votes in 3 races
WASHINGTON, Nov. 10 (Xinhua) - Ken Detzner, the secretary of state of Florida, a key swing US state, on Saturday ordered machine recounts for three razor-thin races for governor, US senator and the state's agriculture commissioner.
The results of the recounts are due by 3 p.m. (2000 GMT) on Thursday, said Detzner.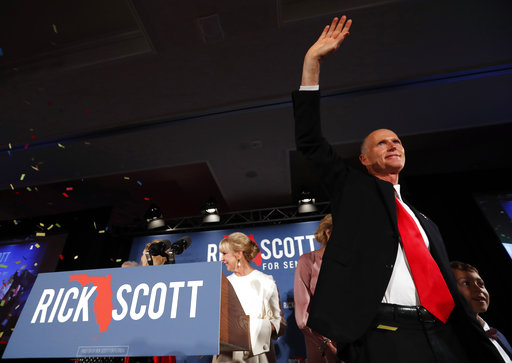 Rick Scott waves to supporters at an election watch party, Wednesday, Nov. 7, 2018, in Naples, Fla.(Photo: AP)
Florida's Republican Governor Rick Scott has seen his lead narrow over incumbent Democratic US Senator Bill Nelson to about 12,500 votes, or 0.15 percent, by Saturday afternoon, according to a CNBC report.
In the race for governor between former Republican US House Representative Ron DeSantis and Democratic mayor of Tallahassee Andrew Gillum, DeSantis was leading by 0.41 percentage points.
Gillum conceded to DeSantis on Tuesday night, but later said every vote should count.
A third statewide race to be recounted is the agriculture commissioner race between Democrat Nikki Fried and Republican Matt Caldwell. Fried currently held only a 5,326-vote lead, a margin of 0.07 percent.
Florida law requires a machine recount when the leading candidate's margin is 0.5 percentage points or less, and a hand recount if it's 0.25 or less.
Florida has been seen as a key swing state for decades and is expected to play a critical role in the 2020 US general elections.