Former Malaysian PM Najib denies corruption charges, granted bail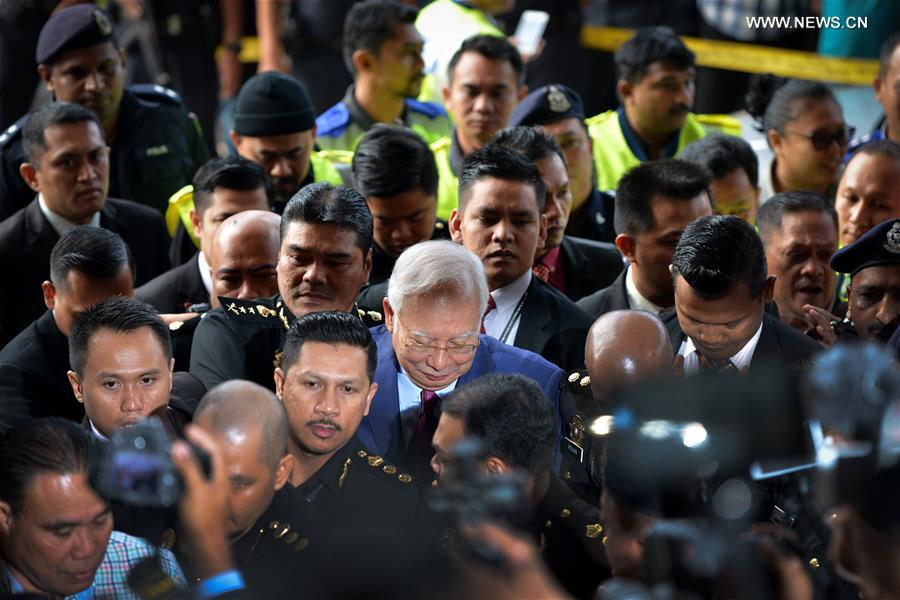 Former Malaysian Prime Minister Najib Razak (C) arrives at a court in Kuala Lumpur, Malaysia, on July 4, 2018. Malaysia's public prosecutors charged former Prime Minister Najib Razak Wednesday with criminal breach of trust on misappropriation of funds. (Photo: Xinhua/Chong Voon Chung)
Former Malaysian Prime Minister Najib Razak was granted bail on Wednesday after pleading not guilty to corruption charges, an indictment which could make him the first retired leader behind bars in the country's 61-year history.
Najib was charged with three counts of criminal breach of trust as well as using his position for graft in connection of 42 million ringgit (10.5 million U.S. dollars) from SRC International, a former unit of 1MDB, that was transferred into Najib's personal account.
Najib has pleaded not guilty to the charges. After much argument in the courtroom, the judge finally granted Najib's bail at 1 million ringgit (247,000 U.S. dollars), with the money to be paid at two tranches, half on Wednesday and the other half before Monday. The judge also asked Najib to surrender his passports.
1MDB was set up by Najib in 2009 to spur Malaysia's economic development. But report emerged later that billions of U.S. dollars were misappropriated. Najib has been under investigation related to 1MDB since losing the general elections in May, but has denied any wrongdoing.
He was arrested by Malaysia's anti-corruption body on Tuesday. His spokesman said the charges and other ongoing investigations against him were "politically motivated" and the former prime minister will "clear his name in court."
Tommy Thomas, the new attorney general appointed by Prime Minister Mahathir Mohamad, denied there were "political persecution" in the case, telling reporters after the indictment proceeding that "we are just looking from criminal law perspective."
"It doesn't matter who the personality is, it's just criminal law," he said.
Thomas took the place of former AG Mohamed Apandi Ali, whom Mahathir accused of hiding evidence in relation to 1MDB.
Thomas declined to confirm whether there will be more charges levied against Najib, saying it will depend on whether investigators from the Malaysian Anti-Corruption Commission can comb through the "discreet separate transactions" linked to 1MDB and give the evidence to the prosecutors.
Thomas added that he is confident with a strong "prima facie case" in hand, which "we can prove at the trial."
He also noted that there is no need to doubt that Najib would not get a fair trial.
"Once the court fixed the bail at 1 million, we did not object to it being paid over two periods, two days. So we are very very fair. I think if you measure us by any standards, we are very fair," he said.
Along with Najib's bail, the judge also granted a temporary gag order banning the media from talking the "merits of the case" of Najib.
Muhammad Shafee Abdullah, the leading defense attorney representing Najib, said the gag order was primarily aimed at stopping anyone making prejudicial statements in the media which are unfair.
"Even before the trail has started, there are people who make comments like Najib is 100 percent guilty and they've never been a bigger strong case than this," he said.
Shafee also told the media that his team is confident about their defense.
After finishing the bail process, Najib told media that "I believe in my innocence."
"This is the best chance for me to clear my name," he said, adding that being charged is a result that he has long anticipated.
"It is something I have expected because that is the wish of the new government," Najib said. "If this is the price that I have to pay after 42 years of my service to the country, I accept it."
The judge has set a case management date on Aug. 8 and a tentative trial date is set for Feb. 18-28, then for March 4-8 and March 11-15 next year.