Metro rail services resume across India after gap of over 5 months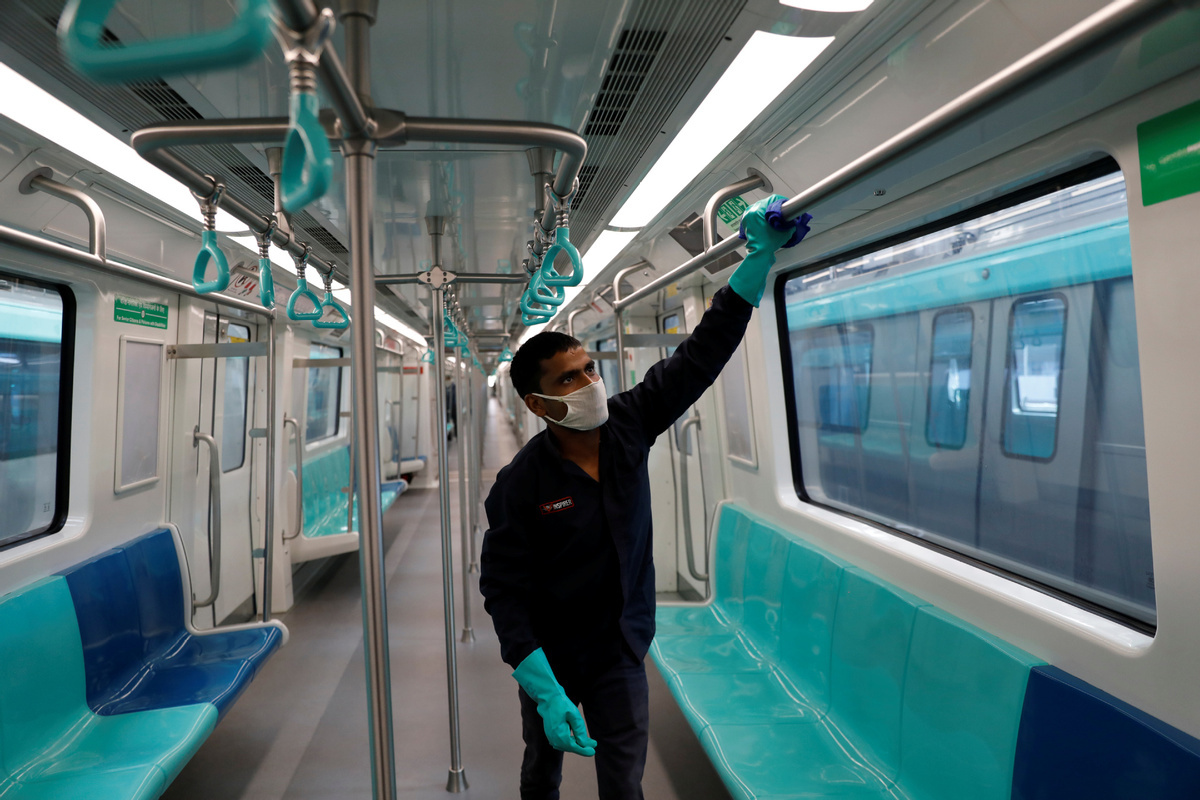 A worker wearing a face mask cleans the handles inside a metro wagon at the deport of Noida Metro Rail Corporation (NMRC), during an extended nationwide lockdown to slow the spread of the coronavirus disease (COVID-19), in Greater Noida, India, May 19, 2020. [Photo/Agencies]
NEW DELHI-- Metro rail services resumed Monday morning in different cities across India after a gap of over five months, officials said.
The services have been resumed in select cities of Delhi, Lucknow, Chennai, Bengaluru, Hyderabad and Ahmedabad.
According to officials, passengers will have to strictly follow preventive measures against the ongoing COVID-19 pandemic by wearing face masks and maintaining social distancing.
In the first stage, Delhi Metro will operate in two shifts, from 7:00 a.m. (local time) to 11:00 a.m. (local time) and from 4:00 p.m. to 8:00 p.m.
"We are on our way. It's been 169 days since we've seen you! Travel responsibly and commute if it's only necessary," Delhi Metro Rail Corporation in a brief statement said.
Normal operations will start in the city from Sept. 12.
However, metro stations and entry-exit gates in containment zones will remain closed.
The passengers will be subjected to thermal screening at stations and hand sanitizers will be made available at entry points of stations for passengers.
"I am happy that Delhi Metro services resume today. Metro has made good arrangements. We should not be careless in taking precautions," Delhi Chief Minister Arvind Kejriwal wrote on social media.
Authorities have deployed police force at every metro station for crowd management and to ensure that people follow precautionary measures.
"I travelled from Malviya Nagar to Rajiv Chowk, today. I am happy to see that the passengers are confident about travelling in Delhi Metro. We have made all arrangements to make travel safe for the commuters," A K Garg, Director Operations, Delhi Metro Rail Corporation told media.
Reports pouring in from Chennai, Lucknow and Bengaluru said Metro services have been resumed.
The opening of metro services come amid a surge in the daily tally of coronavirus cases.
India Monday said the number of COVID-19 cases in the country has reached 4,204,613 including 71,642 deaths.
During the past 24 hours, 90,802 new COVID-19 cases and 1,016 related deaths were recorded in the country.