Basketball diplomacy: S.Korea teams arrive in Pyongyang
Global Times
1530639950000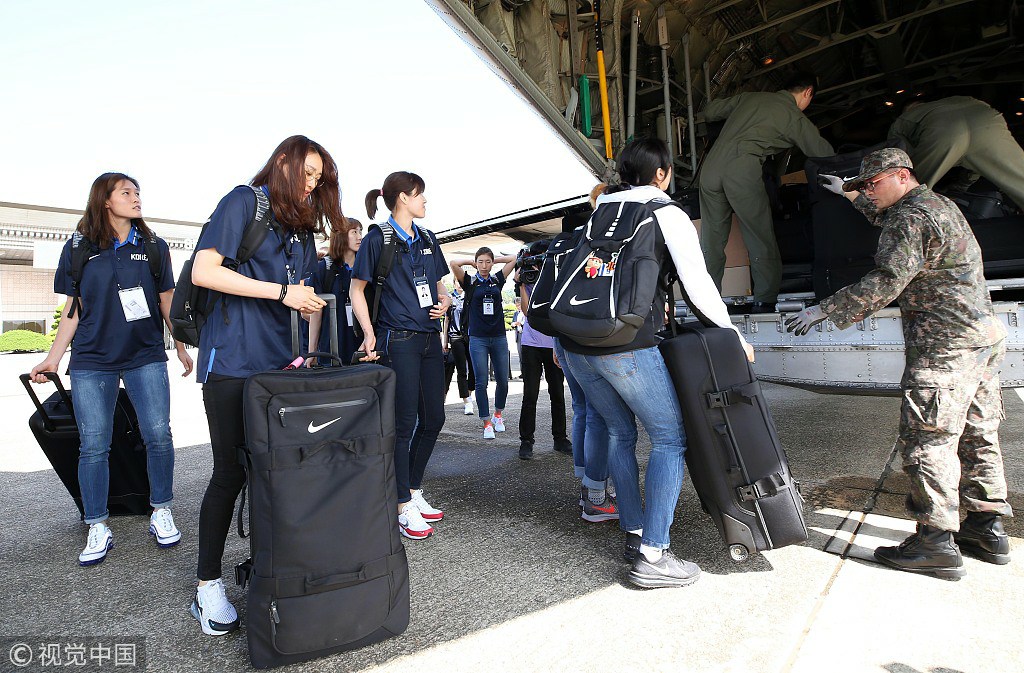 1/5 South Korea's basketball delegation members load their luggage on a military plane that will take them to Pyongyang on July 3, 2018, from an airport in Seongnam, south of Seoul. (Photo: VCG)
A high-level South Korean delegation arrived in Pyongyang Tuesday with dozens of basketball players as North Korean leader Kim Jong-un's favorite sport becomes the latest effort at athletic diplomacy between the neighbors.
Unification Minister Cho Myoung-gyon led the group of 50 male and female players, in the first visit to Pyongyang by an official from the South since Kim and US President Donald Trump's landmark summit in Singapore last month.
"We are proud that sports are taking the initiative in opening the road for... peace," the North's vice sports minister Won Kil-u said as he greeted the delegation at Pyongyang's Sunan Airport.
Cho said he was "overcome with emotions," adding he conveyed warm greetings from South Koreans and their hope for reconciliation and cooperation, according to a media pool report.
Sporting cooperation helped spark the current diplomatic thaw between the Koreas after the North sent a high-level delegation and athletes to the Winter Olympics in South Korea last February.
Yonhap news agency reported that a welcome dinner was laid on Tuesday night for the southern athletes where cold noodles, a speciality of the North, were served. Recently the two Koreas announced they would field joint teams in three sports - canoeing, rowing and women's basketball - at the upcoming Asian Games.
Cho told journalists he hoped the games would "further enhance peace on the Korean Peninsula."
Basketball fan Kim - who has met former Chicago Bull Dennis Rodman several times in Pyongyang - reportedly expressed his enthusiasm for basketball exchanges at a landmark summit with South Korean leader Moon Jae-in in April.
US Secretary of State Mike Pompeo, who will leave for Pyongyang Thursday to flesh out a bare bones nuclear agreement between Trump and Kim.
Trump has boasted that a statement he signed with Kim in Singapore last month resolved the old foes' nuclear stand-off.