Early results show Lopez Obrador leads in Mexican presidential election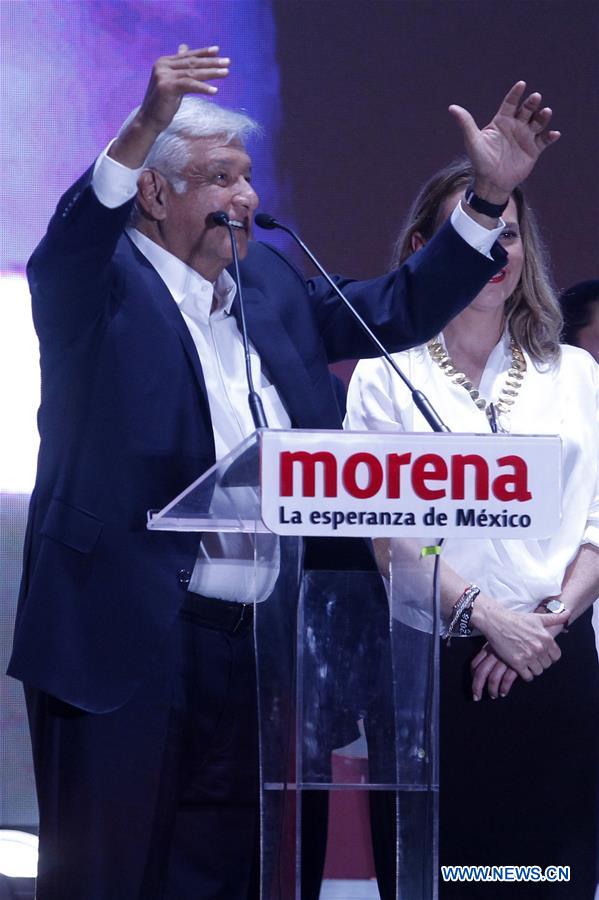 Mexico's presidential candidate for the coalition "Together We Will Make History" Andres Manuel Lopez Obrador (L) gives a speech at Zocalo Square in Mexico City, capital of Mexico, on July 2, 2018. Leftist candidate Andres Manuel Lopez Obrador has topped his rivals with 43.93 percent of votes, early result for the presidential elections in Mexico showed Sunday night. (Photo: Xinhua)
Leftist candidate Andres Manuel Lopez Obrador has topped his rivals with 43.93 percent of votes, early result for the presidential elections in Mexico showed Sunday night.
The National Electoral Institute (INE) began the ballot counting two hours after the closing of polling stations at 6:00 p.m. local time (1200 GMT).
Vote counting in the first 35 minutes revealed Lopez Obrador clinching 43.93 percent of the votes.
Candidate Ricardo Anaya of the National Action Party (PAN) came in second place with 30.10 percent, while that of the ruling Institutional Revolutionary Party (PRI), Jose Antonio Meade, took third place with 17.81 percent of the votes.
Both Anaya and Meade have conceded defeat.
The results were based on votes from 132 of the more than 156,000 ballot boxes, or 0.03 percent of the total votes.
Around 89 million Mexicans were eligible to participate on the Sunday general elections that are considered historic, given the number of the posts to be voted on at the federal and local levels.
The president of the INE, Lorenzo Cordova, is expected to announce preliminary results of the presidential election at 11:00 p.m. local time (1700 GMT).