UN labor chief lauds China's poverty fight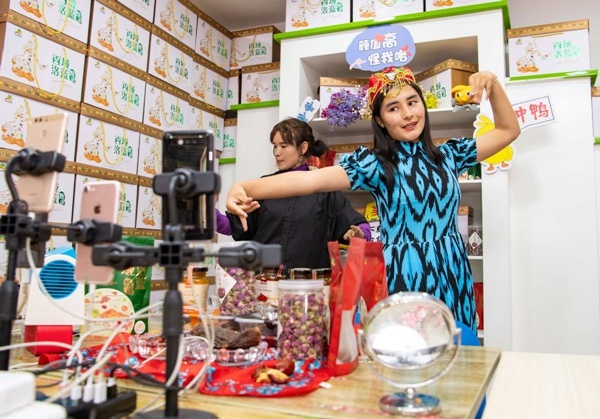 The head of the International Labor Organization has lauded China's determination to end domestic poverty on schedule as the COVID-19 pandemic causes job losses and impoverishment on massive scales around the world.
Guy Ryder, director-general of the UN agency, said China's recent decision to stick to the goal of eradicating rural poverty by the end of this year amid a "complex economic environment" will set a bench mark in meeting the UN's 2030 Sustainable Development Goals, which includes eliminating extreme poverty worldwide in a decade.
"Today, the world stands at a tipping point," he said, as the pandemic has pushed an estimated 100 million people into extreme poverty.
International cooperation is needed, given that no country can beat the crisis alone, and there's no returning to the pre-pandemic status quo, Ryder told a forum in Beijing on Wednesday via a prerecorded speech.
The forum on poverty alleviation through employment was part of a series of events marking China's seventh National Poverty Relief Day on Oct. 17, a date that is also observed globally as the International Day for the Eradication of Poverty.
The ILO estimates that global labor income fell 10.7 percent year-on-year in the first three quarters of 2020-the equivalent of $3.5 trillion-and the number of working hours lost in the second quarter of the year was equivalent to 495 million full-time jobs.
Promoting employment has long been used as a tool to fight rural poverty. Local governments have set up more than 30,000 factories near poor villages across the nation to that end. Some 4.8 million poor farmers were given "welfare jobs", which have generated paychecks and at the same time boosted public services in rural regions. Programs have also been launched to create urban jobs for young farmers.
The State Council Leading Group Office of Poverty Alleviation and Development, the top anti-poverty agency, said the number of registered poor migrants-farmers who left their poor villages to find better jobs in cities-nearly doubled between 2016 and 2019, reaching more than 27 million by the end of last year. Meanwhile, their average annual income more than doubled over the same period to 26,544 yuan ($3,940).
China's poverty line was around 4,000 yuan this year, and the exact number is adjusted from place to place with purchasing power parity.
While addressing the event in Beijing, deputy head of the office Ou Qingping said working in cities has not only bolstered their financial standing but has also helped "open their eyes and minds" to new skills and better lives.
This year marks the final stretch of China's poverty relief campaign, which aims to lift more than 98 million rural poor across the nation out of absolute poverty between late 2012 and the end of this year. It had fared well along the path, with more than 93 million farmers escaping poverty by the end of 2019.
However, the domestic COVID-19 outbreak earlier this year has created new challenges by triggering travel restrictions and disruptions to the logistics chains. That has led to temporary unemployment among rural migrants and the lackluster sales of farm produce, two major sources of rural income.
To end poverty as scheduled, central authorities have stepped up efforts since February to bolster employment among the rural population, arranging chartered train and bus services to ensure they reach urban jobs as planned.
As the outbreak eased in China in recent months, employment authorities moved to roll out tax breaks and delay payment of social security fees for businesses that refrained from cutting jobs, as part of a broader effort to ensure poor migrants remain employed.
The top anti-poverty authorities said they have also managed to pinpoint the whereabouts of more than 10 million migrants who worked outside their home provinces so that assistance is readily available when jobs are jeopardized.