CIIE receives wide attention from foreign media
People's Daily app
1541406719000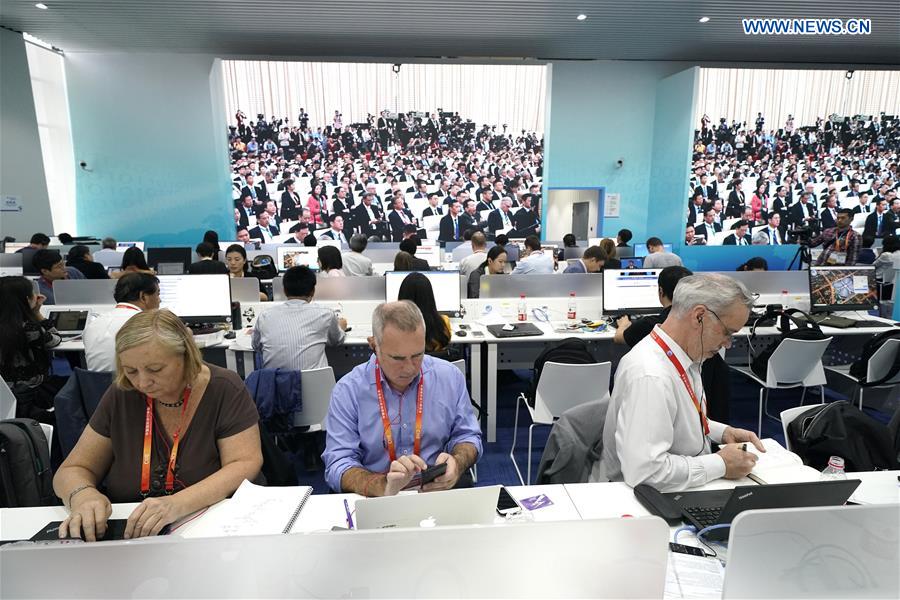 Journalists work at the media center of the first China International Import Expo (CIIE) in Shanghai, east China, Nov. 5, 2018. The first CIIE opened here on Monday and has drawn much attention from domestic and international media. (Xinhua/Shen Bohan)
Chinese President Xi Jinping on Monday announced the opening of the first China International Import Expo (CIIE) in Shanghai. The international community has high expectations for the event and praised China for its efforts to promote free trade and an open global economy.
In his keynote speech at the opening ceremony of the expo, Xi called on all countries to uphold the principle of inclusive development and share benefits and promised that China will continue its non-stop efforts to open up.

Singapore's Straits Times responded to Xi's address at CIIE and believed that "it underscores China's pledge to open up its markets to foreign goods and services."

The Economist pointed out that "for much of the past three decades the promotion of exports was central to China' s economic strategy. In promoting the expo, Xi is showing that the government not only welcomes China's transformation into an import superpower, but wants to speed it up, wrote the magazine on its website.

Kenneth Jarrett, president of the American Chamber of Commerce, told the Financial Times that the expo demonstrates China's transformation from an exporter to a global importing nation.

"This is a positive opportunity to highlight China's success and the strength of Australia-China relationship", ABC reported, quoting Australia's Trade, Tourism and Investment Minister Simon Birmingham.

"Singapore companies, with their strong branding and commitment to high quality standards, are in a good position to introduce differentiated products and services to China's huge and growing domestic market," said Singapore's Ministry of Trade and Industry in a press statement.

According to The Express Tribune, Pakistani Prime Minister Imran Khan said that the CIIE will "serve as a great opportunity for Pakistan to increase its exports to narrow its trade deficit and earn more revenue to address its looming debt issues."

The Egypt Today observed that talks at the CIIE will cover the means of boosting joint cooperation and investment opportunities in Egypt.

The CIIE provides tremendous opportunities for the Egyptian services sectors to tap into the promising Chinese market, said Daily News Egypt.

(Compiled by Xiong Ting, Li Siying and Jiang Yuge)