Canadian companies embrace expo in Shanghai
China Daily Global
1573960268000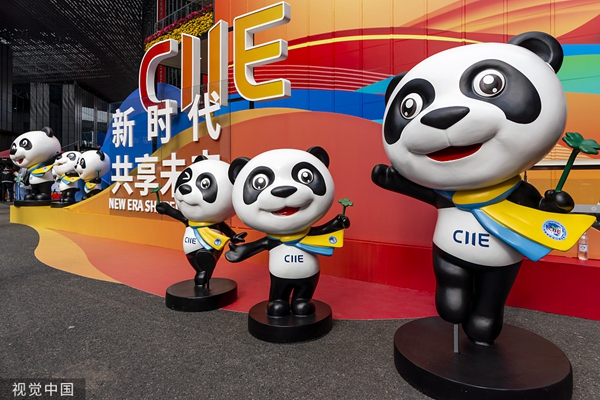 Mascots of the China International Import Expo are placed at the National Exhibition and Convention Center (Shanghai), the venue of the second China International Import Expo, on Nov 6, 2019. (Photo: VCG)
Canadian companies enthusiastically promoted their products at the recent China International Import Expo (CIIE) in Shanghai.
St Genève, manufacturer of luxury bed linens and down products, based in British Columbia, made its debut at the second CIIE.
"This is a fantastic opportunity for consumers to stop in and experience our Canadian-made luxury in person," said Michael Place, vice-president of design for St Genève. "We have demonstrated our products, and team members were available to explore the huge Chinese market."
The CIIE welcomed 910,000 visitors as deals worth $71.13 billion were signed as the expo, which exceeded last year's totals.
More than 3,800 foreign companies participated in the expo's business exhibition, and at least 391 new products, technologies or services made their global or regional debuts.
Canadian companies also are anticipating better trade relations with China in the future.
Graham Shantz, president of the Canada-China Business Council, said there were more than 60 Canadian companies attending, twice as many as last year.
"CIIE is a welcome sign that China continues to open up its economy to Canada, and Canadian exporters, traders and investors shall cherish the access to the massive Chinese market," said Shantz, adding that it is important for Canada to join with China in defending global trade and multilateralism.
Canadian lobster has been well received in China in recent years. The industry has seen strong demand for Canadian seafood products and expects good business to continue with Chinese importers.
The lobster industry presented at CIIE after participating in the China Fisheries and Seafood Expo in Qingdao earlier in November.
"We anticipate continued strong demand as Canadian lobster products are introduced and marketed throughout China and transportation links improve and increase," Geoff Irvine, executive director at the Lobster Council of Canada, told China Daily.
Canadian lobster exports have boomed amid US trade tensions with China. The exports to China through June already were approaching 33 million pounds (14.97 million kg), nearly as much as all of 2018.
China's growing economy and open market have given Canadian business leaders great confidence to demonstrate their brands at the trade show.
The Association of Chinese Canadian Entrepreneurs (ACCE), Canada's national Chinese Canadian business association, sent its first trade group to CIIE, representing Ontario.
"This is a milestone for us to showcase at CIIE. It provided us a vision of Canada-China trade relations and helped us build a much better strategy for next year. Our members have expressed high interest to attend next year again," said Kevin Au-Yeung, president of ACCE.
By participating in ACCE's business delegation, the city of Markham also got the opportunity to strengthen international business relations and find trade opportunities, said Sandra Tam, Markham's senior business development officer.
"CIIE provides an excellent opportunity for Markham to be showcased as the 'High-Tech Capital of Canada' and a preferred location for investment," said Tam.
Bilateral merchandise trade with China totals nearly $100 billion annually, having nearly doubled in the last decade, according to Statistics Canada. That makes China the second largest trading partner of Canada after the United States.