Nutrition urged to be included in COVID-19 response, recovery plans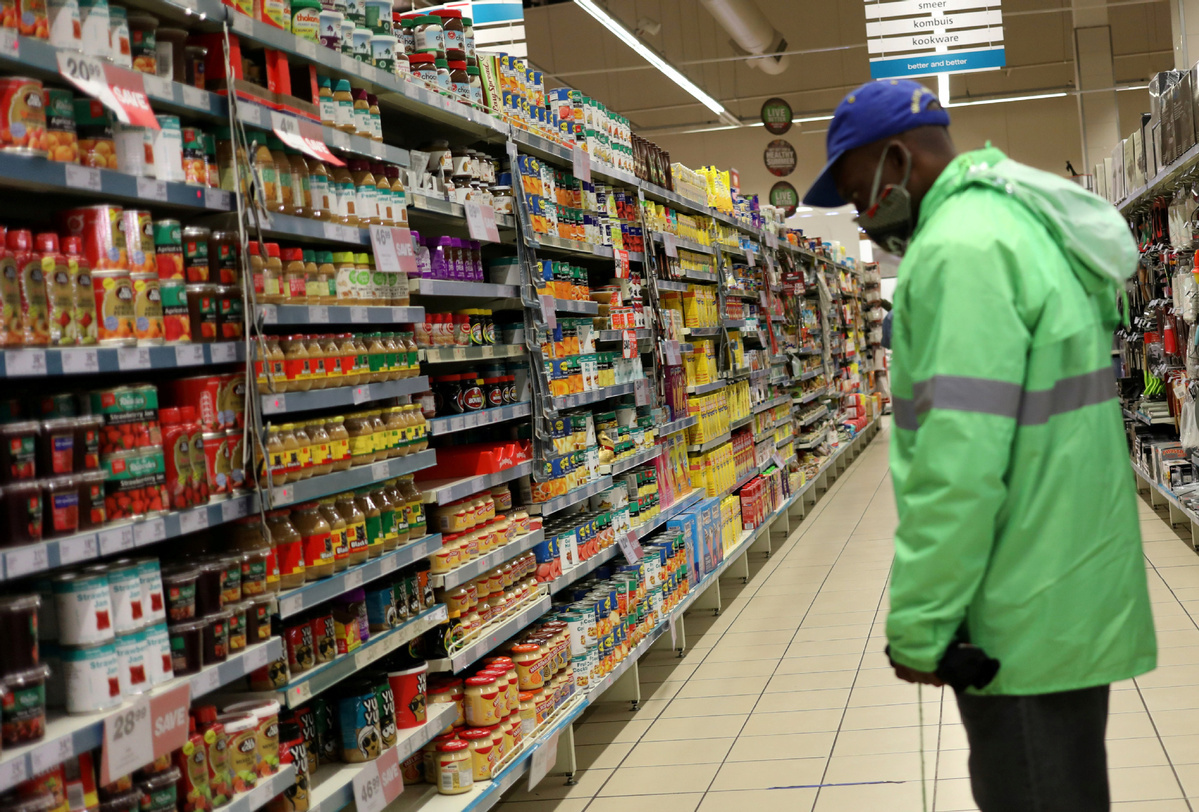 A shopper wearing a face mask looks at grocery items, amid the spread of the coronavirus disease (COVID-19) at Mall of the south, in Johannesburg, South Africa, June 17, 2020. (Photo: Agencies)
The African Leaders for Nutrition, a platform for high-level political engagement to advance nutrition in Africa, has called on heads of state across the continent to include nutrition financing in their country's coronavirus response and recovery action plans.
Through a position paper, the leaders urged countries to maintain and increase the level of funding allocated to nutrition to safeguard previous efforts to address malnutrition and ensure there are no gaps within their multi-year nutrition programs in immediate, medium-term and post-pandemic recovery coronavirus responses.
The paper, titled "Embedding Nutrition within the COVID-19 Response and Recovery", has been sent to all African countries by King Letsie III of Lesotho, who serves as a nutrition champion of the African Leaders for Nutrition.
According to the paper, the global spread of coronavirus and the rising number of infections in Africa are fueling anxiety about failing healthcare and collapsing food systems.
This is despite the fact Africa is already grappling with a locust outbreak in its eastern region, drought and flood extremes due to climate change as well as increasing food importation costs than the $47 billion recorded in 2019.
"The convergence of all these sets the stage for an imminent food and nutrition crisis, unless measures are taken to mitigate the impact of the epidemic," the position paper said. "Anti-pandemic measures like nationwide lockdowns and border closures compound food shortages, especially of nutritious but perishable foods like fruit, vegetables and fish."
According to McKinsey and Company, a US-based management consulting firm, 650 to 670 million people in Africa, roughly half the population, already face food insecurity, of which more than 250 million are considered to be severely food insecure.
Africa's children continue to suffer the highest consequences of malnutrition, namely a permanent reduction in their cognitive capacities, leading to decreased productivity and income-earning potential in adulthood, the position paper said.
It said 78 percent of countries in Africa have a high prevalence of stunting among children and 55 percent of African countries have a high prevalence of anemia among women of reproductive age.
Additionally, about half of countries have a higher prevalence than they had in 2012, and not a single country is on track to achieve the target set in 2012.
The paper said approximately 27 percent of countries have a high prevalence of low birth weight and more than half of African countries have a high prevalence of wasting among children under five , double the global average of 7.3 percent.
The paper identified the coronavirus pandemic as a chance for Africa's leaders to reshape and spearhead high-level sensitization, advocacy and resource mobilization efforts toward securing increased investments in nutrition.
"As coronavirus cases rise in Africa, the impact on nutrition and food systems cannot be denied. The threat of this new virus requires us to adopt new ways of looking and overcoming malnutrition," said John Kufuor, former president of Ghana and a nutrition champion.
As of Sept 16, Africa had recorded 1,372, 731 coronavirus cases, 33,126 deaths and 1,121, 263 recoveries.
The United Nations Conference on Trade and Development recommends that in order to address the impact of coronavirus on food security in the long term, Africa will need to build productive capacities to address underlying economic vulnerabilities and strengthen continental capabilities to better manage food, pandemic and/or health-related crises.
African governments should also ensure the movement of goods, including food and related essential services is guaranteed.
Additionally, African countries need to reduce their commodity dependence, which has been among the key factors increasing their vulnerability to food insecurity.