Chinese rescuers arriving in Thailand for cave rescue
People's Daily app
1530284487000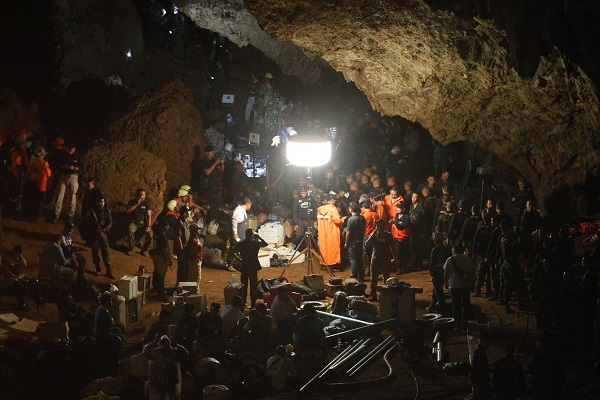 Bangkok (People's Daily) — Twelve Thai youth footballers and their coach remain stuck in a cave in northeast Thailand's Chiang Rai Province, after days of rescuing efforts by rescuers from home and abroad.
The players, aged 11-15, and their coach were reportedly missing on June 24 and believed to have been trapped by the sudden flood resulted from heavy rainstorms after entering the Tham Luang Nang Non cave in Chiang Rai.
The ongoing rescue has raised attention of the international community and succor organizations. Thai Prime Minister Prayut Chan-o-cha visited the site to supervise the rescue work.
On Friday afternoon, Beijing Pinglan Public Welfare Foundation dispatched a group of six experts on cave search to Thailand with their professional underwater rescue equipment.
The Beijing Pinglan Public Welfare Foundation is the only registered organization on Chinese mainland that takes emergency rescue as its major task, said Captain Wang Yingjie of the Chinese team. With more than 100 professional rescue teams, the organization has amassed abundant rescuing experiences from cases in Myanmar, Nepal and other countries.
The rescuers attempt to help the Thailand side save the trapped victims with comprehensive measures via cave diving, aven exploration and air rescue.
The Thai side warmly welcomed the arrival of the Chinese rescue team. The Chiang Mai Airport, Customs, and Frontier Defense have facilitated the entry of the rescuers and their equipment.
Besides, a total of 17 media outlets, including Thailand's national television, greeted the Chinese rescue team at Chiang Mai Airport and followed their work.
(Top photo shows that Thai military officials, the rescue workers and park officials inform associated officials of their plan in regards to the rescue operation for missing football players and their coach at a cave in Chiang Rai province, Thailand. Source: AP)