Chinese company wins award in Germany
People's Daily app
1530019570000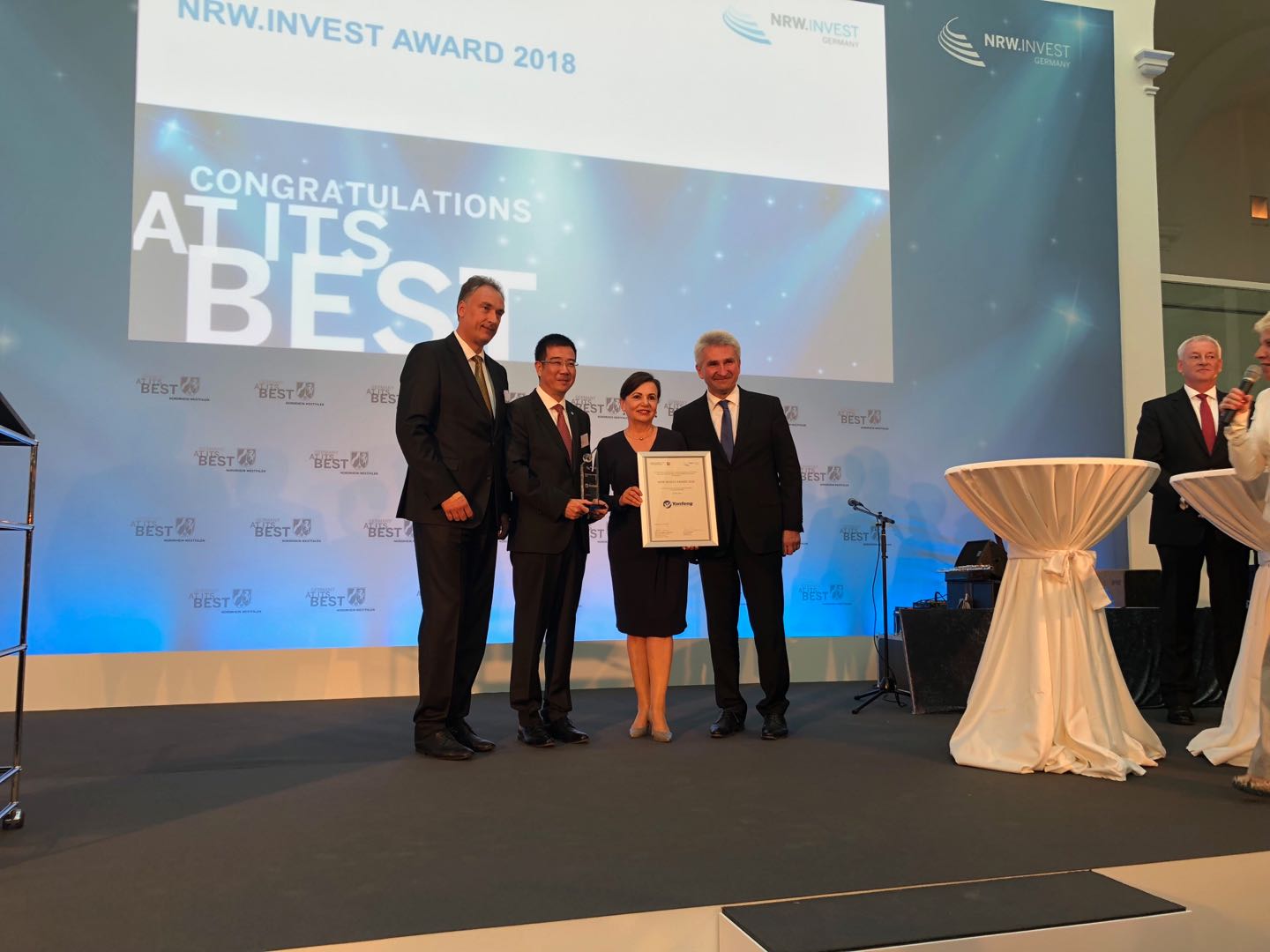 Photo: Hua Fang/People's Daily app
Dusseldorf (People's Daily) - The economic and digital minister of Germany's North Rhine-Westphalia state Andreas Pinkwart and the manager of the state-owned Business Development Corporation NRW.INVEST Petra Wassner awarded four foreign companies the NRW.INVEST Award for their outstanding investments in North Rhine-Westphalia.

This year's NRW.INVEST Award went to the Chinese automotive supplier Yanfeng Automotive Interiors, the US online retailer Amazon, the British company Computacenter and the Japanese high-tech company Shimadzu.
"International investors are very important to our country. They are also important employers, drivers of innovation and economic engines. We pay tribute to these important contributions with the presentation of the NRW.INVEST Award," said Pinkwart "This year 's winners contribute in a special way to the profile of the business location North Rhine-Westphalia in logistics, the automotive sector and digitization."
"Our award winners come from many different countries and regions of the world. They show that, thanks to an active settlement policy, NRW is becoming more competitive for international investors," said Wassner. "Especially in the area of future technologies like digitization and electro mobility, we want to convince investors of the location advantages of North Rhine-Westphalia."
Last year, the number of resettlements and expanded investments of foreign companies in North Rhine-Westphalia grew to 421, and created about 9,750 jobs, especially in the metropolis Ruhr and the regions of Aachen and Dusseldorf.
The Chinese automotive supplier Yanfeng specializes in the interior design of vehicles and is among the world leaders in this market segment. The product spectrum ranges from center consoles over door panels and instrument panels to intelligent surfaces. Its European headquarters, with around 600 employees, is located in the West German city Neuss. The company, founded in 2015, has 15 other locations in Europe, including a new innovation center that opened in February.