Japan mulls extension of emergency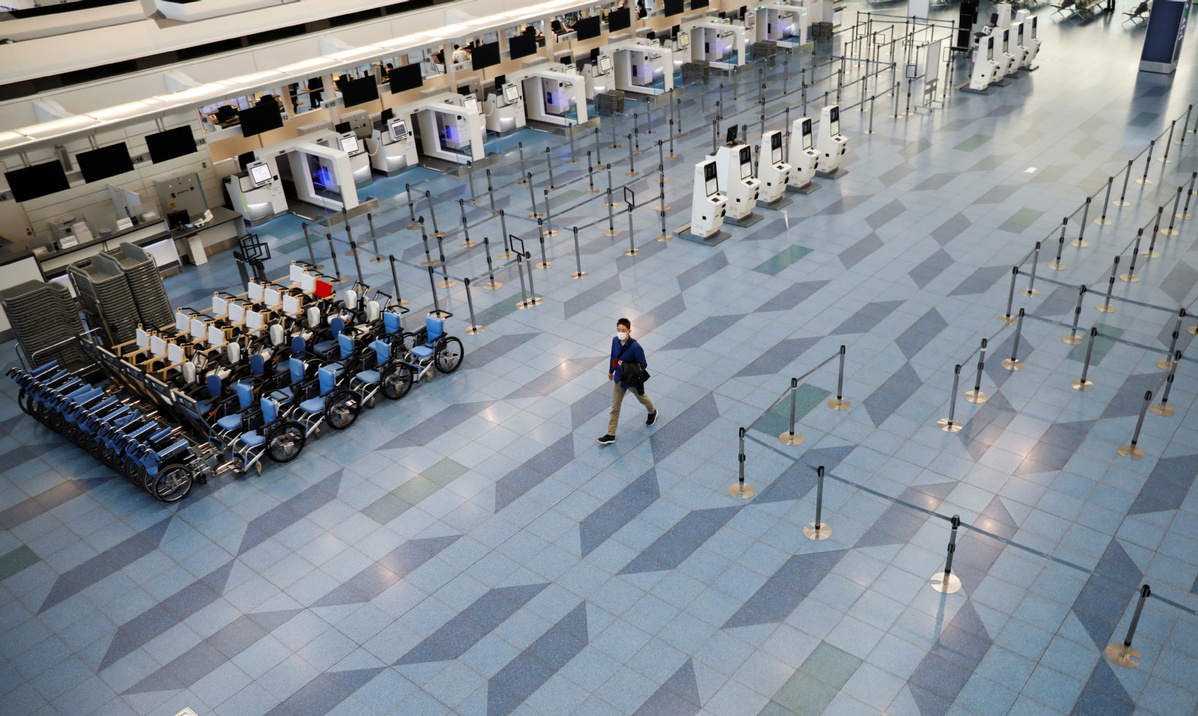 A man wearing a protective face mask makes his way through an almost empty international departure terminal of Haneda Airport, where fewer people than usual are seen during Golden Week holidays following the COVID-19 outbreak, in Tokyo, Japan April 29, 2020. (Photo: Agencies)
Japan will formally decide as early as Monday whether to extend its nationwide state of emergency, as experts said the current containment policies should be kept in place until the number of new infections fell further.
The nationwide state of emergency is set to expire on May 6, but Prime Minister Shinzo Abe warned citizens on Thursday to prepare for a "drawn-out battle" against the virus.
Experts said at the Friday meeting that it was desirable for Japan to keep its current framework of coronavirus containment policies until the number of new infections fell to a certain unspecified level.
Elsewhere in Asia, a team of medical personnel from the Chinese People's Liberation Army on Thursday provided assistance to the Myanmar military in building a laboratory for testing COVID-19.
The Chinese military medical team helped in installation of laboratory equipment and related materials, which were donated by the Chinese side, and provided guidance to operate the equipment at the laboratory at the No 1 Defense Services General Hospital in Mingaladon township, Yangon.
As of Thursday, Myanmar had reported 150 confirmed COVID-19 cases with six deaths.
Meanwhile, Malaysia will allow the majority of businesses to resume operations from May 4, Prime Minister Muhyiddin Yassin said on Friday, easing restrictions imposed on March 18 to contain the spread of the coronavirus.
Economic sectors that involve large gatherings of people will, however, not be allowed to reopen, Muhyiddin said.
Coronavirus infections in Malaysia stood at 6,002 as of Thursday, and the pace of new cases has slowed in recent days.
Another daily high in India
India, by Friday, had registered another daily high in coronavirus cases, with nearly 2,000 recorded in the past 24 hours.
India's health ministry said the 1,993 new cases and 73 more deaths took the country's totals to 35,043 with 1,147 deaths.
The government is due to decide the future of its 40-day lockdown on Sunday. But it allowed migrant workers and other stranded people to resume their journeys on Wednesday, as well as some shops to reopen and manufacturing and farming to resume.
In the Middle East, the tally of COVID-19 infections in Turkey crossed another threshold as it increased to 120,204 on Thursday.
The country has conducted over 1 million tests for the coronavirus, so the increase in the number of cases was predictable, Turkey's Health Minister Fahrettin Koca said.
In Africa, the death toll from the ongoing COVID-19 pandemic reached 1,598 as the number of confirmed cases hit 37,393 as of Thursday, the Africa Center for Disease Control and Prevention said.
The Africa CDC also said it had received the third round of medical equipment and supplies donated by China's Jack Ma Foundation and Alibaba Foundation in support of the African continent's fight against the spread of COVID-19.
In South Africa, schools and universities are set to open under strict conditions to curb the spread of COVID-19, officials said.
The measures include no more than two learners sharing desks, no hugging or handshaking, no direct contact and cloth masks to be worn by learners and teachers at all times, said Minister of Basic Education Angie Motshekga.