Mattis vows 'strong defensive stance' on N. Korea
Tokyo (AFP) - The United States and its regional allies will maintain a "strong collaborative defensive stance" on North Korea, despite ongoing negotiations to bring peace to the peninsula, Defense Secretary James Mattis said Friday.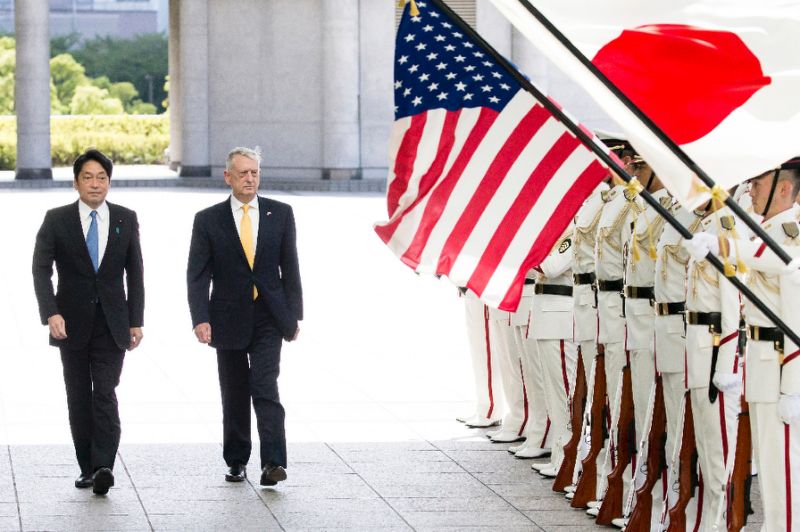 The US Defense Secretary stressed that Washington's alliance with Japan was a "cornerstone" of regional stability, as he wrapped up a four-day Asian visit with talks in Tokyo (Photo: AFP)
Mattis stressed that Washington's alliance with Japan was a "cornerstone" of regional stability, as he wrapped up a four-day Asian visit in Tokyo following talks with his counterpart Itsunori Onodera aimed at reassuring partners in the region.
Regional allies were caught wrong-footed by a decision from President Donald Trump to suspend joint military exercises between the US and South Korea that had previously been seen as a vital containing measure amid North Korean belligerence.
Mattis said the decision was taken "to create space for our diplomats to negotiate strongly and increase the prospect for a peaceful solution on the peninsula."
"At the same time, we maintain a strong collaborative defensive stance, to ensure our diplomats continue to negotiate from a position of unquestioned strength," said Mattis.
Following a historic summit in Singapore between Trump and North Korean leader Kim Jong Un, the US president said he wanted a halt to the drills, describing them as "expensive" and "provocative". But the allies did not appear to be forewarned.
Onodera said the drills were "important for the stability of the region and this fact will not change in the future."
Nevertheless, the Japanese minister acknowledged that the decision to suspend the drills was "important in that it supports diplomatic efforts" to denuclearise the Korean peninsula.
Japan is directly in the firing line of a belligerent North Korea, which has previously vowed to sink the island nation into the sea and fired two missiles over it last year, with others splashing into the sea nearby.
There are also concerns in Tokyo and Seoul that Washington could reach a deal with North Korea that would remove the threat of Pyongyang's long-range missiles that can reach America but leave Japan and South Korea at the mercy of shorter-range weapons.
But Mattis sought to ease such fears.
"We're in the midst of very unprecedented negotiations right now with North Korea but in this dynamic time, the longstanding alliance between Japan and the US stands firm," insisted the US defence chief.
"There is absolute reassurance between the two of us that we stand firm," pledged Mattis.
'Ironclad' alliance
Mattis said the two ministers had discussed "opportunities to increase our alliance's capability, to deepen our cooperation" but gave no details.
On the sensitive topic of Japanese citizens abducted by North Korea, Mattis said it was "a humanitarian issue always present in our deliberations" and recognised its importance but gave no details of progress on the thorny problem.
Tokyo was the final stop on a trip that has also taken Mattis to treaty ally South Korea and growing rival China.
In Seoul, Mattis sought to reassure the South Koreans that Washington would be "maintaining the current US force levels on the Korean peninsula" after Trump announced an end to joint exercises.
The US-South Korea alliance was "ironclad," Mattis stressed, after the summit between Trump and Kim produced only vague commitments by Pyongyang to denuclearise.
In China, Mattis was told that China would not "give up even one inch" of the "territory left by our ancestors" amid a row over disputed islands in the South China Sea.
However, US officials stressed this did not undermine Mattis's effort to rescue the fraying relationship between the two militaries.