European Commission announces new proposals to enhance EU-level coordination to address COVID-19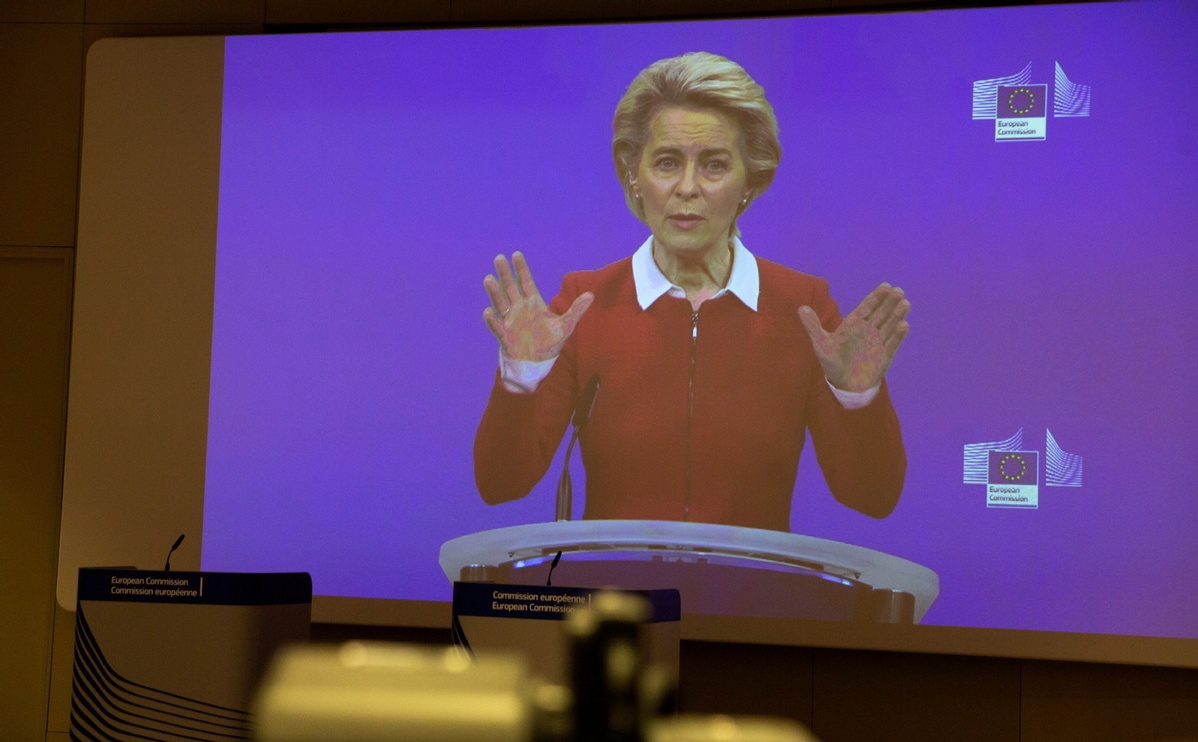 BRUSSELS - European Commission President Ursula von der Leyen Wednesday called on the European Union (EU) member states to shoulder responsibility at all levels to fight the second wave of the COVID-19 pandemic.
Von der Leyen announced new proposals made by the commission to enhance the EU level coordination to address the health crisis, including improving the flow of information to allow informed decision-making, establishing more effective and rapid testing, making full use of contact tracing and warning apps across borders, among others.
Remotely attending a press conference and joined by Belgian microbiologist Peter Piot, von der Leyen underlined the necessity of wearing a mask, good hand hygiene, avoiding crowds and indoor spaces lacking good ventilation.
As a special advisor to von der Leyen, Piot acknowledged that the European containment measures were "relaxed too much" after the first wave was largely under control in the summer.
Taking mask wearing for example, he said around 60 percent of Europeans wear masks on average, and this is not enough to protect people from the virus spread.
Among the set of new measures was a recommendation of testing strategies. Promoting the rapid antigen tests, the commission was mobilizing 100 million euros for purchasing such test kits and delivering them to the member states.
Since the widely used polymerase chain reaction (PCR) test takes a long time to get results, the rapid test could be a solution where mass testing is needed or when time is of the essence. However, the rapid tests are not as effective on asymptomatic patients, and thus their use could be complementary, von der Leyen elaborated when answering media questions.
A recently launched European Gateway Service is supposed to provide a platform to ultimately link all national contact tracing apps, said von der Leyen. So far, applications of Italy, Germany and Ireland are connected to the Gateway and 18 more national apps, either already operational or in the process of being developed, will be connected in November, she noted.
Emphasis was placed on vaccines and vaccination as well. While the commission has, on behalf of the 27-member bloc, signed contracts with three major vaccine producers to ensure the required quantity and general efficacy, both von der Leyen and her adviser said the safety of the vaccines must also be tested and monitored, during the development phase and after they are put to use, preferably at the EU level.
But Piot expressed his worries about the public trust of a vaccine, saying recent data from service showed that up to 25 percent of people said they will not take the vaccine.
By the end of the year, "we will know, at least, how effective some of these vaccines will be," said the microbiologist, who hailed the current global action to develop COVID-19 vaccines as an "unprecedented scientific effort."
As the world is caught in the second wave of the COVID-19 pandemic, countries including Germany, France, China, Russia, Britain and the United States are racing to find a vaccine.
According to the website of the World Health Organization, as of Oct 19, there were 198 COVID-19 candidate vaccines being developed worldwide, and 44 of them were in clinical trials.