Ex-Argentina Vice President Boudou arrested in corruption case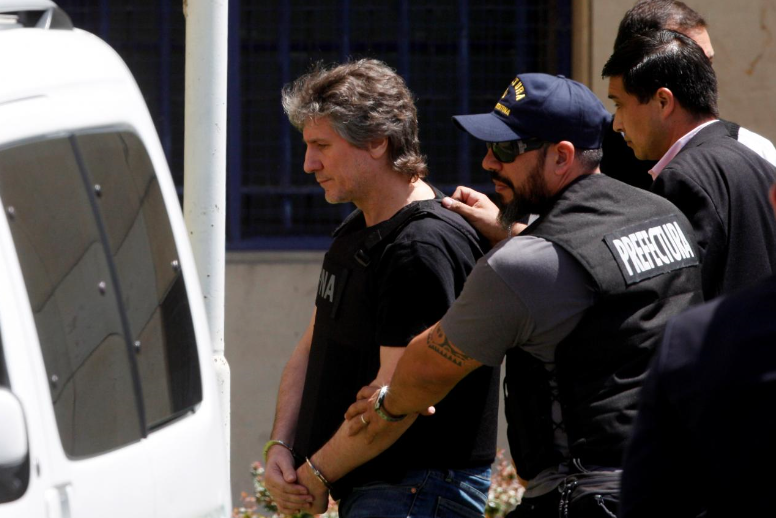 Former Argentine Vice President Amado Boudou is escorted by members of Argentina's Coastguards as he arrives to a Federal Justice building in Buenos Aires, Argentina November 3, 2017. Photo: REUTERS/Martin Acosta



Amado Boudou, who had been former Argentine President Cristina Fernandez's economy minister and vice president, was arrested on corruption charges on Friday, becoming the second major official in her government to face detention.
Police arrested Boudou and an alleged associate, Jose Maria Nunez Carmona, in an upscale neighborhood of Buenos Aires for racketeering and money laundering.
Local television showed Boudou, grim-faced and wearing a plain black t-shirt, as he stood beside two bearded security officers. In other photographs broadcast on television, he was in handcuffs, standing in what appeared to be his home.
Boudou has denied wrongdoing in the past.
The 55-year-old economist faces three counts of "illicit enrichment" dating back to 2009, the year he was promoted from heading Argentina's social security administration to become Fernandez's economy minister.
He became vice president in 2011, when Fernandez won reelection. But he was largely absent from public view during that four-year term as accusations of corruption mounted against him.
He and Carmona "developed their criminal schemes at least since the start of August 2009, when Amado Boudou took charge of the Ministry of Economy and Finance, until the month of December 2015, when he finished his term as vice president," according to the arrest warrant.
Fernandez's former planning minister, Julio De Vido, was arrested on Oct. 25, just three days after current President Mauricio Macri's "Cambiemos," or "Let's Change," coalition swept Argentina's Oct. 22 midterm elections.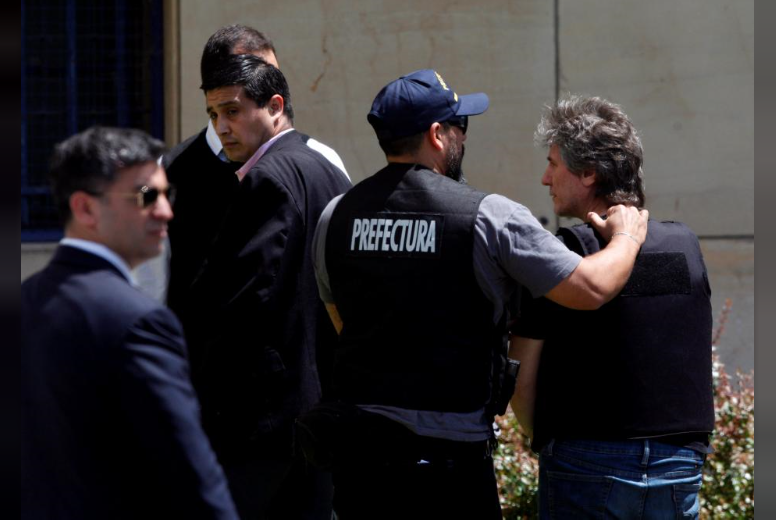 Former Argentine Vice President Amado Boudou is escorted by members of Argentina's Coastguards as he arrives to a Federal Justice building in Buenos Aires, Argentina November 3, 2017. Photo: REUTERS/Martin Acosta



The vote strengthened Macri's position against archrival Fernandez, a populist whose spending nearly bankrupted the government during her eight years in power.
She won a Senate seat on Oct. 22, although she was soundly beaten at the polls by a candidate allied with Macri. Fernandez's second-place showing still granted her one of the province's three Senate seats under Argentina's list system.
Her relatively weak electoral performance dimmed prospects of her mounting a serious challenge to Macri for the presidency in 2019, when he is expected to run for reelection.
Fernandez herself is facing corruption allegations stemming from her eight years as president. She will, however, be immune from arrest as a senator.
She was indicted last year on charges that she and her public works secretary, Jose Lopez, embezzled money meant for road projects. Lopez was arrested in June 2016 while trying to stash bags of cash in a Catholic convent.