Collective action is Zimbabwe's key to fighting COVID-19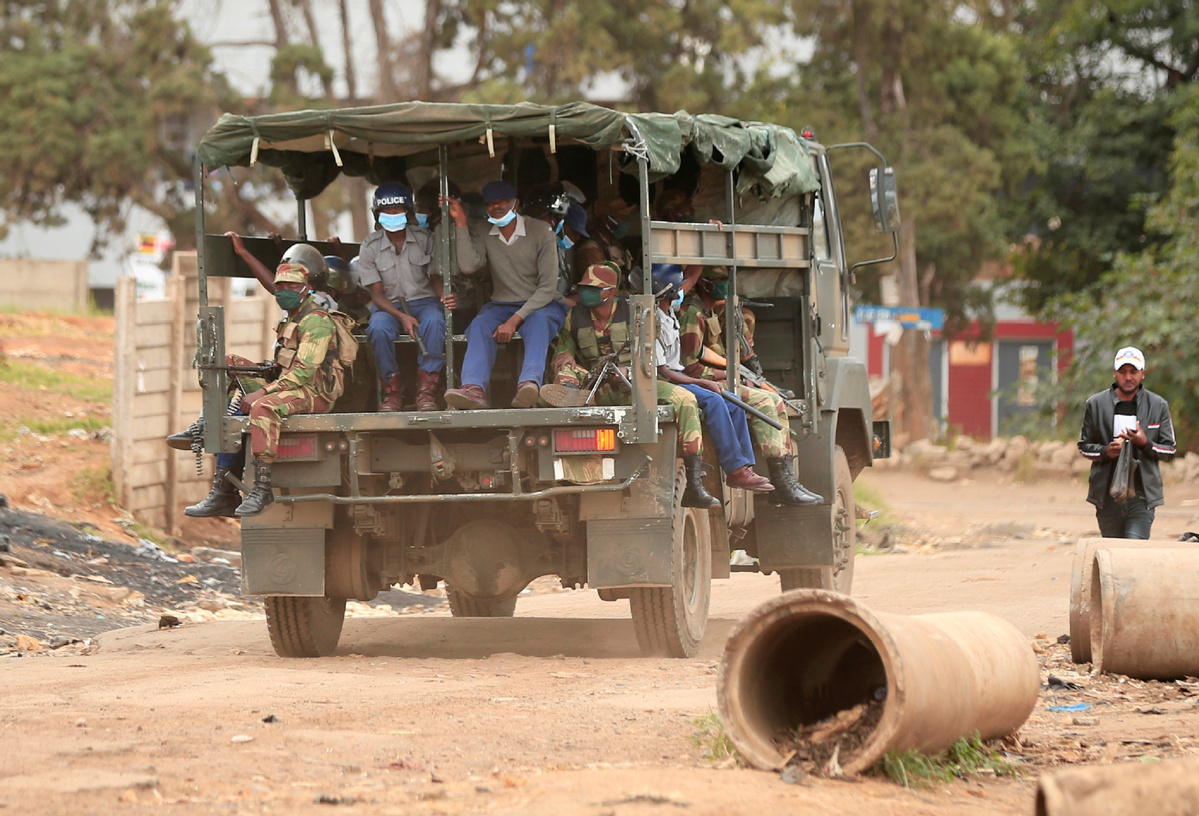 Police and soldiers patrol the streets during a nationwide lockdown called to help curb the spread of COVID-19 in Harare, Zimbabwe, April 19, 2020. (Photo: Agencies)
Over $48 million in cash has so far been received from backers, Vice President Kembo Mohadi has said, as collective effort energizes Zimbabwe's battle against the spread of COVID-19.
Financially hamstrung by recurrent droughts and a sluggish economy, the coronavirus has added an unprecedented strain on the treasury, forcing the government to issue an international SOS totalling $2.2 billion to combat hunger and the coronavirus.
The health system is wrecked and failing from an acute shortage of critical medicines, workers and equipment to effectively respond to COVID-19.
Announcing the National Disaster Fund last week, Finance and Economic Development Minister Mthuli Ncube said the scale and seriousness of the coronavirus was mammoth for the state to bear alone.
The government, for its part, has to date largely disbursed ZW$591 million ($26.7 million) toward combating COVID-19 and another $2 million for the import of health equipment and sundries, but that's barely enough.
China is one of the countries that has stepped forward to physically prepare Zimbabwe against the pandemic.
Guo Shaochun, Chinese Ambassador to Zimbabwe, said China had donated 2,000 medical masks, 2,000 medical protective suits, 500 infrared electronic thermometers, 1,920 medical isolated eye patches, 2,000 pairs of sterile latex surgical gloves, 2,000 surgical shoe covers and computers for video-conferencing.
Additionally, Chinese businesses have refurbished and expanded the capacity of Wilkins Infectious Hospital, a key testing and isolation center in Harare, for $500,000.
Like other African nations, Zimbabwe has equally benefitted from the generosity of Jack Ma of the Alibaba Foundation, who donated 20,000 laboratory diagnostic test kits, 100,000 medical masks and 1,000 protective suits and face shields.
"Our bond with Zimbabwe was forged in the hard days when we fought together against colonialism. When your brothers are in difficulty you do not need any motivation to help," Ambassador Guo said. "No country can handle a pandemic of such magnitude all by itself, or declare victory when others remain under attack. We are ready to assist other countries in this fight. We will stand side by side with Zimbabwe to protect the safety of its people."
The church, individual citizens and the private sector, which is leading at least four initiatives, are all galvanising support to help a besieged nation.
Owners of St Annes' Hospital, the Catholic Church and the Solidarity Trust Zimbabwe have united to prepare the 100-bed hospital as a COVID-19 response center.
Industrialist Busisa Moyo is leading #Iam4byo, a business initiative mobilising support for Ekusileni Hospital, which will be Bulawayo's largest isolation center. Thorngrove Hospital and Mater Dei Hospital will also be used as testing and isolation centers.
"There are over 300 experts working on this initiative. Our first priority is to equip Ekusileni and Thorngrove (220 beds in total). Mater Dei is building an 8-12 bed facility behind the hospital," he said.
Through the Citizens Initiative, the United States-based Zimbabwean Freeman Chari has raised $33,415.
In a message to mark the country's 40th anniversary of independence on Saturday, President Emmerson Mnangagwa specifically thanked China, the United Kingdom, the US, European Union, the United Arab Emirates, the World Health Organization and Ma for supporting Zimbabwe's fight against COVID-19.
"Our present experiences, in the wake of this pandemic, teach us that friends and investors may assist us. However, it is the collective effort of our nationals across all sectors that will make a difference," he said.
Presently, the country has recorded 25 positive cases of coronavirus and three deaths.